Let Them Eat Cake in a Bag
Summer is when routines get interrupted. The daily grind of getting little girls to school is suspended. The constant rigor of a weekly schedule is relaxed. Bedtime is fudged, partly because in France the sun sets so impossibly late during the months before and after the summer solstice that the kids won't believe that it's time to go to sleep. Mornings, for the most part, are easy going: we wake up when we wake up. De-facto and I have very little work. Only our uncivilized American clients schedule projects in July or August and we do our best to minimize our participation in such gainful activity when it's summertime.
Yet within our routine-less summer we quickly develop routines. I go to Pamplona every July. Then I join De-facto and the girls at the country house for the rest of the month. We return home to catch up with our on-line lives, take advantage of the Plage and the quiet of Paris in August. The real truth: we come home so we don't miss out (too much) on what has become a big routine in our building: the infamous courtyard lunches.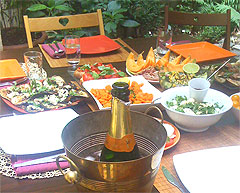 Most of the owners and tenants go away for most of the summer, and those who stay are congenial or at least cooperative and don't mind that nearly every other weekend, it seems, Ricky and Lucy host a courtyard lunch. Their apartment opens directly on to the courtyard, and their adjustable table is easily moved outside and strategically positioned near the stone wall of a raised flower bed, making for extra seats to compensate for their lack of chairs. Ricky is the most expressive cook among us and happily carries the burden of providing eats. He can do things with tomatoes and olive oil that would drive any foodie to brink of ecstasy.
There's nothing as pleasant as those very first moments, when people arrive: Ricky sweats over hot burners in his kitchen, stepping out to the courtyard and greeting guests with a dishtowel thrown over his shoulder. A glass of something, usually bubbly, is thrust into your hand and then one by one, plates appear on the table with delicate combinations of Mediterranean ingredients. There's always a little surprise: mint replaces the basil on a tomato bruschetta, a spoon of virgin olive oil teases the essence out of the canteloupe. These intriguing flavor blends generate no shortage of oohs and ahhhs around the courtyard table.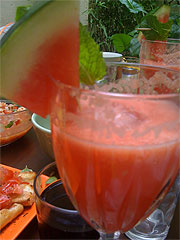 The champagne – though this past weekend the aperitif was a watermelon cocktail with a vodka kick, and then we had champagne – is eventually replaced by wine, often rosé in color, and this flows steadily. Just when we think Ricky has fed us already too well, he'll produce a risotto or something with seasoning and ballast that nobody has room for but nobody dares to miss. It'll be too good.
Neighbors who pass through the courtyard on their way in are spontaneously invited to join us. Those on their way out are inspired to return, and often do after stopping at a local wine seller to contribute to the table. In this fashion, the lunch that starts at 1:30 or 2:00 often bleeds into the evening; sometime around 8:30 or 9:00 Ricky disappears again into his magic kitchenette and produces some kind of pasta concoction, a bit of sustenance – or absorption if you like – to carry on.
It's rare that a courtyard lunch finishes before midnight.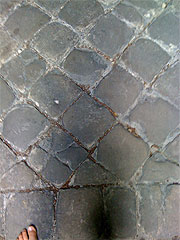 While all this is going on, our children are not totally forgotten. When she's not dancing around the courtyard, Short-pants plays waitress and has been known to carry around a sign that says "Please give me some work to do." Buddy-roo hides out in the bedroom loft, watching consecutive Barbie movies that she's only allowed to watch one-at-a-time, once-a-day under normal circumstances. Sometimes that big doll makes an appearance and everybody groans but she keeps the girls occupied and this is only one of many reasons that I have not yet found a way to make her disappear from our lives.
There is a moment, however, that marks the true spirit of the courtyard lunch. It's around 5:00 in the afternoon when the oven begins to emit the most remarkable aroma, a sweeter-than-anything-your-grandmother-ever-baked perfume that makes everyone stop their bantering and storytelling. Hush Sweet Jesus the toaster oven is on bake. We all turn to Lucy. She nods her head affirmatively – smugly in fact – and the courtyard erupts into cheers, "Cake in a Bag!"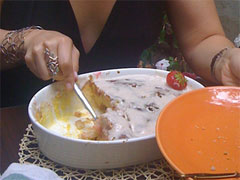 Of course Ricky's culinary prowess is admired and appreciated – even lauded. His effort is the cornerstone of courtyard lunches. But Cake in a Bag, it's too divine to describe. Lucy makes it all seem so…effortless. After all, it is: open the bag, pour in the pan (okay, and add her secret ingredients) and bake.
Ricky sighs, shakes his head, throws the dirty linen tea towel over his shoulder and shuffles into the kitchen to brood. But his theatrics last only for a moment before he returns to the fold of his friends and he is once again in the routine of the charming host, offering us more wine or a strong shot of espresso. He always comes back, and sometimes he'll even eat a piece of cake.
If there's any left.