Tour de Luxe
There's nothing luxe about our life at the country house. We have what we need: a stove with an oven, a fridge, a table and chairs. There's a shower with hot running water, two functioning toilets attached to a septic tank. Beds with linens – albeit old ones. One set even dates from my first post-college apartment,which means they're something like 25 years old. (They've never seen the inside of a dryer, which might be why they're still in use.) It's all livable, just not particularly luxurious. A bit rough around the edges.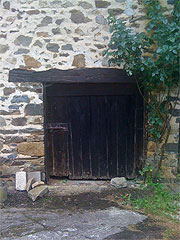 The country house is a renovation in progress. This means we live beside the dust and mess and clutter that is part and parcel of do-it-yourself construction. It's part of any type of renovation, but particularly so when achieved the snail's pace of 2-weeks at a time, three or four times a year. But we did not buy a ready-made chateau; we bought a rundown house attached to a barn, previously inhabited, for 30 years, by an eccentric bachelor. Which means we bought into the idea of slow motion, by-our-own-hand improvements from the start. Part of the pleasure, or so De-facto tells me, is solving the puzzle of what to fix and learning how to do it as you go.
In the meantime, I've tried to keep things sparse. And yet the house has still become the dumping ground for every odd piece of furniture, unwanted rug, blanket, throw-pillow or lava lamp. Nothing matches; our plates are all left over from other sets of china from our past, the silverware is abundant but with very few matching place-settings. I've vowed not to decorate, nor to buy any furnishings or appliances until the house is closer to finished. As a result, we live with what's been inherited or donated, a hodgepodge of eclectic furnishings and belongings.
It's amazing what you can live with – and without.
The electricity at the country house is more or less jerry-rigged, the wiring is so ancient that they don't make plugs to fit some of the outlets in the house. If we use the oven and the burners on the stove and try to run the washer or plug in the speakers for music, we're likely to trip the short-switch on the fuse-box. There is no landline for a telephone. There is no cable. There is no Internet.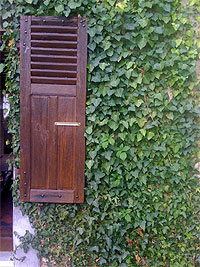 Which is challenge for someone like me who writes 3 blogs and conducts most of the prep work for her business on-line. There are no less than a dozen moments a day when my natural reflex to check email or Google the answer to something goes un-satiated. In order to access the rest of the world, I must walk down the road 100 meters to our neighbors, who have kindly given us the code to their wi-fi. I sit on the bench outside their kitchen door and send/receive messages and bathe in the data I can download before I feel my presence is an imposition. You can imagine this makes posting somewhat problematic; but managing an on-line conference call meeting with colleagues has to be carefully timed and executed as well.
In the mornings De-facto toils in the side room we've been renovating for the last three years, maneuvering a support beam in the foundation or plastering or painting. I hole up in the upstairs back bedroom and write, surfacing at noon-thirty or so, just in time to make lunch for my hungry tool-belted man and our girls. My primary chore in the country is cooking, not the easiest task when only two of the burners on the stove work and there's hardly an inch of counter space. But that's life in the country; you get by with less than perfect conditions and in the end, it's perfect.
After lunch there's always some project, the cleaning out of shelf that's been overtaken by cobwebs in our absence, trimming the tree branches over my grapevines to keep them in the sunshine or liberating them from the ferns that spread furiously when unattended. Or laundry. The country house is a high-speed factory for dirty clothes.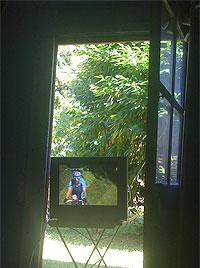 And then. The Tour. The high point of the afternoon is that moment when we pull out our old 20″ television (miniature compared to current models) to watch the Tour de France. That we have no cable is a handicap, but De-facto broke down and purchased an antenna, a set of rabbit ears which if correctly configured on the table just outside the door, permits a reasonable picture, though a bit snowy – at least it's enough to watch the cyclists in action. We turn it on around 2 o'clock and let it blare in the background as De-facto paints the ceiling or I cut back the rose bushes. As they close in for the finish of the stage, we draw closer, staring intensely at the screen with fingers crossed. This year Schleck is our favored rider; his 8-second lag behind Contador seems like an eternity.
The girls, well, they run wild. In Paris they are somewhat incarcerated, on top of each other in our apartment and requiring an adult to accompany them to go anywhere outside our building. In the country, they run unhindered. Short-pants disappears into the forest behind the house while Buddy-roo wanders down the road to visit our neighbors. They run in and out of the house at will. They are free.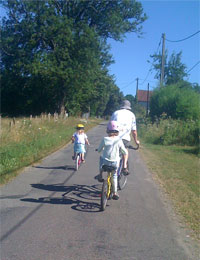 When the stage is over, and the post-tour television wrap-up is completed, De-facto makes his announcement, "Family bike ride!" This is met with some protest, as Short-pants is not so fond of bicycling and Buddy-roo makes a habit out of being contrary. But eventually it gets sorted out, who rides solo and who rides on the extension attached to De-facto's bike (which makes for a bicycle-built-for-two). We peddle down the road. Our destination: the pasture with the shaggy pony. The sky is unblemished blue. The late afternoon sun turns us into long shadows on the pavement. There's fresh air and a little exercise and the laughter of children. What about this isn't a tour de luxe?