Fiesta
My suitcase is stuffed with everything white. White pants and skirts. White T-shirts and tank tops. White jean jackets (I have two) and several pair of white sneakers. Where I'm going, it's all about wearing white and just a splash of red. A red pañuelo around the neck and a red sash at the belt. This is the uniform of San Fermín.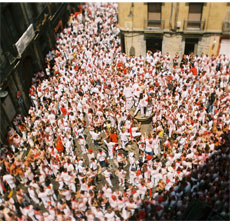 The fiesta San Fermín in Pamplona has become my ritualized get-away with the girls. Not my two little girls, Short-pants and Buddy-roo, but two older girls, my wanderlusting girlfriends, otherwise known, during the coming week especially, as Fiesta Nazi and Mother Theresa. (I'm called Whim of Iron.) Every year we meet up in Pamplona for one of the wildest parties in the world, the fiesta that Hemingway made famous in The Sun Also Rises.
I think the post I wrote last year on the eve of my departure, The Mom Also Rises, pretty much sums up perfectly why I go to Pamplona every year. If you're ever going to dig into my archives, this is a good one to read.
I love the fiesta. I love the encierro, though I'll never be among those who run with the bulls; I watch from a balcony above the route. I love the party that goes on day and night and the cast of characters I meet up with every year. I love the perpetual music in the streets, and the parade of peñas making their way toward the bullring every afternoon at 6:00. I love the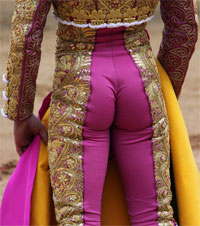 corrida, for the drama of the bullfight as much as the sandwich after the third bull. And what's not to love about the rear view of the matador and his cuadrilla?
What I love most about the fiesta is the feeling of being lost in the present moment. It is the perfect place to be here now, to move through the crowds in the street without any particular direction, to be drawn into a bar because the musicians who've taken it over call you in, and after a few laughs, some dancing and a cold caña, moving on to the next impromptu party around the next corner, at another bar, the back room of an eating club, in the park, at a long table set-up in the street, with strangers waiting outside the bullring – anywhere you turn there is a spirited party in progress. Pamplona, for me, means no duties and no to-do list, only the spontaneous delight of following my whim of iron, wherever it takes me.
(Photo Credit: The matador shot is by Jim Hollander, 2009. It's worth noting that Jimmy's published a beautiful book of his fiesta photographs, but for a long time has contemplated producing one called "Bull Butts" with more pictures like this. Don't you think he should?)