In our Nature
I stuck my head out the bathroom window to see the girls playing in front of the house. Buddy-roo was prancing in the grass as Short-pants paced in a circle with her hands up in the air. They talked to each other in exaggerated voices, though occasionally Buddy-roo would assume her normal tone to bark an order at her sister, directing the theater of their play. Or the other way around, as each took turns in and out of role, suggesting the next step of their game, pure improvisation as children do best.
I watched for several minutes, looking down on them from the second floor of our country house, observing the choreography of their make-believe, catching pieces of dialogue.
"…and now my wings are growing back."
"Penelope's mechant attempts to block your entry to the sacred circle have failed, thanks to my powers."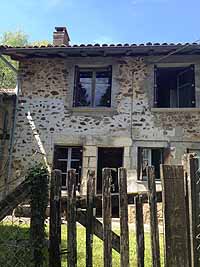 I could not contain a pollen-induced sneeze – spring in the country – and both their dirty blonde heads turned upwards toward the upstairs window in which I was perched.
"Mama!" This shout came in tandem, with glee. Even after just 45 minutes, it's like they haven't seen me in days.
"We're playing fairies!"
"Look at my wings!"
I listened to the convoluted explanation of their play, which to be honest wasn't that interesting but their animated exuberance deserved my attention. It was impressive, this lengthy and specific scenario, conjured up from nothing except the wildflowers bloomed in the tall wet grass on a partly sunny morning. That's one of the reasons I love coming to the country house; there is no better stimulant for their imagination then a little bit of nature.
Not that they don't tumble into their imagined skits and games at home in Paris, but here in the country it happens more often, for longer and with greater detail and depth. They disappear for hours in the fields and forest, running back into the house and throwing themselves against me, their clothes and hair cold and fresh from being out in the springtime air.
~ ~ ~
There are lilacs across the road, in full bloom this week. The bush is tall and unruly; we never quite get to pedicuring the trees and bushes on that part of our property. The dark lavender flowers look like a fireworks display gone awry. I stand at the kitchen sink, washing the breakfast dishes and smiling at the purple blooms. My mother had a lilac bush, pruned regularly and evenly, that tickled the posts of the front porch of her house. It was, along with a bed of daffodils near the road and row of peonies on the side yard,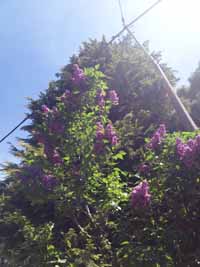 the announcer of spring. These early flowers preening in their finest glory on that first sunny May morning, when we'd step outside and see and smell that spring was fully upon us and the summer was at its heels.
Just looking at the sloppy lilac tree across the road puts me instantly on my mother's porch and back into my own childhood, when I would run off beyond the farms and the woods behind our house, out of her sight, into my own world of fairies and forest friends, conjured up by the best playmate in the world, mother nature.
Many years ago, I took one of my elegant Parisian friends to visit my mother. She was charmed by the country surroundings and wanted to know what my childhood was like. Instead of telling her, I showed her the circuit that used to occupy me for hours: from the back porch, crossing the side yard, beyond the pond, through an apple orchard and a vineyard, into the forest and back out into a clearing around a large pillbox-shaped water reservoir, against which you could throw stones to simulate the sound effects from Star Trek. Then back into the woods and down a steep slope to cross the creek and climb up again to Wagon Wheel Springs, named so by my neighbors and I because of a wooden-spoked wheel they lay in the debris nearby, through a field of tall grain, arriving on the other side of our house and landing, happily, on the stoop of our front porch. Last month, after reading one of my posts about walking alone on the Camino, this same friend wrote me a message remembering that visit and our hike through my childhood.
"It must be in your nature," she said.
~ ~ ~
"I'm not going to be back for a while," Short-pants ran into the kitchen, breathless, spitting the words out quickly. "I heard a bird calling my name."
She dashed out the door and disappeared. I had my hands in mozzerella and ricotta so I couldn't move to the window to see which way she'd run to answer the call of her avian suitor. I realized I didn't need to know. In Paris, I like knowing which direction she's gone. In the city, she has destinations. She walks to school, she walks home. She walks to the boulangerie to get a baguette and back. There's a start and a finish, and she's still young enough that I need to monitor both points. Here in the country she has her own forest and several fields, a big lane to run down and baby sheep to visit and birds to answer to. I don't need to know which direction she's run because they're all good.
~ ~ ~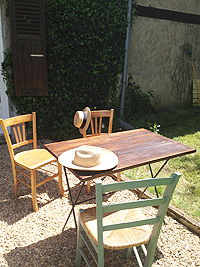 Yesterday friends visited for lunch. They came with a pack of kids. We were eleven around the tables set up out back, on the terrace of stones, in the sun. Four adults were outnumbered by kids of ages ranging from 5 to 12, the youngest among them a set of twins. In Paris this would be an uncomfortable guest list. At the country house, you just pull out another table, add another place and make an extra quiche. After the meal, the kids escaped from the table and disappeared into field and forest. The only time we had to involve ourselves in their play was to caution them, when all seven were at the same time swinging, climbing or perched on our rickety old swing-set. From the table where we lingered with a bottle of rosé – an announcer of summer here in France – we could see that the metal structure might topple at any moment. A word of warning and the children scattered themselves to other places in the yard and beyond, the swing-set only one of a dozen places for them to run and play.
Yet another reason why we have a country house: so I can take another wedge of cheese and refill my glass of wine, in the company of good friends, with my feet in the grass and the sun on my back, while my children occupy themselves, elsewhere. This, I guess, is in my nature, too.