City Girls
Ours were prissy little girls escorted to the well-ordered park around the corner by the dutiful babysitter. A few spins on the rocking-rooster, two turns up the ladder and down the slide, a dozen special-order cakes from the sandbox and then it's time to go back home. Our kids were city kids. They were even afraid of dirt.
Years ago we bought a farmhouse about an hour north of Bordeaux. It sounds extremely elegant if you say it the way Short-pants does, "our country house," but rustic is a better adjective. The old stone house is attached to an empty barn that's attached to a run-down stable. We own the parcel of land across the road, too, where there is a sheep barn, or a bergerie (pronounced behr-gehr-EE, which sounds plenty elegant, but with its rotted doors and dirt floors, isn't).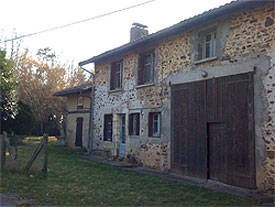 There's even a bread-oven, which actually works if you stoke it with enough wood. There are lots of cobwebs (and, of course, spiders) everywhere.
The house came with electricity, running water and plumbing, though all of it is a bit gerry-rigged and so damn old you're never sure when it's going to fall apart. We did some initial renovation: tore down one wall, stripped the others of their cement to reveal the original stones, put in new oak boards in a room where the floor had completely rotted. We're adding insulation and wallboard in what could be called the "cold room" as we used it as our winter refrigerator before we had one. Let's not even talk about the kitchen: basically a sink, a fridge, a 3-burner stove and a table. It's one big backache.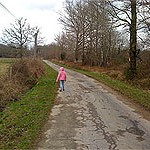 As for heat – the word rustic comes to mind again – there's a cylinder wood-stove and a few ancient space heaters (came with the house) that are way too scary to use. It's a long way from luxurious. It's more like camping indoors.
I spent my entire childhood in the country (but at least we had heat). Beyond the apple orchard, vineyard and hay field that bordered our property, there were woods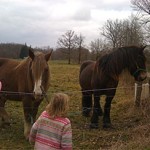 with streams and magic paths and secret clearings. This was enough entertainment to last a whole summer. De-facto grew up in the 'burbs, but the kind that bordered land that was undeveloped and basically rural. We both knew how sticks and rocks and moss could replace any plastic piece in our toy box and how the fresh smell of the outdoors stays on your clothes and your hair when you're out in it all day.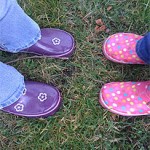 Maybe we knew it when we bought this old house (if we didn't, we know it now): it's is the best thing we've ever done for the girls. Sure, it's a lot of work, there's always something to be fixed. It's never really relaxing. We only get here five or six times a year, during school breaks and for about 6-weeks in the summer, but that's enough to put some country in these city girls. It's good to see some dirt under their pink-polished fingernails.