Step on a Crack
It was raining at the top of the mountain. Short-pants klunked toward the car in her bulky ski boots, cold and drenched but smiling after a morning of skiing. Buddy-roo and I had skipped the sporting activities of the day. She'd turned her ankle running in the yard of our country house earlier in the week, and my back was flaring up a little bit, so I opted to sit it out with her. The first day we took over a table in the mountaintop restaurant and I even jumped on an open wifi signal and scratched out a few work messages. Her foot hadn't improved, so I dropped half of my family at the ski lift that morning and took Buddy-roo to a local doctor in the village who sent us to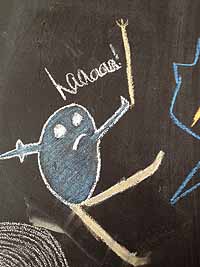 the nearest hospital in the valley to get an X-ray. The visit was efficient, if not unsatisfactory in that the image showed no evidence of even a tiny fracture, so there was nothing to be done – according to the radiologist – but give it a rest and wait and see. A troubling prognosis, especially since our plan was to go to Barcelona the following week, a visit which would include no small amount of wandering around the city to explore it.
I wasn't pleased to miss the skiing. At one time in my life it'd been an every-weekend pastime. I even lived in Switzerland for two winters, skiing to the chairlift from my door, whenever I wanted. These days it's a once-a-year excursion, at best. But I appreciated the experience Short-pants was having, on the slopes alone with her father, exercising her skiing muscles and getting a few days to catch up with her younger sister, who, last year proved to be a more confident skier.
De-facto set about loading their skis in the car, Short-pants sat down sideways in the car seat with her feet out the door to remove her boots. She was wet and exhausted and could barely bend over. I squatted down before her, carefully. I unbuckled the boots and opened the wide flaps so she could extract her foot. The first boot slipped off with a gentle tug. The second was more persistent. I pulled at it, meeting resistance, so tugged harder, giving it a real yank. The boot snapped off into my hands, accompanied by a bolt of excruciating pain in my lower back, upwards to my shoulder and down the ground through my leg. I threw the boot down on the ground and leaned against the dirty, wet, car. Fuck.
Later, after lowering myself gingerly into the passenger seat, our car wound down the mountain roads and the tears streamed down my face. They were not so much about the physical discomfort – I new the pain would pass eventually – but more about the consequences of this injury on my plan to return to the Camino Santiago in a week's time. I couldn't imagine walking 250 kilometers, let alone with nearly 10 kilos of weight on my back. I couldn't even think of bending over to tie my hiking boots. I'd have to postpone the walk. But until when? The spring is already filling up with work engagements, or preparations for same. I'd cleared these weeks specifically to walk, and to finish. Though the Fiesta Nazi, an avid Camino fan, reminded me that every time I "finish" I'll start scheming another leg of it that I want to do, from Le Puy, or to Finisterre, or the Route del Norte. But I have had my mind set on finishing the Route Francés this year, while I was in the middle age of fifty.
"Sorry you hurt your back," Short-pants' gentle voice from the backseat. I realized she might feel responsible since it happened while pulling off her ski boot.
"Just wait," I said, shaking my finger in the air so they'd know I was joking, "until I find out which one of you stepped on a crack and broke my back."
Buddy-roo giggled, but Short-pants was quiet.
"Hey," I pulled the visor down and looked at her in the mirror, "this isn't your fault. I should have known better."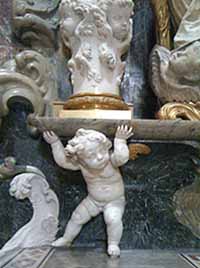 Even though you can tie my back injury specifically to a physical incident – it happened once before pulling up carpet, or this time tugging off a ski boot – I believe that I'm be pre-disposed to such an injury if I'm off balance in my life, or trying to carry too many things. Dr. John Sarno, a specialist in rehabilitating people with chronic back problems, wrote a book, Healing Back Pain that I've read more than once and always resonates with me. There is an emotional component that contributes to back issues. Whenever mine flares up, I know I have to pay attention to something.
We returned to our country house, where I remained horizontal for a whole day while Buddy-roo acquired a pair of crutches at the village pharmacy so she could hobble around. I can't say this was a horrible punishment. Short-pants served me tea, and De-facto rubbed a special anti-inflammatory pommade my back. He cooked all the meals and the girls did all the dishes. I got to stay in bed and read and write and play Subway Surfer. My back survived the seven hour drive to Barcelona, and each day I have less pain and more mobility. Buddy-roo is still hopping on crutches – she'll probably have to get another X-ray – but I'm very much on the mend. The Camino may still be within close reach. I have a few days to decide.
It's might be better left for early May. I could carve out two weeks then and the weather will be warmer and possibly dryer. It'd be during spring break, so that might be easier for De-facto. We'll see how I feel, later this week, when I need to decide whether to fly to Léon and bus to Astorga and begin my walk again, or whether I drive back to Paris with the family. For now, I'm taking it one day at a time, which is in itself a good reminder, and certainly a preparation for the Camino ahead, whenever it happens.