Still Walking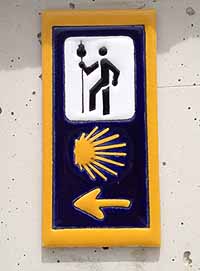 Any journey starts long before you walk out the door with your suitcase – or backpack – in hand. So it may be hard to pinpoint exactly when my Camino started. Was it the moment I decided to walk it for my birthday? The first time I heard of it? When I first read about it? I remember that De-facto and I took a vacation in Spain and Portugal some years ago. Passing through Santiago, we parked the car and visited the enormous, opulent cathedral. We saw pilgrims, apparently finishing their walk, and I think I might have wondered how could they possibly make that journey. I'd never felt compelled to walk 800 km just to get to a church.
On that same trip, interesting to note, we ended up in the Basque city of Vitoria, where I witnessed my first Basque fiesta. A man sporting a metal bull costume – and it was spewing sparks – chased the children around the town square as they squealed with terrified delight, and I thought, isn't that an odd ritual. Not even a year later I would meet the Fiesta Nazi and she would start chewing my ear off about another feria, in Pamplona, and soon something else I never thought of doing became something I do.
Also worth noting about that trip to Spain: while driving around, De-facto and I decided that we should start trying to have a child, as I was getting up in years and who knew how hard it would be or how long it would take to get pregnant. Short-pants was conceived within a month's time.
~ ~ ~
Lately I've been trying to meditate. This was a regular part of my life, along with Yoga and Aikido, when I was in my late twenties. Of course we go through different phases and fascinations over the course of our lives, and the discipline I surprised myself with during those years slipped away in my thirties, and the time required for parenting hasn't made it easy for me to take back those practices with any regularity, despite the fact that now more than ever they would do me good.
It was a David Lynch video that inspired me to try it once again, and ever so gently – no grand proclamations here – I am trying to set aside 15 or 20 minutes here and there each day to still my mind. I'm not very good at it; my mind chatters away. But I figure sitting still and breathing deeply for a few moments now and then certainly can't hurt and is likely to be restorative in some fashion. This is easier to do in hotel rooms and airplanes, harder to accomplish with the hundred household tasks whispering at me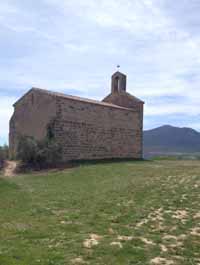 while sitting in my living room, but I've managed to at least start a habit over the last month. On the Camino it's a walking meditation most of the day, but nonetheless I take the time to sit still and deliberately meditate, thanks to all the churches along the way.
And aren't there some Churches? Many so grand and gilded, I stand awestruck at the altar, impressed by the opulent beauty, disgusted by the power and wealth embedded in the bejeweled reredos. I see just as much beauty in plain, little village chapels, homey and welcoming, peaceful because of their simplicity. Like the one pictured here, empty and unused but for the crude stone altar plastered with handwritten notes and pictures and stones and private pleas from passing pilgrims.
Whether you are pious or politically opposed, there is one thing you cannot deny: when you are in a church, large or small, magnificent or modest, there is a thickness in the air, an invisible weight hanging, magnified by the silence or by the distinct echoes of prayerful footsteps on stone floors. Within the thick walls of an edifice that for centuries has been the repository for the prayers of believers, you can feel the faith that's suspended there, even if you don't share it. Like a thick velvet blanket it drapes around you, lowering upon your shoulders and pressing your awareness down, calm, and within. In a church, I can meditate in an instant.
~ ~ ~
In 2004, Oliver Schroer walked the Camino de Santiago, carrying his violin, making a musical pilgrimage. He recorded himself playing in 25 churches along the way. This very short film tells the story of his walk, and the music that came out of it.
A good friend of mine, who also happened to know Oliver, introduced me to his recording, Camino, several years ago. I heard only the opening bars of one song, and went immediately to iTunes to download it. It's become classic Sunday morning music in my household, but useful also in the workshops I lead, when I want to create a mood that makes people stop and reflect on their experience. Each morning, while readying my pack, I hear this song in my mind and I'll hum along out loud. Once, in one of those cool, darkened churches, I took out my earbuds and plugged them into my phone and listened to him bowing fiercely on his violin. Looking up at vaulted ceiling, I wondered if this was one the churches that hosted his beautiful music.
Sadly, Oliver Schroer died of a form of leukemia in 2008, a year before my mother was diagnosed with the the same disease. Wherever they've both ended up, I hope the music is as beautiful as what he created while he was here. And I hope my mother can hear it.
~ ~ ~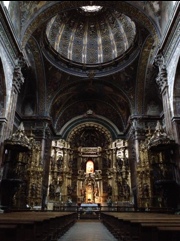 When I go into a church, any church, I always move to the left side and up the aisle, taking a seat in a pew about 2/3 of the way toward the altar. This is where my father preferred to sit, at this 9:30 position within the congregation. It's comforting to be there, at what has always felt like our place in church. I think of long sermons on summer mornings, the patch of blue sky visible out the side door of that church, beckoning, and my father beside me, ready with his crisp, ironed handkerchief the moment I succumbed to a pollen-induced sneezing attack.
I'm not especially religious, growing up in a multi-faith household where neither parent was pious. But my father appreciated the quiet and the lack of interruptions afforded during the church service, and told me this many times, as if he was giving me permission not to be devout, but rather encouraging me to be contemplative.
Which is harder and harder to do these days, in this world that commands us to rush and run about and measure our satisfaction and self-worth by the number of things we get done in any day, rather than by the clarity and quality of our thoughts and actions. On the Camino, I have the luxury of little to do, except to walk, and a lot to ponder. I like this pace. I want to keep this pace, to walk through life rather than speed through it. Apropos of this, it's worth reading the transcript of a commencement speech given by Nipun Mehta – this link, incidentally, sent to me by a close friend of my parents, both of whom seem especially present with me at this moment on the Camino – advising the 2012 graduating class of the University of Pennsylvania, as they "walk on into a world that is increasingly aiming to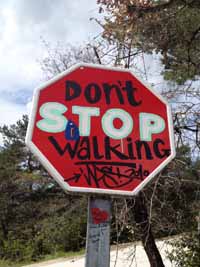 move beyond the speed of thought…to remember the importance of traveling at the speed of thoughtfulness."
When my Camino started, exactly, probably doesn't matter as much as the fact that I'm on it now. That I started, that I left and returned, that I'm still at it. That every now and then I try to sit still and listen, for the quiet thoughts – or the lack of thoughts – and then, I lift my pack up on my back, look down the trail, content, under the heat of the sun or even in the pissing-down rain, to know this most basic of pleasures: I'm still walking.