The Cloning
I hesitated to put Flat Stanley in her bag, he was supposed to accompany Buddy-roo so we could snap photos of him adventuring with us during our vacation. He'd been an end-of-school project for the English section, and the notice that came with him stated very clearly: DO NOT LOSE FLAT STANLEY, there will be a 'part two' to this project in the fall. Her summer assignment: to keep a journal of all that Flat Stanley does with us while on we're on vacation.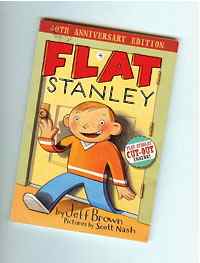 In case you don't know Flat Stanley, he's the protagonist in the book that bears his name in which large bulletin board falls off his wall while he's sleeping and flattens him. He manages to survive without any injury, except that he's flat-as-a-pancake. But in this condition, he has all sorts of adventures: saving his mother's prized ring after it falls down a grate, being flown like a kite, traveling via the postal service to visit a friend in California. It so happens that Flat Stanley and I go way back: Short-pants already had her own summer holiday adventures to orchestrate with him and we've been the recipient of a few of our friends' Flat Stanleys who wanted to travel around the world. Paris is, of course, a place Stanley loves to visit.
I remember rushing around that morning, the mother-in-love was packing a lunch for their drive to the country house, while I put the girls' pillows, blankets, colored pens, books and papers in little bags and backpacks, keeping with my father's car-packing rule of nothing without a handle. I thought better of slipping Flat Stanley into one of those bags. My children are not so skilled at holding on to things. Shortpants' eyeglasses go missing at least once a week, I'm constantly finding Buddy-roo's most cherished possessions in places where if I didn't know better, I'd throw them out and they'd be lost forever. (Sometimes, alas, this happens.) De-facto has many talents, but remembering where he has put something isn't his strong suit. Not that I'm without my memory lapses, but when it comes to locating whatever-it-is-that's-missing-around-here, I still manage to have the best radar.
I contemplated taking Flat Stanley to Pamplona with me. I'd keep him safe in my suitcase and we could start his journal mid-July when I rejoined the family at the country house. Or I could let him have a little fiesta fun, and snap a picture of him at the bullfight, or leaning over our balcony watching the encierro, or dancing with us at the Ham Bar. That'd spice up his summer adventures. But Flat Stanley is her project after all, and I knew he probably should go to the country house in her care. Since he's used to traveling in envelopes, I found a big white one and wrote Flat Stanley on it and slid his wafer-thin laminated figure into it.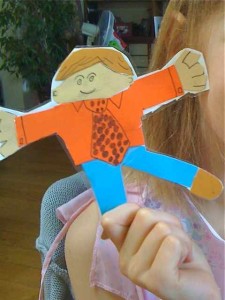 "You won't want to lose Flat Stanley."
I attempted my stern-but-tender voice. "Each time you're done playing with him, you should put him back in this envelope and then back into your back-pack and then you'll always know where to find him."
Buddy-roo agreed readily but I knew the chances of that kind of organization were slimmer than Flat Stanley himself. I looked over at my mother-in-love and gave her a pleading you-know-what-I-mean look. She reciprocated with a sympathetic I-know-what-you-mean look and I knew Flat Stanley would be safe, at least for the duration of her visit, which unfortunately was only for a few more days.
~ ~ ~
"He's not in the envelope?" Buddy-roo looked up at me tearful and confused, "But I always put him back!" I'd returned from Pamplona and inquired about Flat Stanley's whereabouts. She'd cavalierly produced the envelope, and we'd left it on a shelf, agreeing to take a walk and snap some photos that afternoon. I peeked in it later, and discovered that the envelope was empty. Despite a full search of every corner of the country house, Stanley was M-I-A. Trying to get Buddy-roo to remember when she'd last seen or played with him was like an investigation at a congressional hearing. She had no clear recollection.
Days went by with fruitless searching, scrupulous cleaning of closets and shelves and yet there was no sign of our flat friend. Subsequent detective work revealed that after my mother-in-love left, Flat Stanley made a long drive to Germany to see De-facto's brother and had been accidentally left behind. One would think, then, that he could simply be returned via his favorite mode of travel, the post. Except De-facto's brother is moving his family, coincidentally, to California, and Flat Stanley somehow ended up in boxes that are, at this moment, in a container traversing the ocean. The chances of him being returned in time to do her summer assignment, once again: slim.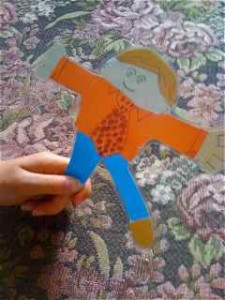 Buddy-roo's tears had more to do with losing her paper-doll friend than getting behind on her assignment, but I wasn't about to give her any excuse to slack off on her summer homework. I found a picture we'd snapped of Flat Stanley before his disappearance – he's totally visible except for his left foot – and with a little Photoshop magic, his image was successfully cropped, enlarged, enhanced, sharpened, and printed, so it could be cut-out and laminated, looking just like his old self.
Flat Stanley has been cloned.
Just in time. We have but a few weeks of summer adventures left to document, and this time, Buddy-roo vows she won't lose sight of her Flat Stanley. But just in case (and don't tell her) I printed a few extra copies. This has me thinking about part two of the assignment, in the fall, when she'll probably have to send him in the mail to visit a friend or relative far away. We just might find that Flat Stanley really gets around.