Le Halloween
A good thing about being Americans living abroad is that we can take advantage of the holidays celebrated in both the United States and in France. We bring our own national traditions with us: Fourth of July, Thanksgiving, and Halloween. But then we also get to appreciate the local celebrations such as Bastille Day, the Beaujoulais Nouveau and, like, every other Tuesday and Friday in May.
Another good thing is that many of the traditional holidays, so unfortunately over-commercialized in the United States, are less amplified here in France. Here we celebrate more modestly, in a spirit that reminds me of when I was a little girl. I'm not saying that France hasn't succumbed to the consumerism of Christmas, or that there aren't some materialistic aspects to this culture, but holidays are not over-marketed to the same degree as in my homeland.
Halloween, in France, is especially understated. There happens to be a school holiday the week prior and following, but this is an excuse for a mid-trimester break that coincides with Toussaints, or All Saints Day, on November 1st. But there is no serious trick-or-treating and bobbing-for-apples is unheard of. The French simply don't do l'Alowine.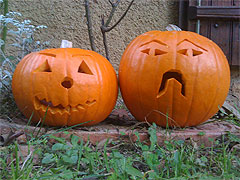 It's still my favorite holiday, Halloween. I love the idea of being costumed and masked and taking on another persona. I love telling scary stories. I love carving innocent pumpkins into mischievous jack-o-lanterns.
Because Halloween is not part of the French national consciousness, I realized, when the girls were finally old enough to go trick-or-treating, that I'd have to choreograph the entire event. I wrote up a French set of instructions and distributed them to neighbors in our building, and to some of our favorite stops in the quartier: our tailor, a favorite café, the bakery. I realized that without knowing the custom, it might seem odd that we'd ask them to provide free candy for our children, so I even made little gift-bags of bonbons and handed them out along with my instructions. Basically, if you agreed to participate, all you had to do was open the door when we rang the bell. It was a ready-made system: Halloween-to-go.
We've left those urban Halloweens behind. We spend much of the two-week Toussaints school vacation at the country house, a place far more suitable for celebrating a spooky holiday. The ground is layered with moist brown and orange leaves. The trees are nearly bare, dancing like skeletal silhouettes along the long road we must walk, in the dark, to visit the five houses that are near enough for trick-or-treating. The British neighbors know the drill, so no additional preparation is required. Even the French neighbors caught on quickly, and seem to look forward to viewing the odd creatures who show up at their door, begging for goodies. There is one household, a strange trio of three elderly peasants who live today much like they did fifty years ago, without running water or electricity. It occurred to me, after leaving them the note and the candy, that they might not know how to read. I think they thought the candy was a gift they could keep. When we came knocking on their door, nobody answered. It was pretty scary, standing outside their dark house, knocking, listening, wondering if they'd answer. Now that's Halloween.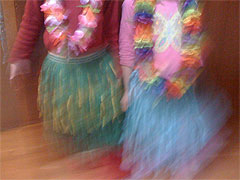 This year Short-pants and Buddy-roo have opted out of any witch, ghost or goblin costumes, and even turned up their nose at the idea of being princesses. (Can I mention how much that pleases me?) Inspired by some ukuleles that came home from a workshop I led last spring and a costume idea from a depression-era story that accompanied one of their American Girl dolls, they've both decided to be hula dancers. So, grass skirts, check. Leis, check. Candy, check. Boo!