The Vendange
We couldn't get enough of our country house this summer, and even though the September back-to-school routine is a welcome one, we snuck out of town on Friday with hopes for an Indian Summer weekend à la campagne.
The weather cooperated with the gift of flawless blue skies and unhindered sunlight. A constant if somewhat reckless breeze raced through and around the stone house – slamming doors and flapping curtains – announcing the arrival of autumn. The sun was a bit lower as it arced across the sky, but still warm enough to dry our laundry and nourish our garden from which we harvested the last of the carrots and lettuce, and even a few last treats offered from a lone tomato plant.
But the news – the real news – is about the vendange. There were grapes to be harvested! After three years of attending to those stubborn stalks without any reward, this year the vines have produced plentiful bunches of succulent grapes.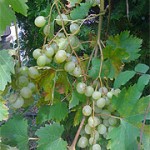 "Who's going to help with the vendange?" I shouted boastfully to the girls.
"We will!" they both shouted back in tandem.
And then, a few moments later, Short-pants asked, "What's a vendange?"
How to explain the romance of the vendange? I've seen grape harvests in Western New York state, when I was a teenager, and in Switzerland where I lived for a year in my early thirties. Driving out to the vineyards in the back of a truck, jumping off with a crate in hand, gliding down each row of vines, filling the crates, bunch by bunch with round, ripe grapes. It's backbreaking work, but harvesting bushels of fresh grapes for eating and for wine making is somehow so very satisfying. Something about the completion of a seasonal cycle, or else the anticipation of the (finally) well-deserved sampling of the end product.
"Do we have to be barefoot?" Buddy-roo asked.
"No," I laughed, "that's for making wine. We're just picking the grapes." I racked my brain to figure out where she would have learned about grape stomping. It has to have been a movie, maybe the DVD of Brigadoon has a scene like that? Or has she seen that famous episode of I Love Lucy?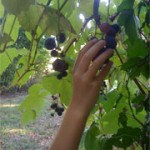 The grape vines – left for us by the previous owner of the house – grow in four different spots on our property; the green grapes on patches of land that get more sun, the purple ones in more shaded areas. After rummaging through the junk in the barn – also left for us by the previous owner – I found a dirty crate and hosed it off and set out to collect my bounty.
"To the harvest!" I called out. Short-pants ran along beside me. She watched, and then followed suit, reaching to grab the stems and pull off the grapes in full bunches. Buddy-roo appeared a few moments later in her pink plastic high-heeled slippers. (I did not buy her

these come-hither shoes. They are hand-me-downs from the girls who live down the road.) She folded her arms and watched us as we carefully set each bunch of grapes into the crate.
"Dressed for the harvest?" I asked.
She nodded. "In case we need to stomp on them."
Isn't it romantic to think that I might make my own wine someday? De-facto keeps asking, and I keep telling him – and everyone else who asks – that I harbor no fantasies of producing a fine wine, or even a modest or mediocre one. I am proud of my little harvest, but I am no oenologist. Besides, the yield of my crop isn't enough to make but a few bottles, hardly worth the investment or effort. The idea of making wine is a lot more romantic than the actual activity. But if I ever change my mind, I know who will help me stomp on the grapes.