How Fitting
The saleswoman directed us to the fitting room, a long row of closets where we could undress and try on our selections. Short-pants and I had toured the lingerie department thoroughly, in search of new bras. We used to find them easily in the girl's section, the starter bras for budding young women. I'd noticed the week before that those easy-to-buy standards were not only a bit ragged, they were too tight. It was time to buy her a real bra.
I'd wager that most women remember the acquisition of their first bra, and not always happily. It's a question – and I've asked different circles of girlfriends over the years – that's always met with groans. How could such a simple step into womanhood have so many unpleasant stories? My experience is a classic example: My mother, noting that my nipples were popping through my favorite striped turtleneck sweater, drove me to McCurdy's department store. It was "out of town," meaning it was a 30-minute drive (that was a good distance in those days) so you didn't go there for every-day things. It was a special trip. This was where we went to do Christmas shopping, or to buy back-to-school clothes. I remember coming home after those late August shopping trips and laying all the new outfits on my bed and feeling the discordant mix of excitement about going back to school along with a deep sadness about the waning of summer and its late sunsets long after dinner, stretching the hours of play to the maximum.
In the same shopping plaza as McCurdy's, there was a lingerie store called The Ethel Abraham Shop. It was classy place. My underwear worldview, in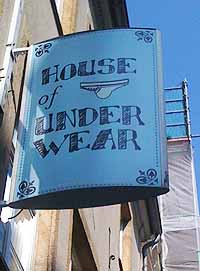 those days, was fairly polarized. You bought underwear at a department store like McCurdy's, or by mail-order from Frederick's of Hollywood, which was reserved for people kinkier than my mother or her circle of friends. Lingerie was an evocative word. It spoke of the unspoken: sex. Or so I thought, until Ethel's little boutique became part of my awareness. Its balance of quality silk and satin with just a very tiny hint of sensuality (at least what ended up in our home) opened my mind to the possibility that you could wear silky underthings without being one of the models in the Playboy magazines I'd found stacked in the bottom drawer of an old junky cupboard in the backroom of our house.
Sitting in the passenger seat of my mother's turquoise Chevy Impala, I pictured us going to Ethel Abraham's, imagining what it would be like to walk out of the store with one of her distinctive boxes. They were usually plain on the outside, but when opened a bright flowering print exploded from the interior of the box. A metaphor, I suppose, for the lingerie she sold: something beautiful but kept inside, hidden beneath a simple, unremarkable exterior. My father used to go to Ethel's on the day before Christmas and pick up gifts for the women in his life: my mother, his sister and his mother. The shop carried a lovely array of nightgowns and robes, silky and lacy and soft to the touch. One year he gave my mother an elegant pink quilted robe that came in a long flat brown box. When she opened the lid, her face conveyed her delight. The robe was folded in the bottom of the box and I couldn't see it until she held it up for us, but I knew right away it was from The Ethel Abraham Shop because of the flower print on the inside of the lid.
Forty years later, cleaning out my mother's backroom, I found that box, or one just like it. My mother recycled boxes for years – she piled them on a table next to the cupboard with the hidden Playboys – and you could find any size you wanted for any occasion. This was especially handy for gift-wrapping at Christmas. The box from Ethel's was used and re-used and re-used again, saved because of its beauty or perhaps because of its nostalgia. I had a hard time throwing it away and even included it in the shipment of things I sent to France. It was only there, out of the context of my family home and its thick web of childhood memories that I could see it for what it was: a dilapidated, overused 40-year old cardboard box. Even the pattern on the interior had faded. I finally put it in the recycling bin and watched the garbage truck pick it up and haul it away, but not without a deep sigh.
My mother parked the car in front of the entrance to McCurdy's. I was mildly disappointed, and yet at the age of eleven or twelve or whatever, I was old enough to reason that I wouldn't be fitted for my first bra at Ethel's. I was excited enough about the acquisition I was about to make to erase any disappointment. I was also a bit nervous. Like any adolescent girl, I was self-conscious about my body. I knew I'd have to strip and let my mother examine me. I was embarrassed just thinking of it.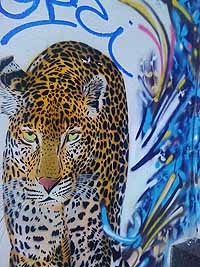 It played out pretty much like my worst nightmare: the racks of the bra department were thick with cupped, hanging devices that looked like a jungle to navigate. The saleswoman was right out of central casting: pointy-heeled shoes with skin-tight pants in a leopard print (when leopard was out of fashion), a thin sweater over her thick middle and cat-eye glasses hanging from a chain around her neck. When she asked if she could help us it was more of a screech than a request. Her voice was incapable of any volume but public broadcast.
My mother answered, matching her volume. "Yes, we're here to buy a bra for my daughter. It's her first one."
Every other shopper in the department turned to look at me, the newbie. I suppressed the instinct to turn and run out of the store – I really wanted a bra, all my friends were wearing one – and just dropped my head, cringing inside, praying that being "out of town" meant none of the people who could overhear this conversation might actually know me.
The saleswoman ran her eyes up and down my chest and torso, then reached out and put her hands on my shoulders, pushing them back and thrusting my very small breasts toward her.
"Stand up tall, sweety, let me have a look at you."
A half-dozen white "trainer" bras were placed on the glass counter for my mother to inspect, which she did by holding them up so that everyone in the store could inspect them, too. When I could escape to the dressing room, I pulled the curtain closed, fussing with it to keep it fully shut in order to achieve the privacy I felt I deserved. My striped turtleneck came off and on the chair and before I had a chance to clasp one of the bras around my body, my mother had thrown the curtain open.
"Let me see, honey."
She was helping me to adjust the straps when the bobcat-dressed lady barged in and asked for viewing rights. She pushed her way in, taking over for my mother, instructing me to bend over into the bra, and fill the cups – not that I had much to fill them – before standing upright. Her cold hands poked and prodded to make sure it fit correctly, adjusting the shoulder straps and then snapping the strap in the back – ouch! – to see how tight it was.
I was sure everyone in the lingerie department could not only see into my dressing room, but could hear my mother and this tacky woman discussing how to fit a bra to my barely-existent breasts. They kept handing me different models, and ripping the curtain open before I'd hooked them on. I felt like a mannequin being dressed and undressed in the window. I was cold, cranky and tortured. I just wanted to get a bra and get out of there.
Later, in the parking lot, a bag of new bras in my hand, I eyed the sign for The Ethel Abraham Shop. When I had real breasts, I told myself, I'd go there. It had to be more civilized.
~ ~ ~
While perusing the racks for the right style of bra for someone Short-pants' age, I came upon several models that appealed to me as well. The straps on my best black bra were on the verge of disintegrating, I needed a new one to wear under my favorite black sleeveless sweater. So as we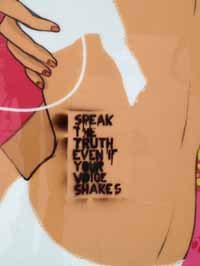 were bra hunting for her, I collected some for myself. We entered the dressing room – at the Corte Ingles, a much upscaled version of McCurdy's – with our hands full. The saleswoman didn't stay around to assist us, a slight disappointment as I've outgrown the need for privacy while bra shopping and it's actually nice to have someone at your beck and call to fetch better sizes and make suggestions based on a full knowledge of the inventory. There were intercom phones in the dressing rooms, in case we needed to call for a size change, but our hands were full with multiple sizes of the same models.
"Do you mind if we use the same dressing room so I can help you?" I asked.
Short-pants wasn't at all reluctant, she seemed delighted to be sharing the experience with me. We both stripped to the waist and took turns trying on what we'd brought in. I showed her how to bend over and fit herself into the bra, just as I'd been taught, but with a deliberately gentler explanation. She seemed genuinely eager to learn the nuances of putting on a bra. We hooked and unhooked each other, admiring the fabrics and the patterns – teenager's bras are far more interesting today than in my day – laughing at the ones that were too tight, too big or just too quirky. We stood side-by-side under the fluorescent lighting, staring at each other in the mirror, mother by daughter, in different phases of our lives, but still two women standing together in their bras. Freeze this frame in your memory, I told myself. She won't want to do this with you forever.
In the end, none of the bras I'd tried on fit. But Short-pants selected two pretty white ones and a deep burgundy satin number, something a little bit soft and ever-so-slightly sensual.
"The thing about nice lingerie," I told her, while standing in line to pay, "is you wear it for yourself. It's a gesture of self-respect, having something pretty on, but just for your eyes only." I didn't mention that sometimes I keep De-facto in mind when I select my bra and panties for the day. She'll figure that out on her own.
"Like the purple one?" she asked.
I nodded. "Wear that one on the days when you feel a little down. It'll give you something to smile about, every time you remember how you're wearing something beautiful underneath, something just for you."
~ ~ ~
I learned about the pleasure of lingerie when I moved to France. It's said that French women spend 20% of their income on their undergarments. It's certainly a habit I picked up while living there. But recently, in New York on a very quick transit stopover, I spent a Sunday afternoon with two college friends and the subject of lingerie came up. After a long lunch, including a bottle of wine, we walked back out on to the street debating what to do.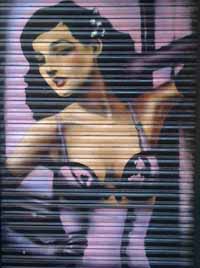 Twenty years ago this same trio would have gone to a movie or hit a favorite jewelry shop. Last Sunday we went to Sugar Cookies, an exclusive lingerie shop. It was about to close, but stayed open for the three of us. We opened the curtain between the side-by-side fitting rooms and tried on nearly every bra in the store. I wished Short-pants could have been there to see us, each with dozens of silk and lace contraptions going on and coming off, modeling for each other, frank feedback flying back and forth, giggling, oohing and aahhing, viewing ourselves in the beautifully made undergarments. Unlike my experience at Corte Ingles, where nothing came close to fitting me, nearly everything I tried on seemed to work. An hour later, I laid a pile of lacy things on the counter. The saleswoman rang them up and wrapped them, and my friends and I walked out of the door swinging our bags, exhilarated by the items that only we – or perhaps a special somebody – would get to see.
I've overcome any collateral damage from my early bra-buying trauma, though it's never been a task I've relished. At least that awkward first occasion produced the awareness to construct a different experience for my daughters. It occurred to me, giggling with my girlfriends in the dressing room, and reflecting on my shopping trip with Short-pants, too, that trying on bras can actually be something fun to do. How fitting to discover this hidden pleasure, just in time to pass it along.