The Backroom
My hands are dry, parched from the handling of paper and the folding of cardboard box covers. My mind reels at the level of organization hidden within the disorganized mess of boxes and files stowed away, every box like another chapter of her life, the files of all her correspondence, drafts of her speeches, even all her travel receipts. My heart breaks, reading love letters my parents wrote to each other in college, his familiar scribble, eighteen times in a row writing out "I love you." Or finding a letter my mother's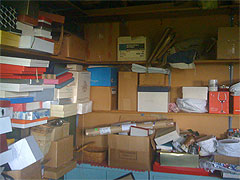 father left for my grandmother in an envelope that read: "to be opened only in the event of my death." In it, his humble words of reflection on their life together and the tasks she would have ahead of her to continue without him.
There is a physical, mental and emotional labor involved in cleaning out my mother's house, but especially so as we addressed the backroom, the room that waited behind a closed door, the room where our family's stories have been stored for so many years. It is not a small room; it probably measures 15 X 20 feet. It was packed to the gills with files and crates of papers and memorabilia, magazines, empty boxes that were re-used every Christmas and board games we no longer played, old carpet remnants, photo albums, family scrapbooks. It must be said that you couldn't really walk into the room except for the thin path to the blue recycling bins, kept just next to the 50-year-old standing freezer which contains jars of something that might have put there more than thirty years ago. We have yet to defrost it; that thaw is for another trip, I think.
She saved everything. A long box with our baby books, faded with time and love, and underneath them, all the tiny, corny, welcoming cards sent to her when each one of us was born. Every grade school portrait and class photo.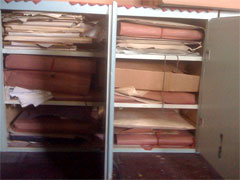 Every single report card. The piece of paper that was pinned on my brother's shirt so he would be shuffled off the school bus to the correct first-grade class (the pin still attached). All our schoolwork – I think she saved every piece of paper that came home, all of it stowed in reddish brown legal brief envelopes tied up tight and stacked in a cupboard in the backroom.
My sister and I would call out to each other, "Oh my god, come see this." A carton with her budget records from the 1970s and envelopes filled with tax receipts from the same decade; a notebook in which she kept a record of every dinner party she hosted in 1967-1968, who was invited, what she served, how they were seated at the tables (and shifted for dessert), and all the thank you notes she received after each occasion; the diaries she kept in college, filled with the practical details of her day ("up at 7…") but also an occasional reference to someone she had a crush on who smiled at her in a special way; scrapbooks from her youth in Havana, with theater programs and letters from her school and small calling cards bearing her maiden name; a large box, and then another, with all the condolence notes she received when my father died, and the record of how she acknowledged of each and every card.
One of the sagging cardboard cartons contained every letter I ever sent home from college. In the same box, a notebook with the letters written during my semester abroad in Denmark. I remember where I was sitting when I wrote most of them, at a square wooden table at the Café Peder Hvitfeldts in the center of Copenhagen, a Carlsberg Porter to my left to fortify me. It was stunning to see all these letters again, collected together. I drew my finger down the lines of little words, my fine, tiny writing filling every blank space of the page and it all rushed back to me: being a 20-year old stretching my legs to another continent. How strange and exotic it all felt, compared to life in my rural hometown, or even the small city that hosted my university. I was tasting Europe for the first time and it was thrilling. I remember writing home with all the details – some of it more than my parents ever needed to know – because I felt compelled to convey to them how I was getting it all, doing it all, growing into the woman that I imagined they hoped I would become.
The letters are painful to re-read, quite honestly, as now with some years under my belt I can see in them the naïveté and the obnoxious optimism I possessed. They are trying too hard to express something that I realize now I never needed to write because my parents knew it all along: mom, dad, I'm doing you proud, which somehow seemed so important then, and well, still is now.
Standing over this pile of letters, I realized it's not just about grieving her death. Or my father's. Or even preparing for the grieving of the loss of this old house – which when we sell it will be like saying goodbye to another family member, a friend that has hugged our family close for 53 years. Each time I open one of those crumbling boxes filled with the dust and dead cluster flies and the memorabilia of my earlier days, I am grieving a part of me, too, some part that was young and impressionable and looking to my mother for help and advice and approval and that just as my mother is gone,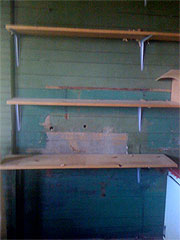 so is that little girl. I wouldn't mind to still be her, and just let someone collect my report cards while I run out to the orchard to play. But I have my own collecting to do, while my little girls run about and skip away.
Maybe nobody likes to admit to this, but I will: We mourn our grandparents and our parents and we miss them and their goodness and their guidance but we are also mourning ourselves and our own inevitable passage to the stage of life they were in before they died, which signals our own departure, too.
As my mother dies, so do the impish girl and the rebellious teenager and the emerging young woman that I used to be. As long as she was here, these parts of me lived in relation to her. Now that she is gone, I feel as though I'm on the threshold of another place in my life: it is papered with wisdom and prudence, furnished with a bit of grace, a shrug of humility. It is a place that she inhabited so effortlessly and left it in such lovely condition for me to step into – probably because she had that back room to store everything else.