Chair Stories
After dinner, we huddle around the wood stove to keep warm. "Tell the one about the Pepper-chaser," Buddy-roo begs. De-facto has told so many stories about this childhood pet, a daschund named Pepper, loved and tortured by the four siblings in his family, it's as if Short-pants and Buddy-roo have a memory of the dog themselves. De-facto falls into the story, like a musician answering the audience's call for a tired hit song, and Buddy-roo squeals and claps her hands. She knows how the story ends, but she loves to hear it again, and again, anyway.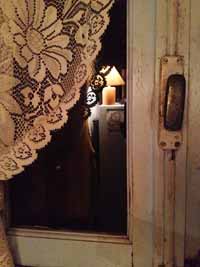 This is what happens at the country house, especially now, as autumn bleeds into winter. The after-dinner routines of summer – foraging for blackberries, a badminton match or running down the road to see the lambs – cease to be viable. Darkness drapes around us before dinner is even on the stove. Our reflections in the windows accompany the meal and the cleanup that follows. It's chilly in this old stone house, so we hover around the cylindrical stove, warming our legs until they're too hot to touch, pushing our chairs back away from the fire until we're too cold, then hustling close to the fire again to keep warm.
There is no Internet – even though it would make it easier to stay here for longer stretches – it's hard to justify the expense. We're here no more than 15 weeks out of the year; the obligatory two-year contract seems like a waste. But that's not the real reason. If we had the Internet, we'd spend our evenings on it. Since we don't, the evenings are spent with laptops closed, face-to-face around a fire, playing cards, laughing, adding to the collection of family stories that Short-pants and Buddy-roo will tell, someday, when their children say to them tell us a story about your childhood.
~ ~ ~
The shipment of things from my mother's house, designated for our country house, arrived in September. We couldn't be here, so a helpful neighbor met the movers and let them in. Not knowing where things ought to go, everything was left in the middle of the main room, which is where we found them when we arrived this week. We spent two days sorting through the boxes and re-arranging furniture to accommodate the new possessions.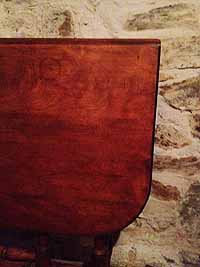 A wooden table, with leaves folded like arms at its side, now stands against the fieldstone wall. I see it instead as it used to be, in her living room, beneath the portrait of an old Dutch man in a brown cape, smoking a pipe. A long, shallow dish filled with gold-painted gourds rests on top of the table, with two gold-colored candles in gold-plated candleholders on each side. I think no matter where we end up putting the table here in this house, when I look at it, I will see it there, as it was, all those years, in her house.
Two enormous fauteuils made the trip from upstate New York to the southwest of France as well. We didn't really need them here, but I couldn't bear to give them away. The shipping cost was a bit extraordinary, but now that they are here I am certain the indulgence was a good one. They, too, have a place in my memory, when I sit in them I am transported back to other rooms and other parts of my life.
~ ~ ~
"You tell a story, Mama," says Buddy-roo, after the Pepper-Chaser story is finished. I am slow to think of one. It's as though I get lost in my past when I go digging for a story to tell. Buddy-roo gets impatient. "Tell us one about the big chairs." She points to one of the fauteuils, its huge cushions flattened unevenly from the last person who sat on them.
"The chairs," I say, "they used to be red." I picture the chairs as they once were, in a room with wood floors and a faded blue rug. I get stuck in the details. Was there a couch? What color were the walls? There was that coffee table with the gold border, what ever happened to it? And the piano in the next room, it was painted white…
"They used to be red…" Buddy-roo repeats, nudging me out of my reverie.
"Red velvet, with a row of thick golden tassels all along the bottom, a skirt tickling the floor, like the fringe of a flapper's dress."
Her eyes widen.
"The chairs belonged to my grandparents before they gave them to my parents. There's an old photograph of me sitting on the living room floor, and my grandfather is behind me, sitting in one of the chairs. His half-moon-shaped eyes smiling at me, like he was utterly amused."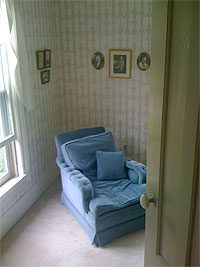 This isn't really a story, but rather a chain of memories unleashed. One scene after another, how the chairs were moved upstairs to the room next to my parents' bedroom, next to a table with a telephone – a green rotary phone – where I used to sit and talk to my friends for hours. How I sat in one of those big chairs and called my friends to tell them I had to miss the sleepover party to go my grandfather's funeral. I have a video of my mother sitting in one of the chairs, telling me about her great aunts and uncles, sketching out for me a branch of the family tree.
After a big renovation project the chairs were reupholstered in green velvet. They looked beautiful, like brand new. Except nobody sat in them any more. After my father died, they were placeholders in his empty dressing room. They seemed a bit sad, two lonely armchairs in an unused room, their cushions always plump, never sat upon.
~ ~ ~
I have just finished reading The Hare with the Amber Eyes, which I highly recommend to anyone who likes a book that wraps you up in the lives of the people in it. The book chronicles first the collection of a family's heirlooms and then the dismantling of its grandest household. The circumstances in the story are more severe and turbulent than that of the disassembly of my mother's house – the possessions, too, much more valuable – but reading it made me think of those disheartening days when we watched her belongings get carried out the door. Even when it is voluntary, the separation of beloved things that have belonged together in a room is heartbreaking. It's not so much about the things as it is the loss of what those things coupled together represent. As I wept for the family in the book, I wept for my own childhood home, its details still entirely intact in my mind, like golden gourds on a golden plate or puffed-up cushions longing for someone to sit on them.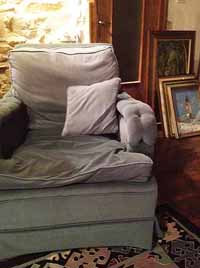 A consolation, at least: I've read this book while curled up in a fat and familiar green armchair. The girls play at my feet, on the floor with the Fisher Price castle – one of the last of my childhood toys also included in the shipment – acting out stories that they make up as they go along. They are debating who should be rescued, the prince or the princess. The rain is steady outside. De-facto has just stoked the fire in the wood stove; the house is finally getting warm. I close the book, lay it on my lap and let the tears roll down my cheeks, happy for all my family's stories, lucky to have had such good things to grieve.