Finding your Place
The huge green gate swung open and the dozens of moms and dads, congregated to fetch their children after the first day of school, plowed into the courtyard. The children stood in a clump, all of them slightly hunched over from the weight of backpacks that contain every school book they own. The first parents through the gate created a tall wall that made it nearly impossible to find your own in the mob of children waiting to be claimed. I paced back and forth behind the crowd of parents, craning my neck to locate Buddy-roo. I wasn't worried that I wouldn't find her, but more concerned that she would panic not having been found. The school is so much larger than our little corner primary school in Paris. There were so many kids, and as many adults. I stood for nearly ten minutes looking for her.
Then that moment. It happens at every school pick-up, and warms my heart each time. It was ten times more robust on this day, the end of her first day at a new school. I saw her and she saw me and her face exploded into a huge grin. My whole body sighed with relief. She's happy. It went well. She inched through the swarm of people to reach me.
"I made five friends today!"
She is a voraciously social creature; achieving new friends is her measure of success.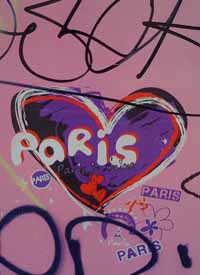 "And I love my teacher!"
I didn't expect her to have difficulty, but I know it's not easy, adjusting to a new school and a new life in a new city. That morning, standing outside the school with her, I felt as though we were alone in the sea of families greeting each other warmly, catching up with their friends after the long summer vacation. I pictured us in the courtyard of our school in Paris, where we'd be hugging our friends and chatting and laughing, all of it too loud and the directrice would have to remind us, repeatedly, to be quiet as she called out the name of each student. A sharp dagger of regret not to be there with our friends instead of here amongst these strangers. I let it wash over me, not accepting it, not fighting it either. In moments of unfamiliarity, the familiar always has a halo. You will find your place here, I told myself. So will they.
~ ~ ~
The van we'd rented was stuffed to the gills. Every space was used. Boxes and suitcases stuffed to the ceiling, rendering the rear view mirror useless. De-facto even unpacked some of the smaller bags I'd prepared, breaking my father's cardinal rule of nothing without a handle – sage guidelines always appreciated when unpacking – and stuffed the girls shoes and T-shirts into the nooks and crannies. The front passenger seat was pushed so far forward that only Buddy-roo could sit comfortably in it. Half of the back seat was given to storage so Short-pants and I squeezed in the other half. We were like the Clampetts, riding toward Beverly Hills in an overloaded jalopy.
Moving sucks. Even if you have a moving company with a big truck coming to transport your life in cartons to your new doorstep, it's brutal. I wanted to hire such a mover. I pictured those muscled men hoisting our boxes away and then miraculously appearing again at the other end to carry each box in, placing it where I'd point. De-Facto, being a scrapper, resisted the idea, reminding me not only of the unnecessary expense – we aren't taking that much furniture – but also how when you have just a small load they try to pack you in with other larger shipments and you end up at their mercy. It took weeks to coordinate a delivery date for the small shipment from my mother's house, about the same amount as we are taking to Barcelona, and it was not without surprise charges and additional headaches. So our plan: take a load of stuff with us, find our apartment, unload it and then De-facto would drive back to France for our second load, the pack for later load. Anything else could wait until the fall school holiday, when we could make a third trip to get any other longed-for items. The plan was not to move our entire home – we have a renter in Paris who's counting on most of our furniture – but to take just what we'd need.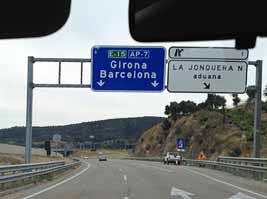 Things were going along according to plan. We hit the ground running, saw a fabulous apartment on the first day and three more very livable options the next. At each apartment we visited, Buddy-roo and Short-pants would run off to explore the bedrooms while De-facto and I inspected the main rooms and kitchen. They'd sprint back with a report on who'd claimed which room. They moved into every apartment, in their imaginations, instantly.
Then, last Monday, we found it. A slightly eccentric apartment with floor-to-ceiling glass doors that slide open against a balustrade, giving the effect of being indoors and yet on a terrace. It's a duplex, too, so the girls can keep their upstairs universe, only this time with more headroom than in our attic apartment in Paris. De-facto and I have agreed, more or less, on the viability of all the apartments we'd seen, but now we turned to each other and it was obvious: this one. We made an offer – with the rental market as it is in Barcelona it wouldn't be sane to pay the asking price – and negotiation started. On Tuesday we reached a verbal agreement. Conceivably, the contract could be signed mid-week and we could move in on the weekend, which would give us time to move out of our temporary digs and leave them in mint condition for the return of the friend who was loaning her apartment to us while she went to Burning Man.
On Wednesday the owner, our potential landlord, wanted more information, requesting financial documents that we never guessed we'd need and had left packed away. Our new tenant in Paris – fortunately a good friend – was heroic in his willingness to scavenge for these papers and scan and send them to us. This would delay the signing, but we still had time. That afternoon, however, the small side window of our van was smashed and we were robbed. In broad daylight. We'd had the sense not to leave our most important possessions in the van, there were just boxes of sheets and towels, toiletries, a large suitcase of De-facto's clothing (I actually wish they'd taken that), some books and papers. There was nothing of demonstrable value except the one item we'd forgotten to bring in because it was hidden in a secret floor compartment that the thief managed to find: the small black bag with our video camera. I could care less about the camera, we stopped filming years ago. It was that all our cassettes were in the same bag. Every video of Short-pants and Buddy-roo, coming home from the hospital, kicking in their highchair, learning to walk, playing at the beach. All of them surely tossed in a garbage bin somewhere in Barcelona.
"It's okay," I consoled a tearful Buddy-roo. She'd been watching the videos just last week, relishing the images of her own childhood. "I had no videos of my childhood and but I still remember it was a happy one."
It was time for Plan B. We moved everything that was left in the van into our tiny temporary apartment, and De-facto, worried that a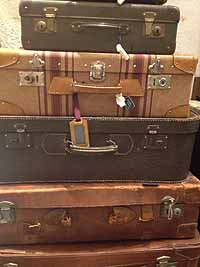 vehicle with a broken window would only invite another theft, decided to drive it back to Paris, that night. He'd return it and get another van – a bigger one even – and on the way back he'd stop off at the country house to pick up a few pieces of furniture, returning to Barcelona on Friday. Our heroic friend and renter even volunteered to drive back with him; an extra muscle to move things, a co-pilot and relief driver, and in general good company. In the meantime, I'd sign the lease and we'd move everything in on Saturday.
Except on Friday, while De-facto sped down the autoroute toward Spain, I got a call informing me that the landlord wouldn't schedule an appointment until he could review our tax returns, which meant not until Monday. I should mention that the night before I noticed that Short-pants was scratching her head and a close inspection confirmed that she had lice, and so did Buddy-roo. We were up until after midnight combing out their hair. The only saving grace is that the metal long-tooth combs and tea-tree oil were in the box of toiletries we'd been forced to bring in from the van after the theft. This, probably my lowest moment of the move, so far: operating on four hours of sleep, a van of our belongings on their way to Barcelona, another van's worth of boxes and suitcases in our tiny temporary apartment that we needed to vacate before Sunday, and no apartment until at least Monday, or later.
I was never thrilled about plan B. I'd have waited until we signed a lease before making a trip back to Paris. But De-facto had valid reasons for pressing forward this way, and when he wants to get something done he's tenacious. Or he trusts that if things go wrong, he can solve that problem later. It's foolish, sometimes, what we get ourselves into. It does keep our problem solving skills in sharp order. It's definitely not boring. But now I had to devise a plan C. There, on the ground, and fast.
I asked our real estate agent for a list of the best storage units, and with his advice, managed to contact one and make a reservation. I'd already been scanning Air BnB apartments to rent in case our homelessness stretched beyond the weekend. I sent a bunch of messages inquiring about places to rent for a few days, or up to a week. I met the girls at school and tried to be cheerful as I explained that we'd have to wait until Monday to find out about our apartment. I think they're used to this "suspended" situation we are in; they just shrugged and asked for a snack.
~ ~ ~
Night fell around us as we sat on the balcony at the home of new friends introduced to us by our friend/tenant who'd accompanied De-facto to Barcelona with our things, new friends who's daughter happens to be, by chance, in the same class as Short-pants. While we'd driven the van to the storage unit and unpacked it – how reassuring to see my grandmother's two velvet fauteuils ready to be in our new home, wherever we make it – these friends cooked up a paella and set the table on their terrace. In the course of dinner conversation, we acquired the name and number of a cousin in Barcelona who has an apartment we can rent a day at a time until we get our own. A crisp glass of white wine, children playing together happily inside, the night air warm and easy, it felt like things had somehow turned around. A few angels here and there, a helpful friend, a generous stranger. Maybe it was hope, maybe it was just the wine: we even started to laugh at our own situation.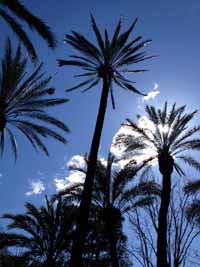 You learn a lot about your decisions when you think about undoing them. There've been many moments this week when I thought about how much easier it'd be if we'd just stayed in Paris. But after each flash of frustration or fatigue, I'd looked around and notice something like a palm tree in front of the school and remind myself that we came here for a reason, even if I don't know what it is yet. As for the apartment: we like the other ones on our list well enough, but we love this one. The thought of not giving it one or two more days to come together feels short-sighted. Perhaps tomorrow things will fall into place and we'll have a new home. If not, we'll have to concoct a plan D.
As I write this, De-facto and the girls are in the other room, crowded around his computer, laughing out loud at a string of videos: two little girls singing "Twinkle Twinkle," the kids playing poker with their uncle in the back yard of the country house, footage from our stay in Cambodia. As it turns out, he'd archived some of those early family videos on his hard drive. A few motion pictures of the girls' charmed childhoods still exist. Seeing the videos reminds me of all the places we've been, how happy we've been in all of them, and how we just have to give it some time before we all find our place here in Barcelona.