Newly at Home
When Buddy-roo heard the long, loud buzzer, she leapt up and squealed, "They're here!" She sprinted to the foyer to pick up the interphone, not even bothering to ask who it was, right away pressing the button to open the street door. She ran out into the hall to wait at the top of the stairwell, listening to the breathless (already) footsteps slowly winding up the four flights of stairs.
"I'm so glad to see you!" She threw herself at the mover, a young man who looked older than he probably was because of an unfortunate girth. I hoped there were muscles somewhere beneath his obese frame. He'd already made a delivery, it seemed, from his distinctive body odor. Buddy-roo recoiled as politely as she could, regretting that she'd gotten so close.
"We've been waiting for you to bring the Fisher Price toys," she said. "What took you so long?"
Buddy-roo launched into a animated description of the toys that she was expecting – the house, the school, the village, the airport – and the people and pieces that accompanied each one and how she intended to play with them. He stared at her, still panting from climbing the stairs, unaccustomed to such an enthusiastic and informative welcome.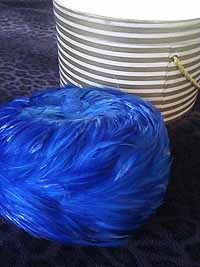 The boxes came up in slow motion, one by one. They'd been packed in September and already I'd forgotten much of what I'd decided to send. What I remember was being brutal with myself: eighteen crates of books whittled down to one. Three large cartons of sentimental objects became a single shoebox of can't-part-with memorabilia. Aside from the toys and the chinaware, the other things I'd shipped were now like surprises. My father's cocktail shaker and shot-measure, my mother's beaded clutches, her blue-feathered toque hat, in its original hatbox. Two metal boxes of photographs from her youth: in Cuba, in college, with her young children. This is why I didn't insure the shipment. Everything – the dishes, the toys, the artifacts of her childhood and mine – was irreplaceable. Had they gone missing, I couldn't buy them back. The only thing in those boxes, really, was nostalgia.
~ ~ ~
The shipment was supposed to arrive in Paris mid-November, but it wasn't until December when I got the email about its arrival, as luck would have it, on the day after I left for New Zealand. A day (or two) earlier and I could have processed the 37 forms needed to clear customs. Instead I was in a hotel in Auckland, scrambling during workshop breaks, negotiating with the hotel to get things printed, signed, and scanned and put the papers in order. Time was of the essence, or so I thought. Buddy-roo was hounding me about the Fisher Price toys. There were a few other items that I was eager to have in my possession, like the Christmas ornaments for our tree, and my mother's good china, with which I'd hoped to set our holiday table.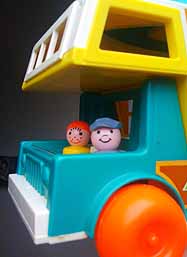 I managed to get the papers in on time, but it turns out there wasn't a truck available to transport the boxes from their point of entry in the UK to our home in Paris until January. The shelves we'd cleared for the Fisher Price toys sat empty for weeks. I ended up setting the table for Christmas dinner with our every-day dishes.
After more than four months and just as many supplementary payments – for the customs fee, the above-the-second-floor delivery fee, the our-truck-is-too-big-for-your-street-you-have-to-pay-for-a-shuttle-van fee and then last but not least, the our-van-got-a-parking-ticket fee, the boxes have arrived. Our home is now as cluttered as ever, with paraphernalia of my past pressing itself on the possessions of my present. There's stuff everywhere, a reminder of how messy life is when you collect its souvenirs anywhere but in your memory.
~ ~ ~
Upstairs the sound of little wooden people moving back and forth among pieces of small plastic furniture assured me that Buddy-roo would be distracted for hours. Short-pants came home from her music class and the two of them fell deeply into their Fisher Price world. I set about finding a place for all the newly delivered items, unwrapping yards of tape and packing bubbles to reveal the round, gold-colored quilted cases that kept safe my mother's china plates, bowls, cups and saucers. I started with the largest, opening it to see if any of the porcelain dinner plates had broken.
My hand on that zipper released the stories locked inside: how many times I'd unzipped those very cases, lifting out the plates, one-by-one, removing the plastic disc between each one, setting them on my mother's table. I was required to iron the white linen tablecloth first, and she'd instructed me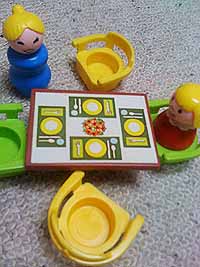 where to place the silverware, the glassware, the napkins. I'm sure at the time I complained about having to set the table, but I was remembering it now as if it were the sweetest moment of the year.
Another box of dishes hadn't fared so well. Three of her fondue plates, the ones with separate compartments for different sauces and condiments, had cracked beyond repair. The sight of them in pieces shattered me, I sat there sobbing about some silly broken plates that I'll probably never use because we don't even own a fondue pot.
This I hadn't expected. It's been two years since we said our goodbyes to my mother. Two years, a mindful memorial service, a half-dozen trips to the house to clean and ready it for sale. I had my desperate moments emptying it out, but I fooled myself to think that with the house sold and the burden of its care behind us that the chapter of grieving was closed. Now I was standing in the middle of my own living room surrounded by just a few of her most precious belongings, and there it was again, as fierce as ever, that hole in the middle of my heart, and the tears that can't possibly fill it.
~ ~ ~
Persuading Buddy-roo and Short-pants to move from the floor – and the elaborate spread of Fisher Price toys – to their pillows was no small task. We had first to put every little person on his or her little plastic bed. The toys are so old that the sponge mattresses have disintegrated into almost nothing. It doesn't matter to the girls. To them, the toys are like new toys with a new home, our home.
Buddy-roo finally tucked snug under her covers, and the light switched off, I maneuvered through the Fisher Price minefield to get out of her bedroom. Outside her door, I looked back, surveying the toys, admiring how the girls had set them up, startled to see my childhood grinning back at me. How I loved those toys. There is something utterly reassuring about having them under our roof, just like the bittersweet possession of my mother's china, a comforting reminder of all that was once home to me, and all that is even more home to me now.