Unnecessary Narration
It is inevitable that spending several consecutive days in close quarters with the people you know most can be disastrous – even though you love them – if you don't get a little space from each other. Vacations, they say, can make or break a couple. Too much togetherness reveals our most interesting habits. I remember an early getaway trip with De-facto; we went skiing in Switzerland and then took a train to Naples where we rented a car and drove around the boot of Italy. There was a moment during that trip when I said to myself, he's a nice guy but obviously we are not going to work out. I'm not sure exactly what happened to turn that prediction around, but (I think) I'm glad for it.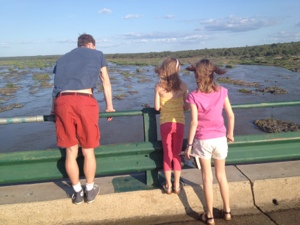 There have been some parallels on this trip, our holiday in Africa. They are a nice family but obviously this is not going to work out. I'm not afraid to admit to an occasional fantasy that they are absent from my current reality. It is short-lived, but a luxurious thought. It is free of little voices and constant questions. There are no demands for help to find or fix something that all of a sudden is dear to them, and then ten minutes later it is left behind on the floor for me to trip over. Most of all, in this fantasy, there is quiet. The chattering in the back seat ceases.
"She won't play with me," Buddy-roo complains even though she ignored her sister's overtures to engage in a game, less than twenty minutes earlier.
"Can't you just be quiet?" Short-pants screeches, even though an hour ago she was the one driving us all batty with a constant stream of words, attributing wild animals to her favorite literary characters by their first initial: "Hermione and Harry are hippos, Ron is a rhino, Neville is a nyala…"
Now it's Buddy-roo who keeps on talking, spiteful in her aim to punish her sister. "Look! We're all wearing something blue except Papa! I've got blue shorts, you've got blue pants, and mama has a blue shirt…"
From the backseat a litany of inconsequential facts continue to pour out of Buddy-roo like water from a fire hose. Everything is delivered with authority, especially the facts that she makes up on the spot. As an extrovert, she only really knows what she's thinking if she says it aloud. She requires constant stimulation and if something isn't filling the space, she will.
Short-pants, on the other hand, is a bona-fide introvert, à la Susan Caine, and if there's too much of anything for too long – too much talking, music,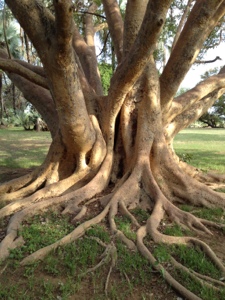 noise, chaos – the meltdown can be impressive. But she has a sense of her own preference, usually removing herself from an over-stimulating environment with a polite, "I think I just need a little alone time."
It's hard to remove yourself politely from the backseat of an economy car in the middle of a wild game park, so the meltdown is unavoidable.
"Enough!" Short-pants slaps the car seat hard with her hand. "I've had it with the unnecessary narration!"
De-facto and I glance sideways at each other, suppressing our laughter. Her angry outburst shocks Buddy-roo into silence, bringing a temporary peace to the car. Two beats later, the both of them start crying in tandem.
~ ~ ~
When Short-pants was ten months old, we took her to the United States to introduce her to our family up and down the east coast. De-facto's brother loaned us his 1970's Volkswagon bus, an iconic touring vehicle that broke down every other day. Half of the photos from that trip are of De-facto with his head stuck in the rear of that bus, trying to sort out why the engine wouldn't run much faster than 45 miles per hour.
It was slow going, but Short-pants was a good sport. When she got a little fussy, I'd entertain her with a crew of little plastic wild animals that had been given to us by one of our friends who hosted us along our route. There was a tiny impala, a giraffe and other wild, hooved beasts. Short-pants was fascinated by them, especially when I moved them up and down her legs and thighs, as though they were walking across her body. We must have discovered this simple distraction while near our nation's capital, because I started humming Hail to the Chief as those little hooved creatures made the trek around her lap. I did not know the words to this anthem, so I used crooner syllables dah-dah-doo-wah throughout the entire song. I played this game with her for hours, while she kicked and giggled in her car seat.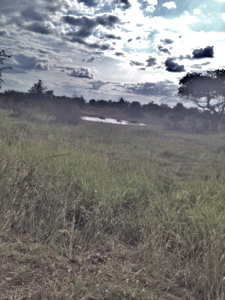 Six months later, Short-pants' was on another trip, this time to South Africa where De-facto and I were working at a conference. Our hosts organized a game drive and we took her along, on my lap. The open-to-the-air truck barreled down a long dirt road beside a grove of trees and made a sharp 90-degree turn. Right in front of us, in the middle of the road, stood a tall giraffe, nearly twenty feet tall. The truck halted and we all lurched forward, staring up, speechless, at the long-necked creature.
"Dat-doo-waaaahh!" Short-pants' little voice expressed the awe of everyone on the drive.
That was when we realized she'd associated my lyrics of the President's theme song with the little plastic animals. Now that she'd seen a real one, it had been named. Our family has its own words, and this is one of them. We don't say giraffe; we say dat-doo-wah.
It happens now and then, these days, that she'll mention a dat-doo-wah in the company of friends who then give her a blank stare, not knowing the folklore of this word in our family. She'll laugh nervously, at her own joke, wondering why nobody else is laughing with her.
"You can't just blurt it out," we remind her. "You have to tell the story, or people won't get it." In this case, a little narration is necessary.
~ ~ ~
This morning the two siblings were attached at the hip in an amicable game of pretend fairies, but now they're at each other's throats, having strung up shirts from headrests of the car seats to draw the boundaries that shall not be crossed in the backseat of the car. The tears have abated but their sniping continues, an ongoing (and unnecessary) soundtrack of stay on your own side! and don't touch me!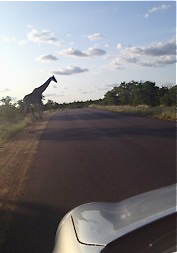 There's nowhere to stop and let them out to run off their angry energy; we're an hour away from our camp and we have to get there before the gates close, in just about an hour.
As if on command, a long, lanky giraffe appears on the side of the road.
"Look! Up ahead."
Short-pants and Buddy-roo lift their eyes to see what I'm pointing at.
"Dah-doo-wah!" their voices in tandem.
In an instant, the bitterness between them gives way to excitement. The words they exchange now are enthusiastic. Together they admire the elegant animal standing tall before them. Short-pants reports that the dah-doo-wah has the same number of vertebrae as a human. Buddy-roo wonders how this could be true, with such a long neck. Their chatter, as constant as ever, but at least the incessant narration has turned friendly again. Obviously, if this is going to work out, that was necessary.