In Between
This, my in-between week, between tours on the Camino, I found myself immersed in the world of errands. While I was away walking, the constant churn of the rest of my life continued, and I was met, upon my return, with a few loose ends to tie up. Like taking Short-pants to the podiatrist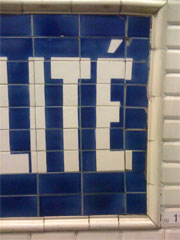 to replace the shoe inserts that she left at the country house last month (she's probably outgrown by now anyway) or passing by the Conservatory, in person, to make sure that the form for her re-inscription was correctly filled out, so that she won't be refused readmission next year based on a technicality. A trip to the pharmacy to pick up a few goodies for my backpack, like an extra pack of second-skin bandages, miniature packets of moist towelettes, toothpaste in a teeny tube, and other tiny toiletry items compressed and compact, to lessen the space they take and the weight I'll carry. At home, the paying of bills, the folding of money into envelopes designated for various helpers or babysitters, the catching-up of laundry, the arrangements that must be made so that our household will continue in my absence, without taxing De-facto, who does me the largest birthday favor ever by going solo for the time I need to walk the Camino.
Yet I felt I was moving at a slightly different pace. Gentler, more rhythmic, with a confidence that it will all get done, and that when I return to the Camino I will feel good, having taken care of the responsibilities I've tabled temporarily but never fully relinquish.
In this vein I remained buoyant, even stretching my erranding to such previously procrastinated tasks as addressing household appliances that have suffered our negligence too long. The supply of vacuum bags ran out weeks ago, requiring a repeated manual emptying of the last remaining bag in order to properly clean the carpets, and the bulb in the overhead light in the bathroom has been dark for even longer. This took me the dreaded BHV, the department store you love to hate and hate to love; you can buy just about anything you want there, from designer clothing to hammers and nails, but there are consequences. It's an enormous store that seems to always be crowded and yet within the throngs of shoppers, you feel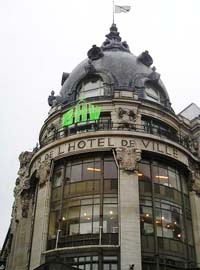 absolutely destitute in the search for that one item you've come to buy, lost in a sea of commercial choices without single guide to assist you.
This is where the team of green-vested salespeople should come in handy. They are numerous and poised around the store, usually in clumps talking to each other, though you'd wish they were seeking out lost and confused customers – plentiful at BHV – but usually it's necessary to hunt them down. Salesperson is actually misnomer, as is customer service agent, a more accurate title might be proctor or hall monitor.
Remarkably, I found exactly the vacuum bags I was looking for, almost immediately, but it occurred to me to confirm this with the proctor on duty in the department. A few meters away, a green vested man stood behind an official looking computer terminal. As I approached him, so did an older gentleman, holding in his hands a package containing a set of attachments to a vacuum cleaner.
"Do I have to buy all of these?" he asked, "because I only want this one element." He pointed to the largest attachment, the one that really matters.
The green-vested man shrugged.
"But I don't need all the other pieces," the old man said.
"Non," the green-vest pouted, "it's only sold like this."
The old man persisted. "Isn't it at all possible to buy just the one part I want?"
"Beh, oui, if you go to the service commandé, but then you'll pay a 20 euro fee for a special order."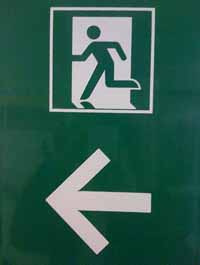 The old man walked away, muttering about the waste inherent in this entire transaction. I expected the green-vest to turn to me, and braced myself for his gruff greeting. To my surprise, he took off after the old man, yelling at him for being rude, for his unnecessary words.
Granted, the old man hadn't been particularly polite. But the green-vest had been equally uncivilized. Having been exposed to the Stew Leonard school of customer service (Rule #1, the customer is always right. Rule #2, if the customer is wrong, refer to rule #1) I was shocked to witness a store employee actually chasing after customer in order to scold him.
I followed them. By the time I caught up, the green-vest was ripping into the old man. They both turned, looking just as surprised as I felt to be standing there with them.
"How can you speak to a customer like that?" I said to the green-vest. "It's the purchases he makes in this store that pay your salary. He may have been impolite to you, but he doesn't merit a response like this." (And I can't be sure, but I think in the storm of my indignation I still managed to use the correct conditionel form.)
Both men stared at me as if I was insane. Which I am, because it is insanity to expect kind customer service in France. Not that you can't find it, not that there aren't plenty of thoughtful, helpful French salespeople. It's just that you can't expect it.
When the green-vested man started to shout at me, I turned and walked toward the escalator, confident that the vacuum bags I'd selected would fit my machine, certain that I could buy them at a cash register on another quieter floor, perhaps closer to the light-bulb department. On the escalator, I said, out loud to myself, "he could use some customer service training." The man beside me chuckled. "It's probably because he didn't like the outcome of the election."
Later, I wondered if all those errands had dampened my take-it-as-it-comes pilgrim spirit, that I'd piled on too much, entered too far into the realm of my regular life to maintain my cooler, collected pace. It's true that by the week's end, the symptoms of my usual departure stress started to surface. I'm squeezing things in to clear the decks to be away again – this time for a much longer stretch – and I'm feeling the pinch. I've heard people say that once you've done the Camino, there's a before and an after. I guess for me, it seems, I'm still in between.