There and Back
There it was, just at the moment I'd started to wonder if I'd made a wrong turn, the discreet yellow arrow pointing the way. If the trail is in an open field,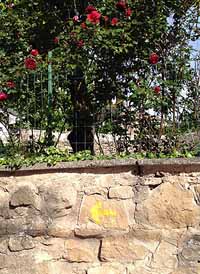 scaling a steep hill or snaking through a forest, it's hard to lose it. When the Camino winds through a town – even a tiny pueblo – the arrows can be tricky to spot. You have to pay attention. Not that much could go wrong. Some local would spot you – pilgrims, with their fat backpacks, wide-brimmed hats and walking sticks, stand out – and would gently correct your course. If not, enough time would pass without a yellow arrow or one of the blue-and-yellow shells marking the trail, and you'd retrace your steps easily. The Camino is well indicated. No compass required.
Before leaving, the Fiesta Nazi gave me a copy of the book Wild, by Cheryl Strayed (a.k.a. Dear Sugar), a memoir about a 3-month trek on the Pacific Crest Trail. This was a journey. She hiked from the southern part of California to the Washington state border, alone, carrying on her back a tent, sleeping bag, water filters, cooking gear, food rations and water. Her pack, much more than double what mine weighed. She had to make camp every night and cook for herself, and her trail was truly in the wild, with bears and rattlesnakes, and not so plentifully marked, often requiring mountaineering skills to determine if she was on course or not. The Camino de Santiago de Compostela is a luxury tour in comparison.
There was some irony in the presentation of the book, an inch-plus-thick hard cover volume (with a heartfelt inscription) handed over just as she was about to inspect the clothing and travel items I'd laid out on my bed. I had two long-sleeved shirts ready to pack. "Only one," she said. I held up my nightgown. "Sleep in your clothes." I tried to hide the travel-sized canister of hairstyling mousse and a half filled tub of sticky hair gel under a pile of socks, but she discovered them. "Can't you get by with only one of these?"
She is, I might add, a card carrying member of Overpackers Anonymous; when we travel together each summer to Pamplona, her suitcase is packed until the seams stretch. But she is also a seasoned trekker, and along with another friend who guides and is no stranger to the Camino, gave me invaluable counsel to go as light as possible. I think that even with a full load of water (I could carry 3 liters) and any fruit or lunch I carried, I never had more than 9 kilos on my back. I managed to wear every piece of clothing I took, and never once wished for something I hadn't brought.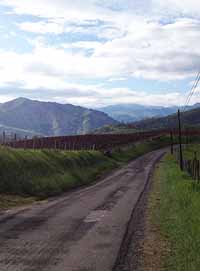 Even if the Camino isn't roughing it like hiking in the wilderness, it's not without rigor. The first leg, a 25K trek over one of the Pyrenees mountains, is an early test. Climbing it is hard on the heels, the descent taxes the toes. About 6K of this I navigated in the rain, but I didn't even mind. Already in the rhythm of one foot then another, I watched the sky quench the ground's thirst, stepping over thick black slugs and keeping a lookout for little yellow arrows.
I learned when to start off each morning, not so early as to be with the throngs of up-and-out eager hikers, but not so late that I'd lose those precious cool morning hours. Around 8:30, I'd fall in with the slow trickle of pilgrims, moving along one-by-one or two-by-two. I'd find myself happily alone on the trail for long stretches, until I might come upon a couple of hikers, or else I'd be passed by someone with a faster gait than I, and we'd exchange a quick, friendly greeting, "Buen Camino!" and keep on at our own pace.
Once in a while it feels right to stay in step with a fellow pilgrim. The conversation usually includes banal but anchoring facts: Where are you from? Where did you start the Camino? How far will you go? Sometimes we'd divulge the reasons we'd come to do the Camino: the expectations, reflections, questions and decisions we carry with us as we walk. After a while, a stop under a shady tree for a rest, a snack, a drink of water, and one of us would move on, alone, without apology. There is a constant weaving in and out of being alone and having company, of solitude and camaraderie.
In the evenings I'd hunt down a café-bar on a small side street for a beer and a bite. If I wanted a little company, I knew I could stroll to the main square and spot the faces of pilgrims I'd passed or whom I'd chatted with briefly at a village fountain while replenishing our water bottles. I didn't know most of their names, but after several days I started to recognize the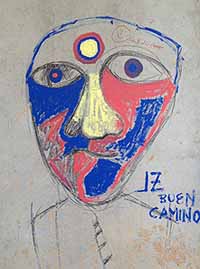 cast of characters now so familiar and friendly, my pilgrim family. There'd be a sense of relief to see them, like oh good, you made it today, too. Everyone is rooting for you. And you for them, too.
We'd chat about the terrain, the scenery, the heat, our sore feet and other body parts not accustomed to 20+ kilometers a day for successive days. It was good to have the companionship, and also good to leave the laughing crowd behind and stroll to my pensione, usually a modest place, luxurious because it had its own bathroom (I haven't opted for the dormitory-styled albergues, yet). I'd take the things I'd hand-washed and hung to dry in the late afternoon sun on my matchbook-sized balcony, and hum to myself as I prepared my pack for the next day, a day that, like the one before and the one to follow, had only one errand: to walk from one place to another. And even then, I could walk as slow or fast as I pleased, and I could change the location of my stopping off point at any moment along the way.
After five days and 115 kilometers, I'd probably just found my stride on the Camino, but I was preparing to leave it. All week I'd been answering the same questions, how I'd started in St-Jean-Pied-de-Port, how I hoped to do the entire Camino in several chunks this spring and next fall, how this first leg would last only a week, to Estella, after which I would return home to Paris for Short-pants' orchestra performance. I heard myself say this, again and again, noting that it was without resignation, and possibly even with a bit of pride, that I announced this priority.
"Is your daughter renown?" asked one hiker, surprised that I would interrupt my walk on the Camino to attend a concert.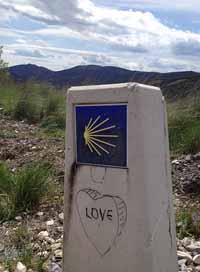 "To me she is," I said.
A few years ago I probably would have made the same decision, but not without complaint. Now it feels like it's just a natural part of my Camino, to return to Paris for Short-pants' recital, and then to go back and pick up where I left off.
So I am home. My feet are sore, but only mildly blistered. My legs tired, but stronger. My dirty laundry, washed and hanging to dry. The long day of travel – by bus to train to plane – well worth it to be greeted with the enthusiastic hugs of Short-pants and Buddy-roo (and De-facto, too). The concert: the string ensemble played three lovely arrangements. Quick and sweet. Not-always-in-tune or in-time, but as far as I'm concerned, a renown performance.