Pulling Apart
We pulled in the driveway. Rather, the driveway pulled us in, the way we have been pulled into the embrace of this old house for half a century. Driving toward it on the country road, there comes a point where the cupola is visible and then the wedding-cake layers of the house below are revealed, and a whole world of familiarity and fond memories beckon. The car slows and dips into the long curved driveway. Do we stop halfway, where dad always used to park? Or pull in all the way to the garage, at the foot of the back stairs, to mom's place? They are both gone, but their parking spaces – and other routines of living in the house – remain our habits, too.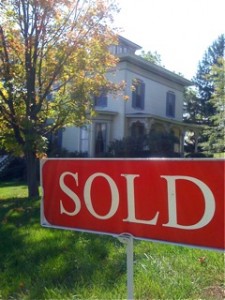 All the many times I have pulled into this driveway: Like a bat out of hell when that quick errand for my mother lasted three times as long as it should have. Or stealthily with the engine and lights off when I was coming home too late after my curfew. Triumphantly, returning after a first semester at college. Somberly, after the long, sad, drive with the news that my father had died. Or gingerly, the way we pulled in the driveway this time, my sister and I, honoring that this might be the last time we come home to this house.
"It looks small," I said. She agreed. I'd not been to the house for a year and all these months that I've been bracing myself for its sale, I've been mentally walking through its rooms and committing to memory any and all things that happened in each corner and corridor. So many of these little anecdotal visual memories hail from the time in my life when I was small, giving the house much larger proportions in my memory.
We stood outside and looked up the stairs, my sister, no doubt, remembering the same thing I was: how Mama would come out the porch when she saw (or possibly heard) the car pull in the driveway, she'd push open the screen door and watch you walk up the stairs, her full anticipation of the visit entirely given away by the broad, boundless smile.
"You're here," she'd say.
Inside we walked through the house, wordless, side-by-side surveying each room. Last year we emptied it of her personal clutter, but the furniture, paintings, objects d'art and a few books remained, left in place so the house would show well. It was a bit like walking around a museum of our past – and we are the docents – taking a last tour to store our knowledge away before it closes. Soon the house will be emptied of the last of our family's artifacts and filled with the belongings of another's. As it should be; it's a house that needs a family running around in it. It's a house that has ample room for laughter and love and its walls have already been conditioned for both. It's a house that we are obliged to say goodbye to; the most valuable thing inside it is already gone. Without her standing on the porch waiting to welcome us, it is a different house. Little by little, it ceases to be ours.
~ ~ ~
I don't want her to be gone. I want her to be upstairs in that big bed, sleeping. I want to hear her slow steps down the stairs and the footfall of her path in the dining room and across the creaky floor in the kitchen. I want her to peek into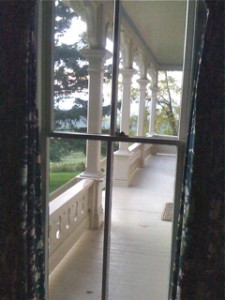 this study and say hi sweety. I want her to offer to make breakfast and I want to taste her scrambled eggs and perfectly browned and buttered toast. I know which fork she would use to scramble those eggs, and I want to see it left on the counter as we carry the plates into the dining room and sit with the sun streaming in the window from the back porch, that window that used to be a door and then she could tell me the story I loved to hear, about how she and Daddy argued over whether to leave it a door or make it a window and in the end he'd told her – and he meant it – that she'd been right.
~ ~ ~
I'm finding myself pulled apart, teary at every turn, probably too sentimental for my own good. But how do you say goodbye to a house that was the one you came home to from the hospital after you were born, and then came home to from school every day, from college, from every other place I lived as an adult, where I surely felt at home, still, this house was still the original "home" to me. It's not so much the things that are here – although the decisions about their distribution and disposal are fatiguing – it's the end of that feeling of safety of what it meant to be here, even as a grown woman. So I am grieving again my mother's departure, but also my father's, and I suppose also the end of my childhood, and the swells of emotion that are part of this grief are giant waves to ride. After each crest, I wipe those tears away, pull yourself together I say under my breath and clear my throat and try to take comfort in the fact that these memories are all good ones and I get to keep them forever. But saying goodbye to the touchstone of those memories, that's what's in front of me now, and it's daunting.
At least I am here with my siblings. In the mornings, we sit on the steps of the back porch, sipping coffee, looking out over the orchard beside our property, telling stories, making a plan for what's to happen during the day. We have done this for years, when we lived here and when we visited; this porch is the place where you perch to slowly shake off the cobwebs of a heavy sleep and to ramp gently into the tasks of the day. Later, at wine-o'clock (or scotch-thirty) we gather around the kitchen counter, and despite the sadness that brings us together, we find a way to laugh and march forward, united as the orphans we've become, good friends always – but perhaps appreciating each other more than ever through this process. If my mother could see us, if my parents could see us, they'd be delighted. Perhaps the memory of your parents is best honored by acts of kindness toward your siblings.
Last night our cocktail hour held on the porch – though the wicker furniture is no longer set up so we were obliged to sit on the floor – we gathered around a box containing the last items that needed to be distributed among the three of us. One by one, my brother pulled out the small bundles of tissue paper, some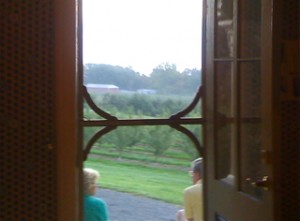 of the paper so fragile, having been folded and wrapped so many times that it was softened like cotton. Inside each little package a Christmas ornament, some of them clever and charming, the little hand-knit mitten or a santa made of empty thread-spools. Others kitsch and retro: faded, striped balls with bent wire hangers, not necessarily that pretty but steeped in sentimental beauty. The obligatory ones, hand-made by us when our hands were little, faded and worn, but kept for decades and treated as treasures. One by one we admired each ornament, remembered where and how they used to hang on the tree and which ones were her, and our, favorites.
We have driven so many decisions this last year: who gets those chairs, who wants that painting, who's taking the china, the silver, the demitasse collection. All of this achieved without a battle. This box was no different, though its contents evoked sighs and giggles and tears as each ornament was examined and claimed, each negotiation handled generously until all the little bundles were distributed. The separation of these sentimental items that lived for so many years in the same worn-out cardboard box just as poignant as the dismantling of this entire house: pulled apart piece by piece to be put in a new place, but in our memories they will stay here in this house, all together, the backdrop of a thousand stories we have the rest of our lives to remember.