Bidding Adieu
I'd pass the tailor's shop every day, on my way to the bus or the metro, or to school to get the girls. He'd wave at me and step out of his shop into the street, looking a bit like Burt Lancaster as the old Doc in the Field of Dreams. His greeting was always accompanied by a sparkling-eye smile and polite cheek-to-cheek kisses, softened by his long, white beard. As warm as he was, he retained an old-world formality. He always used vous and insisted upon calling me Madame, no matter how many times I begged him to use my first name instead.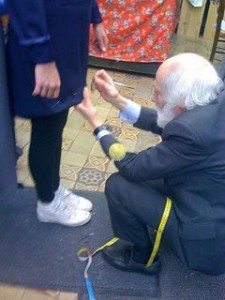 This man, Monsieur Atlan, touched me in rather intimate places. Being my tailor, he was obliged to pinch and tuck at the curves and bends of my body. He always did this with care and respect, bordering that sensual territory that is often present between a man and a woman, especially when his fingers are dancing around her waist checking for a proper fit. Yet there was never a hand misplaced, never an inappropriate gesture or remark. He'd pin everything perfectly and stand back and give me a genuine compliment, "Vous êtes vraiment belle," and while it was an admiring comment, it had no charge. I was safe in his hands.
"Comme ça?" he'd say, looking into the mirror at me, gauging the length of my pants has he folded and pinned them. Then he'd draw his fingers up the outside seam of my leg, to the waist. "Ici, ça va?" He'd pull the belt loop, revealing how much room gaped at the top, pinching it in and pinning it to show me how it would fit properly. He'd thoroughly inspect the entire garment, not satisfied to merely shorten the length to fit with my new shoes, but to be sure it fit perfectly at every seam, zipper, button or stitch.
Once I took him an old coat, a cream-colored leather-looking vinyl number, a hand-me-down from a friend who worked in the fashion industry. She'd clean out her wardrobe every season and pass some pretty fabulous things on to me. After years of loving wear, the silk lining had started to shred into strips. I wore it anyway, but not without occasional embarrassment. When I noticed a client eyeing the inside of my coat as I stretched my arms into its sleeves, I knew I had to take it to Monsieur Atlan.
He surveyed the coat carefully, taking his time to admire the workmanship of the stitching on the outside, nodding, approvingly. When he saw the inside he dropped his arms in despair at how I'd let the lining go. "Can you replace it?" I'd asked. "Mais oui," he said, but the coat had to be cleaned first, and not just at any cleaner. "Most of them are thieves," he said, picking up the phone and calling his preferred dry cleaner to say that I was coming and to please turn the coat around quickly and give me a fair price. Then we had a lengthy discussion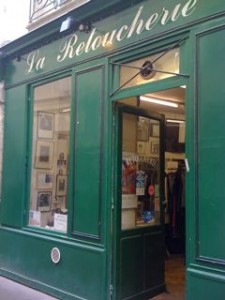 about the lining, its color, pattern and the quality of material. As usual, what I'd hoped would be a 5-minute errand turned into a 25-minute in-depth discussion. But this was always the case with Monsieur Atlan. He wasn't just a tailor, he was my tailor and he took seriously the job of taking care of my wardrobe. I think everyone who went to him felt this way.
His shop was a mess of material and thread and ancient sewing machines and an old-fashioned ironing stand. I'm sure it hadn't been dusted or cleaned in years, you had to remember not to put your clothes over the bar that held the changing cabin's curtain, the dust that had accumulated there would rub off on the very item you'd brought him to repair, or you'd walk out with a gray line across the front of your clothing. But as haphazard as his housekeeping may have been, his sewing was meticulous. And when you came to pick up whatever garment he'd repaired, you couldn't just skip in quickly and grab it on the way home. He'd stop whatever he was doing to show you with pride the detail of what he'd done: the extra stitches he'd put in to reinforce it, or the care he'd taken to fix it from the inside. It was obligatory to admire his fine work. This wasn't hard to do; he could fix even the most impossible garments and make them fit like a glove. Monsieur Atlan repaired more of my retail mistakes than I care to report.
Most of all, he loved my children. When I was pregnant, there was nobody in the neighborhood more thrilled to hear the news. He was certain of the gender, telling me each and every time I saw him that it would be a boy. When the second baby was apparent he made no further predictions, but doubled his enthusiasm. He marveled at Short-pants and Buddy-roo as they grew up walking down the street in front of his shop. He'd step out and beam at us as if we were his own family, repeating his mantra about how good health and the love of your family are what count the most. "La santé et l'amour de la famille, c'est principale."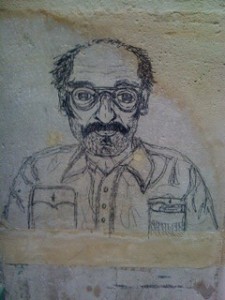 He was loved by everyone in the neighborhood. This must have sustained him when his health failed. Last winter he was diagnosed with cancer, what type was never revealed to me. He turned gray and hollow and though he worked as long as he could, soon he couldn't and the occasions I would see him were only when he happened to be visiting the shop and by chance I would pass by.
"It's a real battle," he told me, "without your health." He shook his head and his words trailed off. I finished the sentence for him, "but you have our love, c'est principale."
His eyes still sparkled at that.
Last week a sign on the shop, which has been boarded up for most of the summer, announced a memorial service for him at the temple just across the street. I knew this was coming, it wasn't a shock. Still I could not contain the tears as I stood on the street and read the words on the sign, again and again.
So much has changed in our neighborhood. Too many services and locally-run stores have moved away, forced out by high rents and the chain stores that have become, unfortunately, signature shopping in the Marais. Monsieur Atlan's little old-fashioned shop and his thoughtful, attentive service remained steadfast as the neighborhood shifted from eclectic and ethnic to chic and trendy. His departure is another step away from the authenticity that was the hallmark of the quartier. I'm going to miss seeing him on the street. I'm going to miss his conscientious care of me and my wardrobe. I'm going to miss his warmth, his smile. But I won't forget Monsieur Atlan, and I won't forget his wise words: Your good health and the love of your family, c'est principale.