Determined Women
One morning in November of 1977, my father woke up to discover his wife pictured on the front page of the daily newspaper. She stood with her arm raised defiantly in the air waving a placard, cheering beside her cohorts, the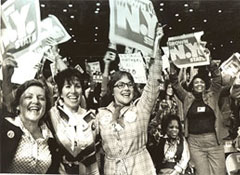 delegation of women from New York State who were attending the Equal Rights Amendment caucus in Houston, Texas. The photograph had been picked up by the Associated Press wire service and appeared in newspapers nationwide – my mother received clippings from friends and family from all over the country.
I would never have called my mother an activist, but I think she classifies. Throughout her life, she was engaged in local and state (and even a little national) politics. A Rockefeller Republican – for real, she knew him – she managed to be fiscally conservative but socially tolerant, something that's hard to find these days with the cacophony of the current political climate in the US. She was pro-choice and anti-discrimination. She worked for the passage of the ERA because she believed it would give women the opportunities that they deserved. Growing up with my mother, I couldn't help but be cognizant of the strides women had made. I admired Gloria Steinem and Bella Abzug. I would be a feminist too, just like my mom.
It helped a lot that my father stood beside her. He respected her immensely and the support and encouragement she gave to him was reciprocated. As a little girl, watching and learning about male-female relationships, this was the ideal scenario to observe. It created an expectation, one we ought to cultivate in all little girls, everywhere.
A small aberration: in college I attempted to distance myself from the radical segment of the women's movement by giving a speech about how I didn't call myself a feminist. It was an exercise for a class titled Persuasive Communication, which happened to be taught by the resident feminist on campus, a woman who once phoned the request line at the college radio station to complain about the lyrics to The Rolling Stones' Under My Thumb. My speech, I'm afraid, wasn't terribly persuasive, but it was a pass/fail course and I still got credit for standing up in front of the room. A few years later, when I went to work in the real world, it didn't take long before I regretted the talking points of that speech. I came to understand that the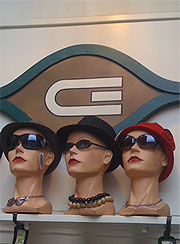 existence of the radical is what moves the middle, it draws attention to issues that are otherwise swept under the carpet. There is good reason to stand with your strident sisters.
But what do girls today know of the battles fought by our grandmothers and great grandmothers so that we could be liberated? My daughters have seen the photograph of their grandmother practicing her feminist politics, but they don't understand where she was and what happened, or that even though the amendment was never ratified, it still had an important impact on women's rights.
"Women, for real, weren't allowed to wear pants?" Buddy-roo said, in response to my list of all rights women had to fight for. Short-pants was fixated on the idea of equal pay for equal work, shocked that a man might be paid more for doing the exactly same job.
"Does Papa make more than you?"
"When we do the same kind of work, we make the same amount."
"Did you have to fight him for that?"
I explained that because the previous generations of women protested and pressed for change, now I don't have to fight, at least not as much as they did. My soapbox continued, delving into the complexities of women's advancement and how although great strides have been made – here's where the girls were starting to tune out so I raised my voice – we shouldn't take them for granted ever. I told them how women are still paid and treated differently in many professions, especially when it comes to top management, and how there are some people who want to take away a woman's right to medical care and advice that allows us to remain independent.
"But Papa said women were taking over the world," said Short-pants, a reference to a speech De-facto made to his Toastmasters club. His speech combined his story of renting a muscle car with a summary of an Atlantic Magazine article about the end of men ruling in the workplace. He practiced it for her so many times that she memorized it, too. "Men. Love. Cars." She'd repeat these opening words of his speech, emphasizing each word, just as he did.
"Even so," I said, "we have a long way to go." I thought about the veiled women who might prefer to be uncovered, and about the atrocities against women that are permitted and promoted in other cultures. Some day I'll make the girls more aware of this particular brand of religious and cultural inequity, but it didn't have to be today. They were still getting their heads around the idea of being prohibited from voting, playing sports or simply wearing trousers.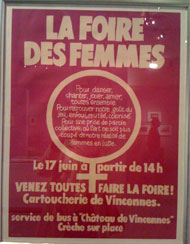 All of this just the warm-up for an inspired cultural excursion to a little museum down the street, the Galerie des bibliotèque-de-la-ville, which happened to be exhibiting a collection of photographs of French feminist movement. Short-pants was eager to come along, Buddy-roo not so much, opting to stay at home and watch a Barbie movie that I would later try to interpret for her through a feminist lens: "See, the princess didn't need the prince to rescue her, she had her own creative ideas and they worked together to solve the problem."
What better way to celebrate Women's History month than an edifying stroll through French feminist history, of which I know very little. But even if I didn't recognize the names of the women in all those photographs, I could recognize their spirit; there was a look of determination in the eyes of every portrait we saw.
I pointed this out to Short-pants, as we walked past the framed photographs, reading the paragraph about each woman's contribution to the feminist movement. I told her about how the simple choices that she and I count on would not exist were it not for the spirit of these courageous women. What I didn't her – not yet – is how lately it feels like women's rights are being assailed in the United States, and that ultimately having a foot on French soil may be the thing keeps her free and fierce.
"When I grow up," she said, nodding at the photographs, "I'm going to be just as determined."
"That's just what it takes," I said, hoping she never has to put her fist in the air to get what she wants. But if it comes to that – because she's got a bit of her grammy in her – I think she'll be up to the task.