The Love Note
She handed me the small sheet of paper, torn out of a notebook. It was creased from being folded and unfolded. I tried to make out what was written, the paper was ripped in such a way that none of the phrases were complete. Was it a code of some sort? It looked like it could be a practice test or part of someone's homework, scratched in the deliberate fashion of a schoolchild working with the obligatory stylo-plume fountain pen.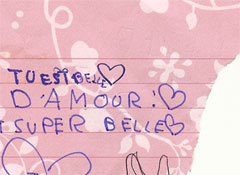 "No mama," Short-pants instructed, "turn it over." On the other side, more words from (apparently) the same stylo-plume, but this message was clear: proclamations of her beauty and expressions of affection. Tu est super belle and bisous d'amour. The signature, from a boy in her class – call him Jean-luc – was written in the middle of a big heart.
I remember the thrill of all my schoolgirl crushes. What's-his-name loved me, which meant we wrote notes back and forth and maybe talked on the phone. But at the age of nine that was enough to be an official couple, even if we never saw each other outside of the confines of the school building or schedule. These torrid pre-teen relationships were mercurial, lasting sometimes only a few days before I.D. bracelets were returned and another boy was the objective of, if not my affection, at least my attention.
"It's a love note from Jean-luc," she preened. "Olivier, who sits at the desk next to mine, passed it over. He told me that if I asked Jean-luc about the note, he'll deny it because he's so shy."
I know Jean-luc. Last year he was one of the four classmates with whom Short-pants was teamed to produce an exposé. He's very smart, very quick, rather precocious. Shy is not a word I'd use to describe him. He is the class boy-geek, and Short-pants could be classified as the girl-geek. They do make a nice pair, if you think in stereotypes.
"Well anyway, I didn't do anything because Melanie Martin says that you don't tell a boy how you feel because it will embarrass him. You just have to show him."
You gotta love Melanie Martin. She's the heroine of With Love From Spain, a book about a family's spring-break trip during which the mother visits old haunts from her college year abroad. This entails introducing her husband and children to an old flame, which goes over (mostly) well, especially for Melanie who develops a crush on the son of her mother's old boyfriend.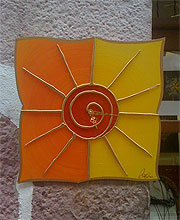 I love this book because it introduces ever-so-gently the nuances and complexities of old relationships-turned-friendships and how it all works when the past meets the present. The book, which Short-pants has read no less than a dozen times, was a gift from none other than the Fiesta Nazi, a woman who wants everyone to love Spain as much as she does. Aside from Melanie's wisdom about show, don't tell, it contains a number of valuable nuggets about life in another culture. Like this one: Spaniards don't believe in bedtime; they believe in nighttime.
The next morning Short-pants brought up the love note again. "Do you think I should tell Jean-luc that I like him, too?" I gave her the standard answer-a-question-with-a-question response, "What do you think?" She paced around the kitchen island, mulling this over in an active meditation. "I could ask Olivier to tell him that I like him."
Now I knew I was in tricky territory, I didn't want to burst her love-bubble, but here was a chance to prepare her for one possibility: that just maybe the note wasn't for real, that the note was a joke. On her.
"Why don't you think it's for real?" De-facto had asked me the night before. I explained my theory about a note on pink paper and how maybe some girls in the class don't quite get Short-pants and this kind of a joke would be a typical response. "Yeah," he said, after considering it, "much too crafty to be perpetuated by a male."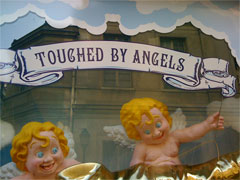 Short-pants is a prime target for teasing. She's a bit of a loner. At school, during the récré, she often rejects invitations to play with her peers. She'd rather wander around the courtyard and talk to herself. She is über-sweet, kind, empathetic, angelic. The fact that she's so nice, to everyone, could work in her favor – so far I think it has – but I'm waiting for the day when the girls in her class are old enough to get mean, the way pre-adolescent girls can be so mean. Short-pants will be an easy one to bully.
The recent incident at Rutger's University is an extreme case, but it's served to raise awareness about how bullying is a real problem in our schools. Back in the day (my day) you didn't talk about it, you certainly didn't tell your parents, you just suffered. But I think the bullying is more severe now, and as parent, I feel compelled to watch for clues, even if it's just the seeds of something that turns out to be a harmless prank. I don't want to be a helicopter parent. But I believe there's an important distinction between being overprotective and preparing our children so they can fend for themselves.
"I think Melanie Martin had you headed down the right track," I told her. Bolstering my argument with her favorite literary character couldn't hurt. Deep breath. Then I said it: "Do you think Jean-luc really wrote the note?"
"I don't know," she said, pondering the possibility that he hadn't, "it looks like his writing."
I brought up the pink paper. She admitted this was a bit of a stretch.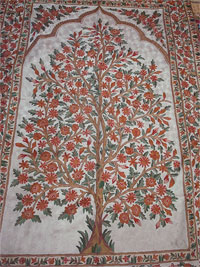 "You never know, though," I softened my blow, "maybe it was some scrap paper he found."
She studied me, taking this all in.
"Maybe it is a real love note, maybe it's not. But if I were you, I'd wait and see before playing your hand. If you start asking around, you're giving away too much. If it's not real, you save face. If it is real, then Jean-luc will have to work a bit harder to get you to swoon for him."
"Melanie Martin is right!" She marched out of the kitchen, turning back to offer a quick but heartfelt, "thanks mama."
I grabbed the edge of the butcher-block centerpiece of our kitchen, as if to steady myself for any and all victories and heartbreaks ahead. This is just a small love story. Or if it is couple of girls having fun at her expense, it's only a mild teasing. The thing is, I do want her to know romance and to be open to its magic. I also hope she'll learn to be discriminating and solid on her own two feet.
Short-pants came back into the kitchen. "What does swoon mean?"
"Look it up," I said. This one, she can figure out on her own.