My Mother's House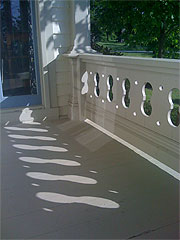 I enjoy a luxury that many of my peers do not: my mother lives in the same house that I inhabited for the first 18 years of my life. Her home is our family's homestead; going there is not only a visit to see her, it's also a return to my own history.
It helps that my mother has been in no rush to throw away the artifacts of my childhood. The toys that I played with as a little girl are still here, stowed in boxes in a dusty backroom, pulled out whenever a visiting friend brings a grandchild along, or when her own come to stay. The subject folders from all of my high school classes, with homework in the left pocket, tests in the right and notes in the hole-punched center section, are stacked in chronological order on the top shelf of the closet of the room that was once my bedroom. The room has been renovated to receive overnight guests, with the exception of the interior of the closet, which looks as it did when I left it so many years ago, like a hidden shrine to my youth.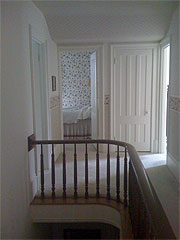 I asked my mother to walk through the rooms of her house and tell me their stories. In each room, she'd settle herself in a comfortable chair and then she'd look up, as if she was looking into the recesses of her memory to find an anecdote. Something about the makeshift dining table my father constructed when they first moved in. Or how the long bedroom upstairs was filled with glass cases, like a museum, when the previous owners lived here. Or about how she won the dispute with my father during a renovation, about making a unused door into an elegant window. In the living room she recalled setting up extra tables and making seating arrangements for dinner parties and the laughter that these events produced. Upstairs she remembered when and where they bought the bedroom furniture, and named her uncles and aunts in all the miniature black and white photographs hanging together on the wall.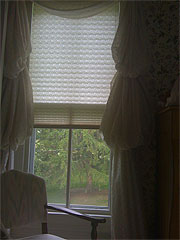 This morning I lay in bed, staring out the window as the sun stretched its arms across the fields beside our house. Thirty years ago, on any June morning, I might have lay in just the same way, looking out at the leaves on the branches outside the window, motionless in the fresh new day. The sounds of morning in this room are as they always have been; the chirping birds, an occasional car racing down the road in front of our house, a water pump clicking on and then off down in the basement, muted but audible on the second floor of this old Victorian farmhouse.
I tiptoed across the hall and peeked in at my mother, soundly asleep on what has always been her side of the bed, even though she's slept alone in it for the last twenty years. I slipped under the covers beside her, just like Short-pants or Buddy-roo cuddle up to me on any given morning. I remembered how once, years ago, when I was about 10-years old, I'd curled up on the couch with my mother and she said to me, "Are you ever going to be too big to cuddle with me?" And I told her, "Never."