Skipping On
After the reading of the 23rd Psalm, not even five minutes into my mother's memorial service, Buddy-roo tapped my arm. "This is not so interesting to me," she said. There was still an hour to go in the service, and we were in the front row. "But can you stick it out?" I whispered. "For Grammy?"
She wriggled around to put her head on De-facto's lap. "If you scratch my back," she sighed, handing me a Fisher Price motorcycle with a tiny person, borrowed from my childhood toy stash, "with this."
I drove the tiny vehicle up and down her back – along her legs when she motioned for me to do so – happy to be caressing her. I can't say I didn't appreciate her restlessness, but this was one of those times I really needed to keep it at bay. Please Buddy-roo, I prayed, hang in there.
The chapel was packed. The count – we learned later – was at least 300 people. My mother was a woman engaged in life and in service; the communities she engaged with and served turned out. Beyond her extended family, who flew or drove in from points all over the east coast, a throng of friends from every part of her life came to remember and celebrate her.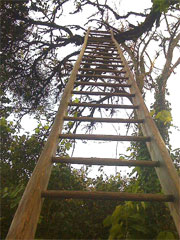 When she was a bit younger than I am now, my mother lost part of her hearing. She never let it stop her, and as a result became an advocate for people with hearing loss. She wrote books and gave speeches, served on boards. She was even involved in drafting the United Nations Convention on the Rights of Persons with Disabilities. My mother had instructed us to arrange for an audio induction loop; people in the designated pews could set their hearing aides to pick up the transmission and hear every speaker in the service. We also invited a sign language interpreter, a long, elegant woman who brought every speakers words to life with her agile hands and her expressive face. Short-pants, whom my mother had taught to finger spell, was riveted. Buddy-roo wanted to know who that woman on the other side of the stage was waving at. The signing – it's such a beautiful language – managed to hold her attention, too.
Buddy-roo pointed to my name in the printed program. "Why are you in there?" I whispered back that I was going to speak. Her eyes widened; the expression on her face reflected the nerves brewing in my gut. My father, a natural public speaker, used to say that if you weren't at least a little nervous before giving a speech, then you didn't respect your audience. Either that or you were afraid of crying uncontrollably in front of a large crowd. Buddy-roo pointed to the lectern. "You're going to go up there?" I nodded. (Maybe now it was getting interesting?)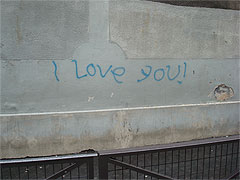 Each remembrance of my mother was tear-provoking or pride-inducing, or both. After her friends and colleagues lauded her, and my brother and sister delivered such poignant words, I wondered why I ever thought it was a good idea to speak, and regretted putting myself after almost everyone, near the end program. I made it through my speech without any serious faltering, but let the floodgates go after I'd returned to my seat, during the eulogy. Short-pants squeezed my hand. Buddy-roo decided she should cry, too, just to keep me in good company.
Now that all the busy-ness of the preparations and organization of the service are behind me, and the relief of it being over is satisfying and settling. There is a sense of being finished with something important. But just as things end, others begin – the completion of this event only means that something else is starting. I am vaguely nervous about this: there is now room for the feelings I couldn't afford to feel up until now. I woke up at 4:30 am this morning, part jet-lag, part emotional turmoil. I'm restless as hell and on the verge of tears.
As for Ex-facto, we exchanged a few good-luck text messages over the weekend. I ran into his niece at my favorite hometown pub, and he stopped by to visit us on his way out of town on Sunday. De-facto instantly befriended his youngest son, who's the same age as Short-pants, teaching him how to knock croquet balls around the back yard, and running with him through the apple orchard beside the house.
When my mother's memorial service was finished, our family was escorted out of the front pews and down the center aisle and out of the chapel. Buddy-roo, after sitting still for more than an hour, sprinted out of the row. She skipped in wide dancing steps from side to side, prancing all the way down the aisle. I walked behind her, in the shadow of her joy, getting the quickest glimpse of the next generation preparing to take charge.