Other Stages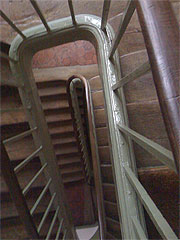 We climbed the four flights of stairs to the olive green door of our apartment. Short-pants was ahead of me. She stopped at the landing, just before the door, and turned toward me. "Grammy's happy now," she said, "It's just the rest of us who are sad, the ones left behind." The edge of her mouth spread into a wide-open smile, her oversized chalky teeth in full view. She beamed awkward and proud at once, fully aware that she could console me with her wisdom. Where does she come up with these things? As if she could read my mind, she went on, "I read that in my Molly McIntire book, but it makes sense."
Funny what our mourning minds construct to soften the blow of our loss. She's happy now, we say. Is she? Happy lying in a polished box under the frozen soil? My mother, a card-carrying member of Republicans for Choice, now buried a mere stone's throw away from a newly placed memorial that I'd never seen before, a marker engraved with prayers for the lives of unborn children "in hopes that our nation will stop the abortion that kills them." Is she happy about that?
She's with Daddy now. Is she? Although my last post was engineered around this idea, I have no evidence to prove it. He's been dead for 23 years. Did he wait for her in some celestial green room with a monitor, watching the rest of her life before she came to join him? What if he reincarnated? What if right now he's some pimply teenager fumbling his way to second base in his parents' suburban basement?
I suppose this is would be the anger that Elisabeth Kübler-Ross referred to in her five stages of grief. Anger being the stage that follows denial, which is what I guess I was doing for the last year because my mother didn't look or act like somebody with a terminal illness. My anger rises from the dust and residue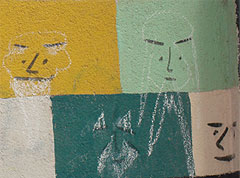 of all the clichéd things we say about a good death, and how she didn't suffer and how her family was with her, and she died on her own terms.
They weren't my terms.
I wanted to be able to ask her advice about how to manage my girls when they are rotten and unruly teenagers. She had some experience in this domain, having survived my adolescence. I wanted my mother to watch my daughters grow into young women, to see them graduate from college. I wanted her to be around. I wasn't done yet.
I keep wondering what do I have to do to wake up and be in a different reality where she's still with us. Is that bargaining? Check the box for the Kübler-Ross's third stage, too.
Right away, Buddy-roo noticed the ring on my right-hand ring-finger, a narrow gold band with two rectangular blue amethysts set with two miniature diamonds. I told her how my mother bought the ring from a jeweler in the Russian market in Phnom Penh. My sister was living in Southeast Asia at the time – hard to believe it was 10 years ago – and organized for us a Christmas trip to Thailand, Cambodia and Vietnam. It was a trip filled with indelible images: two sisters sunbathing on an island beach on Koh Samui; my mother, tired and proud after climbing the steep and treacherous stairs to the very top tower of the Temple of Angkor Wat; we three lined up in a row, each in our own single-seated cyclo, complete with toothless drivers and the backdrop of Hanoi's chaotic traffic.
The jeweler – his name was Sarat, my sister's most favored vendor in the market – was charmed by my mother, like everyone we introduced her to.
He spent nearly an hour showing her all the rings he'd designed, telling her about his gems and precious stones and where he found them in Cambodia. I remember how, after my mother went to bed, my sister and I would sit at the hotel bar and shake our heads. Everyone was always so enamored with mom. If they only knew what we knew, we'd mutter to each other, knowing that what we knew was a daughter's privilege, and that despite all her motherly flaws, we, too, admired her fiercely.
Buddy-roo wanted to try on the ring. I twisted it off my finger and handed it over. She held the band, turning it back and forth to make the stones sparkle under the light. It was too large for her ring finger, even too big as she pulled it down over her thumb. "Can I have it someday?" she asked. "Sure," I told her, "someday you can have it all."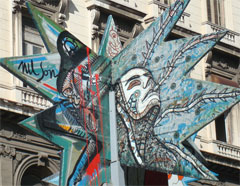 I'm haunted by that someday, that future moment when I will leave Short-pants and Buddy-roo to their grief, when they will rifle through my earliest love letters to
De-facto, making fun of my copiously worded and disclaimer-ridden proclamations of affection, or when they read the letters in that shoe-box that I should probably destroy now while I can, the syrupy ones I wrote to my parents when I was an introspective, awe-struck student seeing Europe for the first time. Or when they go to write my obituary and realize that I used to be somebody, somebody who was a competent professional before becoming their quirky, forgetful, imperfect mother.
As I begin to sort through the relics that belonged to my mother, I see her anew. I study her photographs a different way. A college friend of hers writes a note about some mischief they stirred up on campus; I am surprised to think of my mother involved in such antics. Now comes a new view, I suppose, to see her as someone beyond my mother, to frame her in larger context, as a woman coming of age and living a range of life experiences. A regular person – just like me.
It makes me look at the girls and think this: by the time you can possibly understand who I really am, it will probably be too late to know me. Then you, too, will know this hollow, cheated, bereaved anger.
This isn't a pretty post. It's agitated and discomforting. It doesn't resolve and tie up in a pithy bow at the end. You were a bit too whiney in that one, someone will say, after reading it. Why, I wonder, when a woman speaks the truth about anger or frustration, this is called whining. Were I man, I'd be allowed to punch holes in the plaster wall. Which is what my words are meant to do right now, because I have been on an airplane all night and I am tired and honest and angry that my mother has been taken from us.
Everything else I've written about her death has been well-behaved. Why can't the poignant be joined by the raw and unrefined? I want to write it as it is: real, rough, full-bodied grief, something that's messy, mad and just a little bit selfish, something that will be diluted if there are too many drafts and edits, something that's ugly and maybe hard to read. Something that screams at me to just press publish.