Mère Noël
Why is it a man who gets all the credit for Christmas?
Santa Claus, Père Noël, Father Christmas; they're all guys. I don't see this as a holiday powered by men. Sure, there must be exceptions – wonderful, thoughtful, fatherly anomalies – but I would wager that in most households, it's the mother who's driving the Christmas train.
This is not meant to dis De-facto. He even agreed to come with me, this year, to do the Christmas shopping for Short-pants and Buddy-roo. But on the designated day, our downstairs neighbor knocked on the door complaining about a leak (endemic to this ancient part of Paris) and De-facto felt obliged to take on the task of plumbers and insurance forms. As much as I dislike shopping with throngs of people in an overheated department store, it beats waiting for a plumber and filling out French paperwork. So I plunged into the store myself, and came out, two-plus-hours later, exhausted and thirsty.
Christmas is not a holiday for mothers. We're working. Up to the event, and all through the day. There's a lot to do: the wrapping – and hiding – of all the presents, the baking of cut-out cookies in all the Christmas shapes, frosting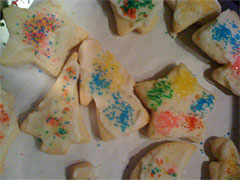 them when they've cooled and decorating them with colored sugar. The tree has to be trimmed. Okay, maybe we find some strapping guy to carry it in and string up a few lights, but it's usually the chicks who are hanging ornaments and recounting childhood Christmas memories. Meals to be planned, food to be ordered, good wine and champagne to be selected – the day has to be at least a little bit choreographed if it's going to come off.
I have it easy compared to my mother. She managed a much more complicated production than the modest holiday traditions we have. She pulled out the good china, silver and crystal for every meal, preparing gourmet menus for Christmas day brunch and dinner, all this while making beds for out of town guests and shuttling people to and from the airport.
With all due respect to my father – a fine man and a great dad – his contribution to the preparation of Christmas was, as most men of that generation, minimal. My mother was the engine behind the holiday. Most of the gift tags "from mom and dad" were written in her elegant handwriting. There'd be at least one present that you knew my father had selected himself, labeled with his distinctive signature, but it was always one of the last gifts to be placed under the tree. He was the king of Christmas Eve shopping and its end result, what he proudly called the hot wrap; gifts wrapped so close to the moment they're opened that the paper hasn't had time to cool.
That's one tradition that my li'l nuclear family here has taken on with aplomb. This year is no exception. Another tradition that's made the cut: the Christmas morning Bloody Mary break. With a fresh stick of celery, it's a festive red and green holiday cocktail that quenches your thirst throughout a long morning of gift opening. This was also my father's idea. So I guess he did contribute to Christmas, in his own way.


I remember my mother getting stressed out about Christmas, and I'd think to myself, "what's the big deal? We're all together aren't we? We could eat peanut butter and be happy!" But when it was my turn to host a few elaborate holidays with out of town visitors, festive menus and thoughtful gifts for everyone, I finally got it. If you want the holidays to be special – the kind that makes memories your family will cherish – it takes work. And maybe a little vodka.
There's an old Irish custom – I don't know how much it's practiced any longer – to celebrate Women's Christmas on January 6th, the day of the Epiphany. Legend tells that on this day, the men take on the household tasks and give the women a day off. Now that's a Christmas present.
So guys, give the moms in your life a break. And please don't wait until January 6th to do it. Christmas is a beautiful day, but it's hard work being Mère Noël. Lend a hand, and let her put her feet up.