O Sole Mio
There are no little shoes everywhere.
No toys strewn about. No little bodies crawling into bed with me. No crying in the hallway. It's nobody's fault about the sunrise.
All I hear is the rain outside my window. And drumming and hooting and hollering from a distant meeting room.
In Sestri-Levante, Italy, I am attending the CREA (the European Creativity Association) annual conference. The first time I was here – for the first CREA conference – was in 2003. Short-pants came too, still drinking from a bottle. Buddy-roo was just a small cantaloupe-sized creature. But she was in my belly, so she was here.
On Sunday, before I left, Short-pants asked me why I was going to Italy. When I told her I was going to CREA, she said, "but you're going without me?" I explained that this year was different: I was going to the conference alone. Her tears were angry ones. "But I want to go. I always go."
It's true. This is the first year I have come to this conference – one I helped to originate and for a few years was a member of the core organizing team – without De-facto and without the girls. We've always come en famille.
Not that I am totally alone. I have a roommate: his mother.
I met her before I met the De-facto himself. In a rare case of really smart thinking, I chose the mother-in-love first. I met her almost twenty years ago at the parent conference to this one, the Creative Problem Solving Institute (CPSI). So you could say that for us, creativity is a family affair.
The people who attend this conference year after year – I am among about thirty volunteer leaders – have embraced my children as their own family. We have even adopted grandfathers for the girls, two exceptional Italian men who bring to them the wisest kind of experienced playful creativity. While people here do understand why I have not brought the girls this year, they are not happy about it. You can count on a group of creativity practitioners to appreciate the expert mind of a child. Our girls are a bit like gurus here.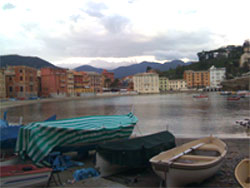 It's been necessary to focus entirely on the design and delivery of the program I am facilitating, which is fairly intense. And then to go out for a beer afterward without having to check in with anyone. I am happy to have quiet catch-ups with my mother-in-love while the early light fills our room. I'm happy to be fully present for the kind of in-depth conversations that erupt so spontaneously here without that back-of-the-brain chatter: what time do I have to relieve the babysitter? What do I still have to do this and that before I get the kids? Does De-facto have them or do I need to get them…?
But this morning, as you'd expect, the mixed emotions of motherhood wash over me. It was just a tiny bit too quiet. I was actually wishing that someone would crawl into my bed wrap a small, soft arm around me and complain about the sun coming up.