Ungovernable Pleasure
After visiting the void – at the Centre Pompidou the other day – I strolled by another exhibit that bears mention, a cluttered and eclectic assemblage of found objects donated to the museum by the artist Daniel Cordier. Its position, immediately adjacent to the nine empty rooms of The Void, was striking. These two contrary exhibits, side by side, must have been a deliberate act.
Oh, there was stuff! An odd collection of things, natural and man-made, primitive and contemporary, cast all around, laid out on the floor and set up on musuem-ish stands. Large carved-out tree trunks, actual sugar silos from India, stood like statues on the floor. It was all very woody; I think there were even pieces of driftwood, reminding me of those silly corkscrews we made in Girl Scouts. Mounted on the wall, an array of objects of curiosity, amongst more pictures and drawings of objects of curiosity. Cordier chose to ignore the functionality of these objects and focused instead on their form, making art out of otherwise everyday items. Art that, it could be said, resembles a tag sale.
It was all a bit too interesting to take in, after digesting nine rooms of nothing.
So I turned and quietly walked out. Not in protest, just in preference.
A single sentence, buried in the middle of a text the artist had written to describe the exhibit, mounted just outside of the rooms that hosted his collection is what got my attention. Addressing the haphazard quality of his work, he wrote: "It reflects the ungovernable disorder of pleasure."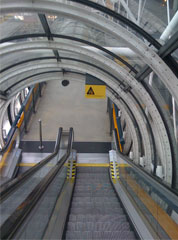 On my way out of the museum, I tried to keep my head in those first empty rooms with their poignant memories and limitless possibility. But thoughts of the other exhibit kept encroaching, stalking me, insisting I consider this notion of pleasure and its chaotic and uncontrollable nature.
The juxtaposition of these two worlds, I realized, is the paradox of my life with children, in a nutshell.