The Assignment II
As I write this post, Short-pants is probably standing in front of her class, side-by-side with her two little colleagues, transmitting her recently honed expertise on the history of Paris. Yes, today is the exposé.
A few readers have actually inquired about the status of this assignment, which I chronicled here, so I suppose an update is in order.
Last weekend the triumvirate was assembled; Short-pants and the two boys she's been teamed with got together to hammer out the details of their presentation. This project has had more than a few hiccups. We made no progress during the winter break. It was an arduous task to find a time when all three students and mothers could coordinate a meeting. This pushed us to the last minute. On top of that, further dialogue with the teacher revealed that the topic was not exactly the history of Paris, as we'd thought, but the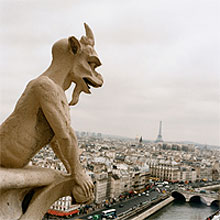 history of Paris' quartiers. I'm not sure what that means: how Paris came to have its little neighborhoods? Or how the nautilus of arrondissements spiraled out into what it is today? That all three mothers failed to notice this distinction in the original assignment is another satisfying indicator that I am not alone in my failings. The other mothers didn't think it was a problem to ignore this little detail, since the kids had already bought into the idea of telling Paris' history through famous monuments. A part of me thinks we should have readjusted; we hadn't made much progress down the other track. But another part of me just wanted to be done with this thing. You can guess which part won that debate.
Assembled around the table, we became a study in contrasts. Edgar had already written up a 3-page report on the Eiffel Tower. Even I was intimidated by his even, deliberate handwriting on the pages of feuille quadrillée (graph paper). He'd also underlined the headings with different colored felt-tip pens. Impressive. Lucas and his mother brought a variety of colorful cards on weighty paper stock and a roll of light-brown craft paper, with an idea for the visual component of the presentation. Short-pants, well, let's just say she'd had a lesson in Wikipedia.
Going to a French public library was just too much for me to fathom. I'm no stranger to French bureaucratic services; I've done my time waiting in line at the préfecture. But it's been a cold, bleak, winter. I just couldn't face another functionnaire.
Besides, I'm not convinced that honing the children's library skills isn't a bit like teaching them to speak a dead language. Sure it's nice to know, but will they use it? I can still picture the card catalogue in my high school library, a boxy wooden piece of furniture. And those little labels, typed on the secretary's Corona and inserted into the tiny square frame on the front of each of its long drawers. You'd flip through the index cards, worn and dirty from years of fingering by semi-curious students, all the while repeating, like a mantra, the title or author you were actually looking for, half the time forgetting and having to start over. All this to find one book, so you could look at its bibliography in order to do it all over again to get another book.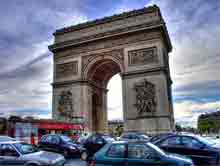 I'm not saying that knowing how to research in a library isn't important. Or maybe I am. If Short-pants becomes a serious scholar in need of original historical texts, no doubt she'll be forced to develop her library skills. But even that's not certain: a friend doing PhD level research at the Bibliotèque Nationale told me he wasn't allowed in the stacks. He was pointed to a computer connected to the library system and told to write down the titles he wanted. This list was then handed to a smug librarian, who disappeared, returning 20 minutes later with his requested books.
If you have time (an hour), it's really worth watching the video of this lecture, A Portal to Media Literacy, by Michael Wesch. He's an Assistant Professor of Cultural Anthropology and Digital Ethnographer at Kansas State University and the same guy who produced the famous (and much shorter) video about Web 2.0, The Machine is Us/ing Us. Wesch wants us to test the assumptions we make about teaching students in today's digitally powered world. Our education system was invented in a different century; it might be obsolete. This is why I believe developing a skill-set for researching on the internet is important.
Or maybe I was just too lazy to take Short-pants to the library.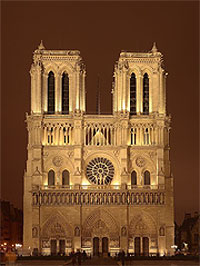 Prior to this meeting of the troika, we spent about an hour Googling her monuments. She seemed to like Wikipedia the best. I explained the whole Wiki phenomenon. "Really?" she said, "Anybody can add whatever they know about Notre Dame?" That didn't sit right with her. "Yeah," I said, "that's why you always have to double check the facts." I'm sure I'll be having this conversation with her again a few hundred times during her scholastic life.
We printed out a several pages of information for each monument. We read through them together and then I asked her what she thought were the key points to put in her report. She wasn't sure. We read them again. She shrugged. "Well, let's not get too far ahead before we meet with the others," I said, sliding the printed pages in a folder. Then I had a beer.
Later I asked De-facto if he thought Short-pants ought to be able to read a few paragraphs and then summarize, or if I was expecting too much. "In my experience," he said, "7-year olds usually plagiarize."
The craft-paper is being put to use to create a large map of Paris, with its quartiers (aha!) outlined in dark ink. We used the colored cards to draw a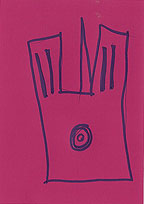 picture of each monument (six in total), to be tacked on this map at the start of each oral report. Each child has composed his or her own texts to read. The teacher wrote in the initial assignment, "you may help them research, but do not do the work in their place." That's a tall order. I spent every evening this week nudging and prodding her along. I did my best not to help.
This morning, Short-pants was giddy. I asked her if she wanted to practice her presentation or just wing it. She wanted to test it out on us. Standing tall and straight, she held her notes in one hand, waving the other for emphasis. De-facto, who goes to Toastmasters, coached her a little about remembering to look at the audience, about timing, and how and when to pass out the photographs (downloaded from Google Images). She was receptive to his suggestions.
At the door, I buttoned her coat, and gave her a big good-luck hug.
"I'm excited," she said, "and a little nervous."
"Nervous is okay," I said, repeating some advice my father gave me more than once, "it means you respect your audience."
"Oh, I do," she said.
Then she turned and headed down the stairs.