Who'll Get the Dog Up?
The mornings have never been easy. When she was a little toddler, Buddy-roo always woke up way too early, crawling into our bed at a pre-dawn hour and rather than dozing back to sleep in my arms, like her sister, she'd kick and fuss until we got up and put her in the saucer in front of Baby Einstein. (This explains her affection for anything with a screen.) It'd buy us 45 extra minute of sleep, not an insignificant number in those early parental days with two young toddlers.
Now it's nearly impossible to rouse her out of bed. The morning must be choreographed with a series of steps: an early whispered call, with gentle back-rub, repeated in-person visits to get her to rise out from under her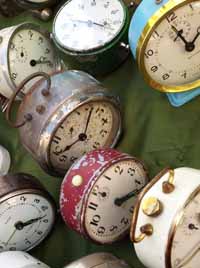 cozy comforter. I've tried a range of approaches from cooing gently in her ear, using her stuffed animals and puppets to nudge her awake. I try not to holler up at her from downstairs – this is a last resort because though it eventually moves her from bed to the breakfast table, the cranky comportment she brings with her is the wrong way for all of us to start our day. I even tried playing her favorite band One Direction at full volume, a gesture which at 7:30 in the evening brings her bounding into the living room to dance before dinner. Though it got her out of bed at 7:30 in the morning, it wasn't her best mood ever.
And she's only ten. Given that the sleeping habits of teenagers are even more problematic, I am looking forward to several more years of nagging in the morning. Though Short-pants, months way from being 13, is much more self-sufficient in the morning, setting her own alarm, pushing herself out of bed and dressing efficiently. I often stumble out of our bedroom, yawning and tying the belt of my robe, to find her all dressed, sitting in the living room chair reading or knitting. On the weekends, she brings us coffee in bed. But offering this up to Buddy-roo an example is futile, the comparison will only be a dis-encouragement (her term, not mine) and cause her to bury her head under the pillow for ten more minutes.
~ ~ ~
She wants a dog. She's been asking for one for years. In Paris, we had good reason to change the subject on this conversation; our top-floor apartment wasn't really suited for a dog – at least not the kind of canine I would allow in our home. Plus it felt like taking care of two young girls was enough. I didn't want another creature to feed and bathe and take out for walks, too.
Still she begged. Last year we offered it as a reward for getting good grades, figuring that given her temperament it was unlikely she could earn the reward, but if indeed it motivated her to perform then she'd truly deserve it. It's not that I don't want a dog. When I was little we had a loyal woodchuck hound, he was the best. I'm very fond of dogs as long as they're bigger than cats. But pets are a mess and work, and didn't I just mention that for me mothering two young girls was enough of that?
When our Parisian neighbor Lucy acquired a Shih Tzu and offered Buddy-roo the responsibility of walking the dog after school, it took the pressure off of us. It also gave us a chance to see how long it would take Buddy-roo to get bored with the dog, as well as the job, which is useful information. It turns out she has a very special rapport with animals, and she and the dog Pierre became fast friends. There were a few afternoons where she needed to be reminded about her duties, but most of the time it was her pleasure to take care of him. Since we moved away she longs for him, anytime she sees a Shih Tzu in the street she calls out his name. She even remembered his birthday and called Lucy to leave a message for him.
In Barcelona our apartment is a bit more spacious and somehow more suited to owning a dog. We're closer to nature, too, with a big park across the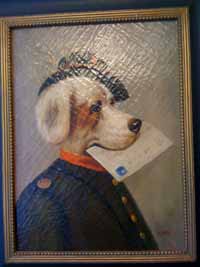 street and a mountainside of terrain just a two-block walk up the hill from our door. There are plenty of places for a dog to do what a dog's born to do: run and play. So De-facto and I are warming to the idea. A lot.
Except we'd already put the acquisition of a pet up as an incentive, and we'd realized, too late, it was probably counter productive. We try to praise the girls by complimenting the work they do to achieve their successes, not just the good outcome. The carrot-and-stick we'd offered Buddy-roo was based on being conscientious about her work, but it was also about getting a specific result. And even though she'd rallied and done the work, her grades didn't cut it. We probably set the bar too high. Or else we'd achieved our inadvertent objective, which was to get out of getting her a dog.
But if we get one now, it's like rewarding her even though she didn't meet the goal. Is this a case of we made our bed, so now we lie in it? Do we have to stick to the original plan and keep pressing her to get better grades? Isn't there some kind of work-around? The imperfections of our parenting are humbling.
Thus a new challenge has been issued: she has to continue to demonstrate her effort to be responsible for her own homework, not necessarily to place in the top of her class or ace her tests, but to be conscientious about her work between now and the end of the year, AND, she needs to show us that she can wake up consistently in the morning without our badgering her – because it will be her responsibility to walk the dog in the morning – then we could bring a dog into our family next year. Presented with this pathway to a pet, she began to dance around the room, as though a nearly dead hope had just been revived.
She asked me later, using her cute voice, "On a scale of 1 – 100, what are the chances that we will get a dog?"
I explained that if she kept up with her schoolwork – if there were no more oh-no-mama-there's-this-thing-I-forgot-that's-due-tomorrow panics, if she did her homework without making it a big mishigas and did her best to do well in school – and if she'd demonstrate that she could get out of bed in the morning without delay and drama, that chances were very good.
"How good?" she said.
"It's all up to you," I told her, "to make it a one-hundred percent."
~ ~ ~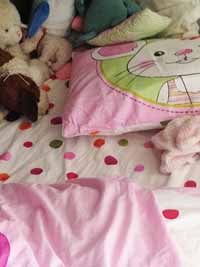 The mornings are getting easier. You can tell she's working hard to change her rising habits. This morning she had to get out of bed really early, in the dark, to get to school by 6:15 am to leave for a school trip. It helped that she's excited about the trip, a weeklong adventure with her classmates that involves hiking and outdoor activities. It's a French school tradition, the class verte, partly for the physical activities but also to help develop the children's autonomy. It's a week away from home without the parents to organize everything for them, kind of a primer for the independence they'll be given next year in middle school. Buddy-roo bounced out of bed like a pro this morning, a sign that she can get up when she wants to. I think it's a good chance there's a dog in our future.