Hard to Believe
The holidays, though filled with beautiful moments, have their fair share of hard parts that make you want to slowly, quietly lock the bathroom door and sit on the side of the tub and have a good cry, ignoring any small fists that rap on the door calling your name. It can be for any kind of reason, general fatigue or specific disappointment. It doesn't help that expectations get artificially raised at this time of the year, and I happen to be susceptible to their augmentation, despite annual proclamations that this year will be otherwise.
The holidays are a little bit hard for me because I always think of my father, who died a week before Christmas, twenty-some years ago. Losing him so close to the holiday painted a shade of blue around all the red and green. I remember Judy Garland singing Have Yourself a Merry Little Christmas on the radio while I was riding in the town car behind the hearse on the way to the cemetery. The driver was the father of a school friend, at her slumber parties he used to sit at the kitchen table and laugh out loud with us. I could see his eyes in the rear view mirror and they were red and wet with tears. Everybody loved my father and nobody could believe he was gone.
It's easier now, time helps, though I still cry a little when I hear that song.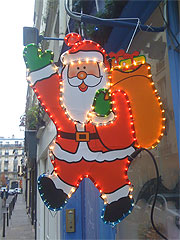 The holidays are hard because it's a lot of work. Even if you think ahead, and I do: when I travel throughout the year, I pick up indigenous specialties and earmark them as gifts for the following Christmas. Living overseas inspired my organization: I needed, just once, to wait in the long line at the post office the week before Christmas only to learn that the charge to ship the presents to my family so that they'd arrive before the 25th would cost more than the gifts themselves. Now everything gets wrapped by mid-November and shipped to the U.S. at a reasonable cost or sent home by a visiting courier.
But even with this apparently organized approach, Christmas creeps up and crowds the calendar. I still find myself with last minute shopping that thrusts me into the throngs of crazed shoppers. Somehow I'm still up at 2 am baking cookies for the school party or to give to the neighbors or just to have around the house. I do this because that's what my mother did. I make her recipe, I use the same cookie cutters (I inherited hers), I frost and sugar the trees, stars, angels, bells and Santas the same way she did. And I work myself into the same frenzy that puzzled me so when I watched her as child.
The holidays are hard because they're over commercialized, and somewhere along the way I bought into it. I agreed to the Santa and presents and lights and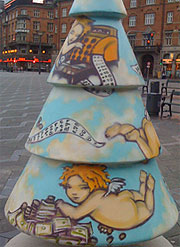 tinsel deal, hook line and sinker, and now I don't know how to backtrack my way out of it. Here's how ridiculous I am: I buy special "Santa" wrapping paper – the goofy, tacky kind that I would never otherwise use to wrap presents – and this paper is designated for gifts from Santa only. I've been doing this for years, but seriously, have they ever said (or thought): "Oh, those presents that just arrived under the tree last night have their own distinctive wrapping paper fashioned by Santa's elves?" I'm sure I'm the only one who gets it.
Last week while wrapping a few gifts for the girls, presents not from Santa, but from me and De-facto, and I ran out of the classy, heavier-stock wrapping paper I prefer. All that was left was the end of the roll for Santa's presents, which have already been wrapped and hidden away. Mid-way through cutting a piece of this cheesy paper I thought to myself, "What am I doing? This paper's for Santa's presents, I can't use it on ours. They'll know."
What if they do? I'm tired of this whole Santa ruse, anyway. It's hard work perpetuating this little lie (about which I have only mild guilt) but most of all I'm tired of doing all the work for which Père Noël gets all the credit. I want them to stop believing, but it's too hard to tell them – and certainly not right now, days before Christmas – though I am starting to get impatient for them to figure it all out. For this reason, I went ahead and used the tacky paper to wrap the not-from-Santa presents. We'll see if anybody notices.
I did get a question, a few weeks ago. Apparently someone in the school courtyard claimed there was no Santa Claus and the girls asked me if that was true. I could have said, well guys, actually, your friend in the courtyard is right. It would have eased the burden, moved us into the next phase of celebrating Christmas which means family holidays in a place with palm trees and drinks with little umbrellas in them, much easier to enact once the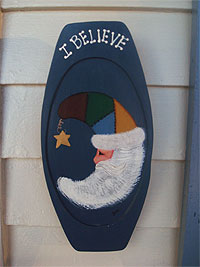 concern about how Santa will find us doesn't have to be addressed and a full suitcase of Santa's gifts needn't be carried along.
But I chickened out. "What do you think?" I answered with a question. They both tipped their heads to the side, waiting, until Short-pants said, "I still believe." Buddy-roo agreed. "Well there you have it," I said, shooting myself in the foot.
Because even with its hard parts, I still love Christmas. I love the rituals: the smell of the sapin de Noël and how it transforms when we string up the lights and hang the ornaments. I love the Christmas carols (with the exception of the monotonous Twelve Days of Christmas) and the decorations in the stores and on the street. I love selecting beautiful wrapping paper and folding it evenly and taping it invisibly and tying ribbons into fat bows to make beautiful packages. I love the quiet that falls upon the world as business closes on Christmas eve, the cozying in and gathering 'round and being with family. I love the way the children run to bed, knowing that the sooner they go to sleep, the sooner morning will come.
I love all our holiday traditions. I realize, especially now, that these are the things that have kept my father alive in our hearts – and will keep my mother there too – which is, no doubt, the reason that I insist upon continuing them so diligently. Christmas is hard work but it's also comforting, a regression to a previous place and posture that for me, is the heart of my childhood.
Tomorrow, Christmas day, my sister will phone me and say, "Did he come?" And I will say, "Yes, he came." And in that short exchange, an exchange that happens every year in exactly the same way – the same question and the same response – everything we know and believe about Christmas is captured: everything that's hard and sad and also magical and joyful. That's when the hard parts of the holiday season fade away and it's easy just to let it go and really mean it when you whisper back Merry Christmas.