We Leave at Dawn
I take it back. All that mush I wrote in the last post about our little adventure. The family car tour across the United States is taking its toll. Too many consecutive days of too many consecutive hours crushed together in an automobile makes it hard to forget about the misery of too much proximity. The constant call of the kids from the backseat, the packing, unpacking and packing again of the suitcases, the smushed stale or soggy sandwiches from the cooler, the cracker and pretzel crumbs all over the car, the overall organization required to keep a disorganized crew on the road and heading east. Nothing like a little adventure to tire you out.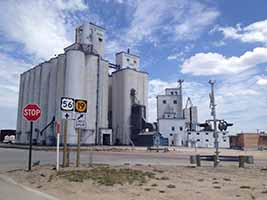 Yes, we've seen some amazing places and reunited with old friends who've taken us in and given us luxurious shelter, tasty and nourishing food and a healthy supply of hooch. Yes, we've seen the beauty of America. There have been remarkable moments that I'm sure we'll never forget. But there have been just as many moments when I wanted to lean over and strangle those who purport to be the people I love most in the world.
~ ~ ~
We left at dawn (again). That meant being up before sunrise, packing the cooler, nudging Buddy-roo, the professional sleeper, and her sister to wake up enough to walk themselves to the car, but not to wake so much that they'd stay that way for the first leg of the long drive. My mother-in-love, despite our admonition, set her alarm to coincide with our early departure to help us with the last of our preparations. Clothes had been selected and placed in the car in the girls' designated seats – Buddy-roo has claimed the long back seat of our roomy 4WD Buick Enclave and Short-pants is content to read in the middle row bucket-seat – and all other luggage, except the dopp kits, had been stowed in the vehicle the night before.
My mother-in-love, wrapped in her white bathrobe, watched us with eyes both delighted for our visit and dismayed at our departure. Though our 5-day stay with her in Santa Fee is the longest place we plan to stay stationary on this trip, it didn't seem long enough. She is in fantastic health for a woman in her 80s, spry and alert and more active than most women my age (me, for example) so chances are extremely good that I'll see her many times again in our lives. But I'm still mindful of the surprises life throws at us when it comes to our parents' generation, so I always take in a deep-breath mental photograph of her whenever we part company. She waved goodbye with that happy/sad face and even without a stitch of make-up on, and her still-sleepy eyes, she was as pretty as I've ever seen her.
Earlier, in Arizona, we'd driven along Route 66, where we'd stopped for lunch and achieved a classic roadside diner experience. In New Mexico, we took Route 56, which hovers beside the Santa Fe trail, another classic American passageway. The risks of a national route are slower traffic and multiple stoplights, but the reward is a distinctly scenic ride with charming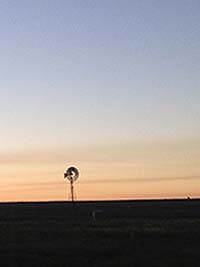 towns, authentic roadside watering holes, kitsch historical points of interest and, to De-facto's delight, cheaper gas.
We saw the sun rise on the Santa Fe trail, and made good time – better than we expected – on the road much less traveled. The lack of trucks and traffic in general – we went for miles without seeing another vehicle – and the awe-inspiring western vistas kept us from killing each other on the 12.5 hour drive, our longest of the trip. Well, 12-hour drive; De-facto permitted us a 1/2-hour lunch break at a picnic table near the Edwards County, Kansas Sod House and Museum, apparently 1,561 miles from both New York and San Francisco, a veritable halfway point for our US trip, in both distance and duration. His rush: he'd made a hotel reservation in Kansas City. He had a fantasy about putting the girls to bed and going to a Casino with me on his arm.
"Baby needs a new pair of shoes!" he kept shouting, from the driver's seat, in his best mid-western hillbilly accent. Mostly to tease me, since I have expressed on many occasions my lack of enthusiasm for the activity of gambling, and even more for the despairing spirit one encounters in an American casino. The windowless tombs with all the flashing lights, the unrelenting noise of the slot machines and the longing, lonely look of people hoping for that elusive big win. But De-facto's a charmer and it's a rare thing to see him part with his money so frivolously, so how could I not agree to go along?
I was raised with James Bond movies so I pulled out a dressier dress from the bottom of my suitcase and opened my jewelry bag for the first time in weeks and even donned my nude patent-leather heeled sandals. After so many consecutive days in shorts, T-shirts and flip-flops, standard road trip wear, it felt good to get duded up a little. We were the best-dressed people in the joint. Everyone else was in jeans, or even shorts and tank-tops – as the Kansas City casino crowd is slightly different than the Casino on La Croisette in Cannes. We may have looked good, but we bet poorly, so it took us about an hour to lose all our chips. We were up by 60% early on, but De-facto was having too much fun watching me throw the dice to cash in. "We're just hittin' our stride," De-facto said, in his gambling-guy accent. I was rolling lucky at the craps table, for a while, but it was the Black Jack that really did us in.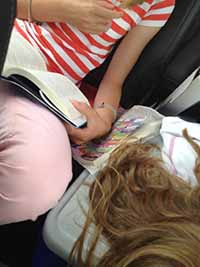 The next day wasn't quite a dawn departure, but we couldn't dilly-dally. Friends were to congregate to meet us at a bar on the north side of Chicago at 7:00, so we needed to make another long slog, this time from Kansas City to the Windy City. There were non-interstate routes that might have been more appealing, but because we hadn't gotten up at dawn again, we had a tighter schedule. It was raining. The highways weren't as well kept as those we'd traversed previously. The truckers taunted us by pulling out and passing each other, making it hard for us to make up any lost time. We ate leftover pizza from the night before, rolling along at 75 mph.
~ ~ ~
In pretty much every state, it's possible to find a radio station that's a time machine, propelling De-facto and me back to our youth. One song after another, each tethered to a high school memory. Journey, Aerosmith, The Cars, Van Halen, Bad Company, ACDC, Tom Petty, Creedence, Steve Miller, Heart, The Who, The Stones, Zeppelin. You know this kind of station, the classic rock station. You kind of hate it because it's so dated, but you kind of love it because you know the words to every song. And after you've been penned up in a box on wheels for six-plus hours, and you're just a little bit punchy, it's easy to get a bit over-excited. Rock'n'roll anthem Stairway to Heaven is a song that used to make me groan – I worked at a rock radio station and it was overplayed – but I caught myself cheering when I heard the opening chords. De-facto lowered the volume long enough to tell the girls that this was a rock'n'roll classic, commanding them to listen to the lyrics. Then he cranked the sound back up and we sang along, word for word.
"This isn't rock'n'roll," Buddy-roo said.
"It's a ballad at the start," I said. "Just wait, it'll kick in."
When it did, we were singing along at the top of our lungs and dancing like head-bangers in our seats. Buddy-roo, disgusted by our behavior, took the fleece she'd been using as a pillow and wrapped it around her head to drown out the noise and to keep from having to look at her stupid parents. This only inspired us to continue. She did get the last laugh; De-facto and I were so caught up in the music that we missed our exit. We had to turn around and backtrack to get back on the right road. It's happened to us several times on the trip. We get lost in the music, and nearly get lost.
~ ~ ~
"Girls, look! We're about to cross the mighty Mississippi!" De-facto, our own Clark Griswald, shouted it exuberantly, his fist in the air. Short-pants barely raised her head from her book, Buddy-roo re-arranged her feet against the back of the seat in front of her, their tandem sign language for who cares. I'm afraid they are saturated with national parks, 4-H styled museums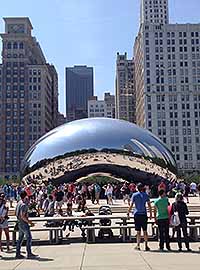 and points of interest, or just tired of being hitched to our wagon on this cross country tour, that their best defense is to ignore us. But we keep nudging them along. At every stop, Buddy-roo begs to stay just one more day. The most recent host becomes her new best friend, and that stop, the best on the trip. Both girls moaned about being dragged into Chicago, until they discovered the fountain and the Bean at Millennium Park. We couldn't linger too long, though, as friends were expecting us at our next stop, in Ohio, and the heavy city traffic had already slowed us down.
We've been on the road twenty days, crossed ten states and we've still many miles to go. But the Atlantic draws near and another city beckons, with more family and friends waiting to see us. The road calls, whether we like it or not. Tomorrow, once again, we leave at dawn.