Into the Woods
Any lenses we were wearing – glasses or goggles – fogged up instantly when we trudged into the lodge. Wet, heavy snow dripped off our coats and hats. We'd been skiing nearly three hours and hadn't intended to stop, except a small squall settled in over the mountain, its steady diagonal snowfall like needles against our faces. Hot chocolate was required, to warm our hands and take a break from being battered by the icy snow.
The lodge, a chalet-styled restaurant, was packed with diners at tables with plates of steaming food, croque-monsieurs and pomme-frites, thick pieces of red meat with creamy sauces. European skiers won't miss their appointed meal times; a plus for flexible eaters like us who'd rather snack along the way and take advantage of the short lift lines that result while the rest of the mountain's patrons are savoring their long lunches. Now we were in their midst, standing at the bar in the dark room, cradling our cups of hot chocolate, taking a restorative pause and hoping the snow would ease up.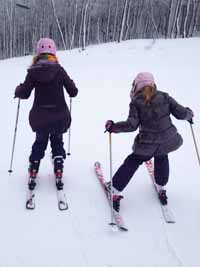 It did. We gulped down our last sips of chocolate and clunked out of the lodge in awkward ski-booted steps to retrieve our skis and poles, laid against a wooden fence, and headed for the nearly empty lift-line.
We'd rotated in shifts all day, skiing as a family of four, and then De-facto would ski off to explore more demanding terrain, later returning to the two gentler hills that satisfied the girls. Then we'd ski a couple of runs together, all of us, before I'd get my turn to ski off and take a few longer, more challenging runs alone. It's fun to ski with the girls and watch them get more confident. But how I love to ski alone, at my own pace, to stop when I want – or not stop at all – revived by a few precious, private moments at the top of the mountain. I was a ski-bum for a year in my early thirties, and all the freedom associated with that period of my life comes rushing back to me in an instant, just by sitting alone on the chairlift.
While I was off on my own, De-facto tried to inspire the girls to veer off the main piste into the woods, following tracks carved out by other adventurous skiers. The narrow trails snaked on and off the main slope, quick little jaunts in and out of the forest. For heartier adventurers, you could go deeper and find steeper tracks, one of them even over a bridge with a small jump. But if you stayed at the edge, close to the slope, it was a gentler risk, exhilarating enough for Buddy-roo, who daringly followed her father into the trees and out again.
Short-pants, though older, wasn't quite as daring. It doesn't help that her just-about-adolescent body is gangly and spindly. But she's always had a different kind of physical coordination, and because of this tends to avoid sports in general. Just getting her out on skis is a bit of a trial. The night before we left, she cried because we were forcing her to go skiing. After three runs the first morning, she'd forgotten the burden we'd pressed upon her to enjoy this form of winter athletics, surrendering to its pleasure. But despite De-facto's enthusiastic encouragement, she refused to follow them into the woods, preferring to do her standard snowplow snake back and forth across the main slope.
Our four-hour passes would expire soon – we'd gone for the shorter lift-pass thinking that the kids wouldn't want to ski longer. In the end it was De-facto and I who were aching and exhausted and ready to call it a day. I'd skied fairly hard on my last solo turn, so I nodded at him to go off and take a last run on his own. I'd do one more with the girls and ski them over to the rental shop to return the skis and meet him there.
Except Buddy-roo wanted to follow her father into the forest again, so it was agreed she'd wait for Short-pants and me at the bottom by the lift so we could make our final ride up the mountain before our passes ran out.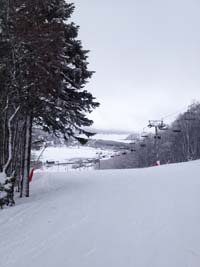 Then we'd take our last run of the day, down a different slope that would take us to the rental shop. The phrase, last run of the day, always sounds ominous to me. As a young child, my sister broke her leg on the last run of the day, so I'm always cautious about making this declaration, afraid to jinx one of us to such a casted fate.
Short-pants and I started out side by side, but I soon pulled ahead, making slow, wide arcs in the fresh snow. Halfway down, I stopped to wait for her. I scanned the hill for her distinctive helmet-worn-over-the-ski-hat (her choice to wear it that way), but she was nowhere to be found. I craned my neck in every direction, on the verge of worrying, until I saw her purple coat and her lopsided helmet…in the woods.
She was just above me, so I took a dozen giant side-steps back up the mountain to get closer to her. She was stopped in her tracks, considering how to navigate forward. From where I stood, it looked like she had a choice to veer out of the woods fairly easily and ski to me, or she could continue on the trail into the woods, though then the route out would be steeper.
"Look at you, in the woods!" I shouted. I wanted to encourage her for taking the risk, though I wished she'd have done it with her father so he could coach her through it. "Hey, why don't you take the next path out. We've got to get down and meet your sister."
Either she ignored my advice or she was unable to turn her skis in the heavy snow. Although she wasn't going fast, she was going deeper into the woods and the further she went, the ridge between her and the main slope grew steeper, as did all the little exit paths. When she realized this, she froze.
I checked my watch. Buddy-roo was no doubt waiting for us by the lift, wondering where we were. I knew our lift passes would run out soon, too, which wasn't the end of the world except then we'd have to ski a good distance cross-country style – never fun with the girls – before walking up a steep hill to get to the rental shop.
"Come on out!" I yelled, cheerfully. "You can do it."
She inched forward until she came to the next set of tracks leading out of the woods. When she tried to turn, her skis got caught in the heavy snow and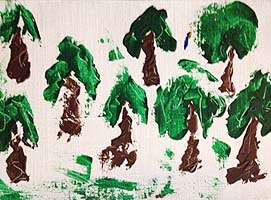 she fell over, landing with her skis above her. I watched her struggle to lift them; they were buried under the snow. I called to her, coaxing her to move her body above the skis so she could lift them and position herself to stand up. She couldn't move. She didn't have the strength.
I snapped out of my bindings and walked up into the woods to where Short-pants was laying in the snow. I couldn't get her untangled, so I snapped her out too and we walked out of the woods, carrying her skis, back down to the slope. But now the bottoms of her ski boots were caked with packed snow, and we were still on too much of an incline to balance on one foot and scrape it off. Getting back into her skis was turning out to be a chore.
It was starting to snow again, hard. I took out my phone – De-facto and I had been texting each other to choreograph our meet-ups all day – and called him to tell him to go back to the lift and get Buddy-roo, who by now was either angry with us or terrified that we'd forgotten her. It was a stroke of luck to reach him, he's not an always-answer-the-cell-phone kind of guy.
"I'm sorry, I'm so sorry," Short-pants kept repeating. She could sense my exasperation, without me saying a thing. She was on the verge of tears and the whole ordeal had exhausted her. I kept assuring her it was all okay, but my voice was tired, making my words hard to believe. We walked up to a more level part of the slope, where she could find her balance and we could fuss more easily with her skis and boots. Just as I managed to scrape the snow off her boots and clamp her back into her bindings, De-facto and Buddy-roo called to us from the chairlift passing overhead. Short-pants waved back as I put my skis on and shuffled up right beside her.
"My little wood nymph," I said, planting my poles in the snow so I could let go of them and put my arms around her. "You ready to ski down?" She cracked a reluctant smile, chuckling at her new nickname.
We took off down the mountain, both of us skiing directly to the front of the lengthening lift line. I begged the pardon of a family about to enter the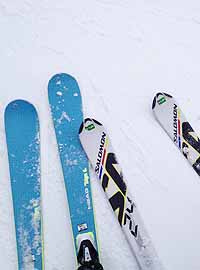 electronic gate, explaining that our passes were about to expire and we needed to get up one more time in order to ski down to the other side of the mountain. The turnstile blinked green, letting us through. We inched forward as the chair came around behind us, scooping us up as we thumped back into it, with relief.
Swinging in the air, meters above where she'd been stuck in the snow, I asked her why she chose that moment to go into the woods, instead of going in with her father.
"I guess I just wanted to go on my own," she said. "You know?"
"Yeah," I said, "I know."