The Adaptation
The nose of the plane dips under the cloud cover as the pilot makes an announcement, first in Spanish and then in French, alerting us that we are preparing to land at Paris Charles de Gaulle airport. I watch the patchwork of fields growing larger beneath us, buildings and roads coming into focus as the plane descends. In the airport, the familiar chimes of Air France alert passengers to upcoming flights. I breeze by the luggage carousels, confidently pulling my rollaway behind me. I know my way through this airport by heart. Earlier this morning I got turned around in the Barcelona airport, a beautiful, modern and efficient hub still foreign to me; I walked in a circle twice before finding the hallway to my gate. At CDG I easily found the escalator to the RER train and made my way into Paris, nearly sleepwalking, as though it's a commute I make every day.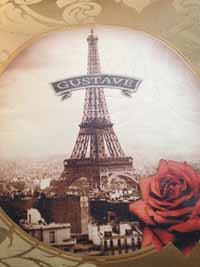 It's become a commute I make every month. Since we have moved to Barcelona last September, I have returned to Paris four times. Each time with an explicit reason, or at least a good enough excuse: a meeting with a potential client, a check-up with a doctor or a dentist appointment. I manage to plan enough in advance to get reasonably priced tickets, or to include the leg in a trip elsewhere at negligible cost to the client. Each time in Paris I attend to essential personal errands, see a friend or two and, most important, I get to walk down my street and around the corner toward my favorite local café where I am always welcomed with gusto. If the corner stool is empty I can happily sit there for hours and chat with the barmen and nod at all the regulars who come and go. This, for me, is a perfect moment. Some people get their bliss from meditation or from the endorphins of exercise. It happens to me when that corner stool is mine and from it I can watch the world go by.
~ ~ ~
When the girls were babies we enrolled them in the halte garderie, a state-subsidized nursery service that takes care of babies as young as 6 months. We waited until the girls were a year old, but took advantage of this quality, cost effective care option for several afternoons each week. It meant we could put the kids in the company of other children, and with native French speaking caretakers. It also allowed us to begin to understand the system of childcare and schooling in France.
Some mothers are sad about putting their children in someone else's care. I couldn't wait to drop them off and have a few hours to myself. Since it wasn't an all-day-every-day routine, I wasn't afraid of "missing" any stage in their development. For me it was a chance to take a shower and brush my teeth in peace, or grab a few hours in my studio to scratch out a few pages of my manuscript. We weren't eligible for the crèche, which is reserved for parents with full-time jobs. The halte garderie and its twice or thrice weekly schedule was all we could get, but we took it.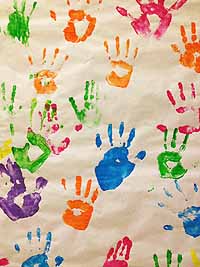 You had to tow the line there: parking a certain way in the room designated for strollers, donning the obligatory shoe covers before entering the playroom – too often I found them still over my shoes out on the street on my way back home – keeping to the correct time for dropping your child off and retrieving them at the end of your morning or afternoon session, tolerating the snooty director who's name I always managed to mispronounce. And then there's the system of adaptation – how you got your kids started at the garderie, which is meticulously regimented.
The initial visits lasted only an hour, and a parent is required to stay the entire time and sit and play with her child. This way the little being gets accustomed to the new environment and new playmates with a familiar and comforting parent close by. After two visits, you bring your child and stay with them for 15 minutes – and then you leave, but only for 30 minutes or an hour, so the child is there without a parent for only a short time. Each successive visit the parent's disappearance is extended, until after about two or three weeks it becomes just a matter of dropping off and picking up four hours later. It makes perfect sense to ease the children into their day care situation and though it doesn't eliminate drama – both Short-pants and Buddy-roo cried for 20 minutes after we left the first few times – it probably minimizes the pain and anyway it just seems kinder and gentler.
I used to love the pick-up at the end of the day – not that I was always ready to shift back into mothering gear, I could always have used a few more hours – but because I could peek in the window and watch the kids playing and being their own little selves without interacting with me. I'd stand there for 10 minutes observing them bob around with the other bobble-headed toddlers. And then, of course, once I walked in and they'd look up and see that the parent who'd just arrived was there to fetch them, this exclamation of glee always so affirming. Parenting is a shit-load of work but those wildly enthusiastic greetings are part of the payoff.
~ ~ ~
Remarkably, Short-pants seems to have adapted the quickest to Barcelona. In Paris, her classmates indulged her quirky, introverted habits, but she was often the target of some teasing by older kids in the courtyard. I worried about how she would fare in the new school. We talked about what behaviors might have caused the kids to pick on her, and how with this move she had a chance to deliberately re-think them.
"Mama, I understand the consequences," she said, "but I like walking around the courtyard talking to myself."
I couldn't really argue with that, so I didn't. But she must have internalized a little bit of our conversation because I think she's not doing the things (as much) that attracted the teasing and in fact has made a real effort to extend herself and make new friends. She's even part of a small "gang" of girls, much different than her social life in Paris. She's plunged into the new languages and excelled at school; this semester she landed her best report card ever, with felicitations. (In a French school system, that's really good.)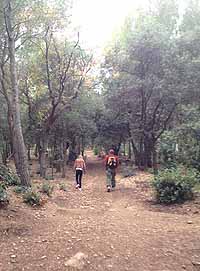 De-facto, too, has taken an immediate shine to our Barcelona life. The location suits him. Unlike in Paris, where we were in thick of things urban, our new home is in a quieter part of the city, and just 100 yards from nature. Nearly every day, he hops on his mountain bike and peddles up the steep hill to the Carretera des Aigües, a winding dirt trail where you can walk, run and bike with a full view of the entire city and the Mediterranean sea beyond it.
Then there's Buddy-roo, for whom the jury is still out. Because she's usually brimming with energy and life, it's easy to forget that she's actually a bit shy when she first encounters new people and things. I wouldn't classify her as miserable; she has made a few good friends and she's thrilled about the bunk beds in her room in our new home. But Buddy-roo's the one who misses Paris the most, her friends there, her last year's teacher – even though she wouldn't be her teacher this year – our neighbor's dog and her rock band.
"Nobody asked me if I wanted to move to Barcelona," she says, in those moments when she's feeling particularly low. We actually did ask her, and she was very enthusiastic. I reminded her of this, but it didn't seem to help her mood much. Now I just shrug and draw her close for a hug. No use trying to talk someone out of their feelings.
~ ~ ~
My monthly visits to Paris are sort of a reverse adaptation. It would have seemed brutal to be cut off from my Parisian life completely, to have packed up all of our things and cleared out, closing the door abruptly on that long and lovely chapter. The fact that I can stick my toe back in the Seine every once in a while, see friends, speak French, eat a real croissant, stock up on my favorite French products, take care of my hair, and sit at my favorite bar in the whole damn world makes it easier for me to adjust to my new life somewhere else. I don't really miss Paris, because I get to go back regularly. I probably should take Buddy-roo with me on one of these visits, to ease her transition, too.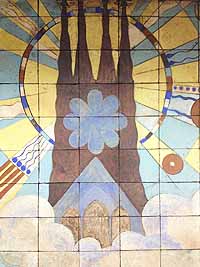 Eventually, if Barcelona is a place we decide to stay, I'll be compelled to find local doctors and a dentist and an aesthetician. Surely there are capable practitioners there. One day I may have to ween myself from the artist who cuts my hair every trip to Paris. That will be harder; he's given me a distinctive look and I trust him like no other hairdresser I've known. Replacing my favorite bar is probably the tallest order, and may never happen. But there are still plenty of fine watering holes around Barcelona and maybe someday one of them will even feel like "mine."
For now, I like straddling the two cities, exploring the new options and opportunities that Barcelona offers me while staying connected to the rituals of my Paris. Keeping the thread to my old home is comforting, and makes for a nearly painless transition. I know on some level I won't have fully embraced our life in Barcelona until I let go. But for now, I guess, I'm still in the middle of my adaptation.