The Way
I woke up every hour, on the hour, all night long. It was the quintessential night-before-a-voyage restlessness, a low-grade worry that you'll oversleep – that somehow the alarm you checked three times already won't go off or else won't wake you. Or just nerves, the kind that come before you're about to do something you thought you wanted to do, until it was upon you and you wondered, what was I thinking? It could have been bit of residual jet-lag from last week's trip to a different time zone. Excitement about the journey ahead. Or possibly it was the supermoon wreaking havoc with my sleep cycle.
I'd finished preparing my backpack – and weighing in at 7.3 kilos – at about 12:30 am. I shut off the lights and the glow from the moon flooded the living room like daylight. I tiptoed upstairs to check on the girls one last time. I'd heard Short-pants stirring earlier, I sensed she was still awake.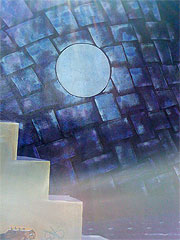 "Come, look at the moon!"
She popped up in bed – she'd been reading and probably had just turned off her light – and positioned herself to look out the skylight. The moon hung heavy above the rooftops of the city, any clouds that had covered it spread apart like a curtain on a stage. The official full moon is actually tonight, but last night's dress-rehearsal was a good indication of its beauty and power.
We marveled at the big white disc, side-by-side, until the tiredness pulled her back to her pillow. I sat beside the bed and brushed her hair off her forehead. Her baby cheeks are gone, a young woman's features are emerging. In the moonlight I could glimpse the face of her future.
We whispered back and forth – not that Buddy-roo, solidly asleep in the adjacent room, could have heard us. It's just how you talk, in a whisper, when you're up talking in the dark, in the middle of the night.
I thanked her for being my daughter. I thanked her for being so sweet and so lovely. I told her I appreciated her being so supportive of me going off to hike the Camino, how much that meant to me.
"You'll have a good walk," she said.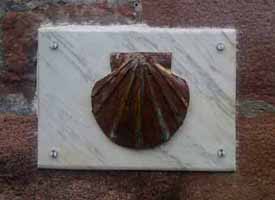 Later I slipped into my own bed, spooned myself around De-facto, putting my breathing in step with his. I tried to sleep but I could not still my thoughts. We'd talked about the possibility of him joining me on these first days of the camino. Why hadn't we organized this? I'm not in the mood to be apart from him right now. What was I thinking?
Maybe it was that moon. Short-pants couldn't sleep either. Or she came down to comfort me, sensing that I, too, wasn't asleep. She crawled in to our bed and reached her long thin arm around me. Sandwiched between her and De-facto, I finally dozed, but only in short spurts. Her snoring didn't help, but I didn't want to escort her back to her room. I half hoped that Buddy-roo would come join us, too. I've never been an advocate of the family bed, but this once, I wouldn't have minded.
This morning I stowed my heeled, fashion boots in the closet and laced up my sturdy, hopefully-broken-in-by-now hiking boots, hoisted my pack up on my back, but not before sneaking a peek at the sleeping bodies I was leaving behind and planting light kisses on dreaming foreheads. Why does it feel harder than usual, this time, to leave them?
I write this from a train, the TGV, slicing through the green landscape toward St. Jean Pied de Port, the gateway of the Camino de Santiago de Compostela. Tomorrow, weather permitting, I will hike over a mountain into Navarra and my adventure will begin. Or maybe it already has.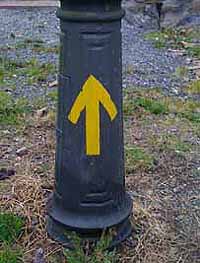 Not sure how technically present I'll be, probably not so much. But if the spirit moves me, I'll send an occasional tweet from the #camino or I'll post a few words or an image along the way. It's only a week, this first leg, a chance to taste the route before I must go back to Paris for some family duties for a few days, and then I'll return to the trail. It'll be a bit more back-and-forth than I'd like, possibly interrupting the flow of my walking experience. But maybe it's not such a bad thing, to be able to touch base with my people. It's not the usual way to do the camino, or even the ideal way, but apparently it's my way.
What was I thinking?