That Part
"Is this the marriage part?" Buddy-roo asked. We were congregated on the beach, greenish hills in front of us, the Pacific ocean at our backs. A few white folding chairs created a half moon, upon these chairs sat the elder family and friends while the rest of us stood behind them, making a tight circle in the sand before the couple. The vows were completely customized, except for an occasional dearly beloved and by the power vested in me, inserted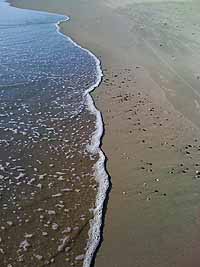 for charm and humor rather than tradition. The barefoot bride, my sister-in-love, wore a dark pumpkin orange dress, her groom sported a similarly orange tie with a black suit, the trousers of which would later be folded up as he trampled around the surf with their two little boys, tow-headed like their uncles had been, tow-headed like my daughters once were, still young enough to have no clear idea about the meaning of the ceremony their parents had just constructed, more interested in the piles of sand than the people assembled.
The weekend was filled with wedding party and extended wedding party activities, dinners and picnic lunches, family football challenges on the beach, informal gatherings of cousins and friends of the bride and groom. Each occasion prompted the question from Buddy-roo, who was eager to witness the marriage part and didn't quite understand all of the other moments of revelry leading up to it.
These are always a bit sticky, these wedding moments, as the nature of our non-wedded status becomes a topic of conversation that has its tender touch points. I brace myself for the inevitable and impertinent question, "so when will the two of you tie the knot?" It's posed by loving and curious family or friends who aren't privy to the quiet discussions that De-facto and I have had about the subject. We have morphed in and out of agreement and disagreement on our status, a negotiation which is moot given the inextricable intertwining that results naturally from having children while engaged in pre-marital coitus.
There's an argument in favor of maintaining this unmarried position, railing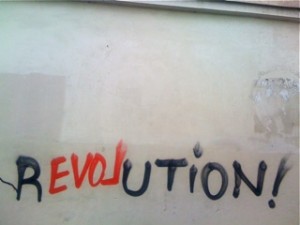 against the conspiracy of marriage. Allegedly we are not lulled into the convenient malaise that comes with the "security" of a legal union. When there is no official agreement to rely upon to hold you together, there is no relaxing of the vigilance to the relationship. No lazy couples survive; we're here facing each other every day, on purpose.
Still, some days I ache because we have not crossed a threshold of ritualizing our feelings for each other. It's not the big wedding or the formal doo-dah, I know the headaches that accompany the planning and production of such an affair. It's about stating deliberately to each other: I am here, on purpose, and I mean it, and doing so with a few family and friends not only to witness such proclamations, but to celebrate them, too.
Standing in the sand with the sun upon my back I recalled my failed marriage and the mild embarrassment I carry for having entered into such a public contract only to break it four years later. I take some pride in the amicability of that parting, not that there weren't arguments and angry words launched between us during the height of its unraveling, but that ultimately, once the threads of our couple were untangled, my ex-husband and I were civil and caring toward each other. Elegant is how I've often described my divorce but I'm probably framing it with an aura of revisionist history. But okay, if that makes it easier, so be it: elegant.
There are a number of reasons De-facto and I aren't married, most of them a defense against some fear that each of us harbors. Me, perhaps, that I will fail again and be twice divorced. Him, that such a traditional label of wife will push me away rather than draw me to him, that the formalization of our commitment would serve only to eat way at the commitment which has organically taken shape as our initial attraction and affection led to a couple in residence, which created one child and then another. Not by accident, the children part: we deliberately pulled the goalie for Short-pants and though Buddy-roo was a surprise, it was only the timing of her arrival and not the fact of it. We knew we wanted to parent together, although I can not for the life of me imagine why he would want me to mother his children as I surely exhibited no maternal finesse whatsoever while we were courting.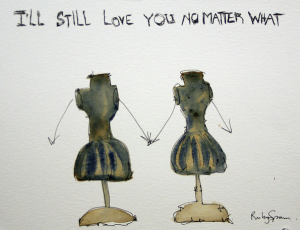 What cycles we have been through: one of us resisting, both of us inclined, then more resistance, or apathy. It should not be taken as a sign of rejection that we are not united in holy matrimony, but more an ambivalence about the institution itself and by whom we are given permission to be official. Having said that, the disappointment of having not chosen that path seems to rise out of its invisible resting place from time to time, usually when there is somebody else's wedding to attend, and it falls upon me like an soft, worn blanket, that old throw that ought to be given away to the good will but for some reason it stays draped on the armchair. Why do we keep that old ratty thing around? Familiarity, perhaps. It wraps around me as I stand there in the sand, with all the others who celebrate the beautiful union of these two awesomely lovely, in-love-with-each-other people face to face before us, poignantly itemizing their life promises to each other. The tears that tip-toe down my cheeks are tears of joy for their happiness, and also tears of disappointment at my own, that I have everything they have – indeed – except the marriage part.
(The last image in this post is artwork by RubySpam.)