Le Catch-22
Living in France, one is obliged to become expert at paperwork. There is no way to avoid it. At the start of every school year, I fill out no less than four pages of paper per child, each with the same basic parental and caregiver contact information. (I actually photocopied these sheets to use next year – even scanned it to my desktop – but I bet they change all the forms.) Every year, the same copies of the same vaccination pages from the cahiers de santé are required, stuffed and sealed in special envelopes. You'd think this would be a document that could live in a file cabinet – or a computer – in the nurse's office. Mais non.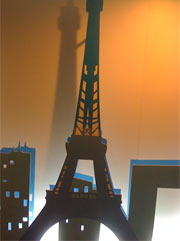 At every turn there is more paperwork. This could be said of any country but it seems particularly burdensome in France. Yet this is where we have chosen to raise our children. Both girls were born on French soil and both possess French birth certificates, a document with its own administrative quirks. After a baby is born, you have up to (and no longer than) three days to go to the local town hall, the mairie, to register the birth and obtain an acte de naissance. The hospitals dog you to attend to this detail in a timely fashion, one wonders if they are penalized if you fail to do so.
When you need to use this birth certificate, say, three years later, in order to enroll your child in the école maternelle, it's no longer valid. You must return to the same mairie (in the arrondissement or town where the clinic or hospital was located) and take a number and wait to be called up to the desk where you make a request for a newly signed and dated version. This updated document can be used to procure whatever additional privileges you're seeking, as long as you use it within three months, before it, too, is deemed invalid and another trip to the mairie is required.
Short-pants and Buddy-roo are both eligible for a special kind of made-in-France-resident-card, but De-facto and I haven't gotten around to addressing the paperwork for it. The girls were born at the American Hospital of Paris, which is actually in Neuilly-sur-Seine, and it's a bit of a schlep to out there to get a new copy of their actes de naissance. A neighbor told me it was possible to avoid the trip by making the demand on-line, and so this week I finally I forged through the website and found the form for an acte de naissance and filled in fields and scanned my own papers and pushed the button. A big red exclamation point informed me my application could not be processed unless I could provide a copy of the original birth certificate. I was able to dig out previous outdated originals and scan and attach them to the application. But isn't it all a bit ludicrous? The very document I wanted to obtain was unobtainable unless I had a copy of it.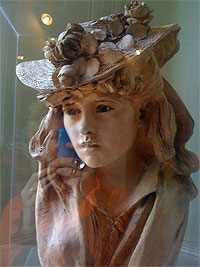 Maybe it's just me, fed up with calling around to arrange this and that, weary of the forms and protocol I must fill out and follow, tired of jumping through hoops. I want to be done with the school meetings and sign-ups and last-minute school-supply runs. I feel like I've become a PA to my children, and I'd like to get on with my life. Plus a last-minute trip to the states – my mother's house has finally sold and we must empty the last of its belongings – puts a press on my agenda and makes me impatient with the inefficiencies that seem to be standard practice here.
The viola teacher from the conservatory called to remind me to get an attestation d'assurance, proof of insurance, in order for Short-pants to be given an instrument. I asked her if we could have same viola as last year; it was actually a very good instrument and more importantly I already had the attestation de valeur, so getting the insurance would be easier.
"Non," she apologized. Short-pants had grown and needed a bigger instrument. I asked if she could provide me with the name of the fabricant of the new instrument. "Mais, non," she said, unapologetically, she didn't have it. She didn't know the maker or the value.
I explained that my insurance company couldn't insure the instrument unless they knew the value. And they couldn't know the value if I didn't have a certificate from the maker. I'd need the name of the luthier so I could obtain this document, in order to obtain another document, in order to get the viola.
"I'm not allowed to give you the instrument until I have the attestation d'assurance," she said.
"But I cannot get insurance," I said, "until I have the instrument, or until you tell me the make and the exact value."
I mean, she's been doling out these instruments to students for years now. Doesn't she know this?
The good news is that my insurance agency is a cozy neighborhood bureau that I've been going using for more than ten years. The very reasonable woman who works there immediately appreciated my conundrum and agreed to write a very general attestation of insurance for an instrument of the same value as last year's. Then, she told me, once I could give her the real details of the new instrument, she'd adjust my policy issue a more official attestation.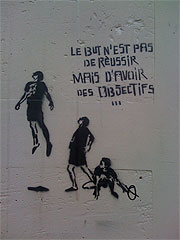 Within 48 hours her letter arrived in the post, so I sent Short-pants off to her lesson with the paperwork in hand and she was given her new viola. After the lesson, the teacher nabbed me and dragged me into the office. I'd wanted to avoid any administrators, hoping I could get the official certificate first. I was leaving the next day for the week-long trip to the states, so I was deep in departure-preparation panic and not so interested in the time I would lose attending to a bureaucratic detail like this, a detail that was not at all a priority on the day before a voyage.
The viola teacher deposited me at the office and conveniently slipped away, leaving me to fend for myself across the desk from the austere and humorless functionaire who's job it is to handle the insurance certificates for probably hundreds of music students. This can't be fun, it might be Sisyphean, which would explain her comportment. A close inspection of the letter revealed its lack of specificity and gave her reason to remove her glasses and set them down before informing me that she couldn't let us take the instrument if I didn't have a more detailed letter of insurance.
I explained, again, the predicament. I have no idea how to say Catch-22 in French, but if I knew, it's the phrase I'd have used.
"The teacher should have given you this information."
"I asked her, several times," I said, "but she didn't have the name, or the value."
"But she must."
"But she didn't."
"But why not?"
"I don't know," I said, giving her my best French shrug.
"Well I cannot leave the instrument with you, then."
I stood up abruptly and pushed in my chair. Short-pants looked at me wide-eyed.
"What am I supposed to do?" I said, "The requirements are impossible and all my daughter wants to do is play her viola!"
I think standing up did the trick.
She scratched "attestation provisionelle" across the top of the page in big dramatic letters, insisting I get a detailed certificate to her as soon as possible.
We walked out of that dim conservatory, squinting into the afternoon sun. Short-pants held my hand while I fumed quietly. It's all such a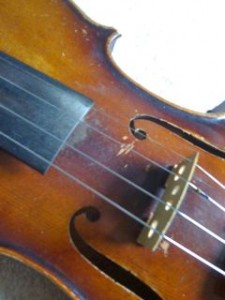 waste of time. Shouldn't each instrument come with its own attestation? Shouldn't the conservatory have gathered this information? Why is it the mother's job to do this paperwork? Did my mother have to do all this crazy-making organization for me?
A few blocks later, I stopped and knelt down in front of Short-pants. "I'm sorry I lost my temper with the lady at the conservatory. I could tell it frightened you."
"It's okay mama."
"I'm a little bit on edge today," I said. "Do you know why?"
"Because you have a lot to do before you go away?"
This was surely part of it, but it's not the real source. All week I've been a bit impatient and emotional.
"It's because I'm going to clean out the furniture and the final things from Grammy's house, and I'm sad and nervous about it."
"I understand." She leaned in and hugged me tight. "But look, I got my viola, right?" She stepped back, raised the instrument case up into the air and smiled, victoriously.