The Gifted Bag
After the buzzer rang, I pressed the button that unlocks the door to the street downstairs without asking who was there. I knew it was Buddy-roo returning home after a spontaneous play-date-turned-dinner-and-homework-date with a friend in the neighborhood. Normally a social activity of this nature on a school night would raise eyebrows, but this one included homework support from a native French speaking parent, so it was allowed. No doubt they covered twice the ground in half the time.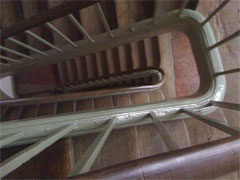 I opened and left ajar the door to our apartment, so that after climbing the four flights of stairs she would not have to ring the doorbell and wait again. This is our typical letting-people-in-the-door routine. How long it takes to walk from the entrance, up the stairs to our door depends on the urgency and fitness of the arriver. When it's one of the girls, if they don't get distracted by a neighbor in the courtyard or on the stairs, it's usually within 3 or 4 minutes that you can hear their little feet and out-of-breath voices as they enter the apartment and close the door behind them.
A good long five minutes went by without any little feet. I went out to check, leaning out the long window of the hallway to peer into the courtyard. No sight of Buddy-roo, but then the distinct sound of her crying in the stairwell below. I called down to her. Her friend's mother – who happens also to be a friend of mine – answered back. "It's okay. We're just having a little situation down here."
I looked out the window at the not-quite-night-sky settling in on the rooftops and chimneys. It'd been such a calm, peaceful evening. We'd been downright civilized, De-facto, Short-pants and I, reading together, quietly. The wailing at the bottom of the stairs, a harsh reminder of what had been missing, up until now.
I pattered down in my stocking feet to where Buddy-roo was standing, in the foyer with her friend, the two of them in angry tears. The friend's mother looked up at me apologetically. I tried to telepath to her a look that said, "No worries, this could so easily have happened on my watch."
The story spilled out. The purse, a tacky, pink, vinyl, Winx-merchandized accessory (I didn't buy it for her – it was given to us) had allegedly been a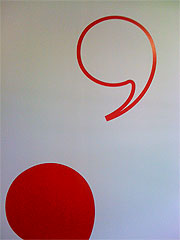 gift from Buddy-roo to her friend during a play-date a few weeks ago. She'd forgotten about it, I'm sure, until she saw it again on this visit. She probably made a remark like, "Oh, I left my bag here," causing the severe dropping of the jaw of her little friend, who'd thought it was a present to keep, which is probably how it was presented. The discussion turned debate, and then turned debacle. The lovely afternoon-into-evening play-date was ending in a big fight, all about where that bag should live.
I said the trash would be an excellent location. (Not out loud, though.)
The objective, at this point, was to calm the girls down so they could part, if not as friends, at least without tears. But this ugly purse was the stumbling block. Buddy-roo insisted it was a loan, not a gift. Her friend believed that it was hers to keep. Neither one of them would give an inch – they were absolutely stubborn – leaving the mothers to negotiate.
After a few halfhearted and unsuccessful tries at mediation – in retrospect how ridiculous that I even tried – I put my foot down. I was tired, it was late and this was annoying. "I don't know what else to do, guys, we'll have to sort this out later because it's time for bed. Now." I shrugged at the other mother, who I'm sure would have loved to have done the same 30-minutes before, but felt she ought to try to bring Buddy-roo home to us in happier spirits. I dragged my wailing daughter up the stairs. I didn't even notice, until after she'd gotten into bed and I was doing my own straightening-up-before-bed ritual, that the purse had been on her shoulder at the time, so it's ended up back on our property.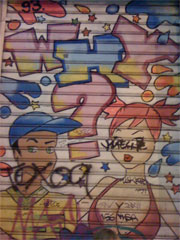 And it's sitting there, that ugly pink bag with all those cheezy smiling characters on it, taunting me. In the morning after the girls leave for school and I'm all alone, it whispers to me, "whose am I?" It makes me feel compelled to take the high motherly moral ground, even though I'd like nothing better than to bury my head in the pillows of my bed and wake up when Buddy-roo is twenty-six. (No doubt, she would have appropriated all my jewelry while I was slumbering through her dramatic puberty and adolescence…)
I'm of two minds. The first: we have to have a talk about it, and Buddy-roo needs to either return the bag that she gifted to her friend or make a real apology and come to terms with the misunderstanding. The second: Just drop it. It's a silly fight between two 7-year-olds and though I'm still thinking about it (as is my friend, the other mother) the girls have both forgotten it. Next time somebody "gifts" something, we simply need to step in and model how to clarify: is it a gift for good, or just a little while?
One is correct. The other is convenient.
What would you do?