Big, Little Girls
I never imagined that they would turn out to be so lovely. When I watch them from a distance – not when they're crowded around me and clinging, demanding my attention, but from afar, as they interact with others – I am a little bit amazed. I knew I would love my children, but I didn't consider how much I might admire them. Or at least that this feeling of admiration would happen while they were still so young. Both Short-pants and Buddy-roo have poise and a thoughtful exuberance, and in certain settings they rise to the occasion in remarkable ways. They have become such big, little girls.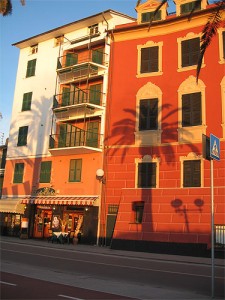 Last week, our annual voyage to Sestri Levante, Italy, for the CREA conference. We go every year to see friends and reconnect with colleagues. We go to sharpen our saws as facilitators and practitioners of creative process. We go to experience our own creativity in new ways. We go to be in service – we are volunteers – to give back to this community because it has given us so much, including our current careers. I realize now there's another reason we go: for our children.
The girls weave in and out of the sea of adults attending the conference with ease and enthusiasm. It doesn't hurt that the kind of people who attend a conference on creativity have a special knack for appreciating the wisdom of children and recognize well that we all could be childlike in adult bodies if we'd only let it happen. When I am at CREA I feel an enormous gratitude toward this community for being so open to my children, and for giving them a chance to interact with adults who truly respect them and engage them in very attentive way.
This has a huge impact. Short-pants and Buddy-roo are the kind of kids that can look people in the eye and can carry on conversations with people of any age. Because they are not merely seen, but heard as well, they believe in their own voices and they know how to articulate their thoughts and feelings. They share themselves with others. Occasionally I do have to remind them not to interrupt, but they heed this reminder because they know that when they are in a conversation, I will wait until they are finished, too.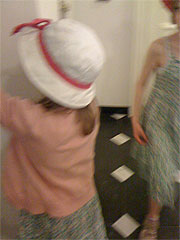 At CREA, they are free-range kids. It's a safe environment. There's a bit of parenting-as-community; friends volunteer to take the girls out for a walk or to get a gelato. The CREA kids program is very ad hoc, friendly colleagues volunteer to devise creative 90-minute activities for the children of all the parents attending the conference. A rat-pack of creative kids runs around, often without serious supervision. But the rules are clear: don't leave the hotel grounds, don't cross the street, don't go near the pool. Otherwise, they run freely. My kids live independently at CREA.
There are, of course, exceptions. For example, each morning I'd enter the dining room, looking to touch base with the girls, who'd get up and dress themselves and make their own way through the grand hotel foyer to the dining room. They'd find a table of adults, always delighted for their young company. They'd pick up plates and bowls and select fruit and cereal and a slice of sweet cake or focaccia from the buffet table and settle in for breakfast.
Of course we'd preview this the night before in very deliberate, repetitive conversation about how in the morning Mama had to run an early writing workshop and Papa wanted to go to an early yoga session and how they should get dressed and leave the key at the desk and how we'd join them in the dining room when we were done with our programs.
"Yes, mama," Buddy-roo would say, full of disdain for our apparent over-parenting, "I know what to do. I'm a big girl, after all."
She seemed to relish – at least in the evenings – the idea of this grown up activity, managing the morning all on her own. But every morning in the dining room, Buddy-roo would give me the cold shoulder: a dramatic toss of the head to look away from me, the 2-inch long pout and the narrowing of her eyes as she'd bite into her long slice of foccacia.
"Are you angry?" I'd say.
No verbal response, only the folding of her arms.
"It looks like you're feeling a bit mad at something."
Then she'd let loose the angry tears.
"You left me alone! There was nobody there when I woke up!"
At the age of 7 and 9, I suppose, meltdowns occur. (At my age, too.) Short-pants, who has no problem making her own way to breakfast, leaving Buddy-roo to wake up alone in the room, is an extroverted introvert and loves the chaos of crazy, creative people – up to a point. She, too, had her grumpy moments, storming away in tired tears because of the overload of noise and energy.
But if you take the long view over the full week of the CREA conference, a week when both their mother and father are often distracted and delighted by others things and not always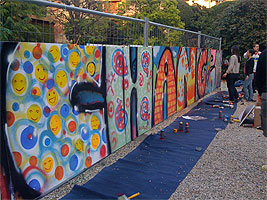 paying full attention to the parenting part, our girls do just fine. In fact, they are growing into interesting people because they get to fend for themselves a little bit. CREA is a good and safe place to do that, and coming back each year is like periodically measuring their height and marking it on the wall; we really see how they've changed, and how they've grown. We see them for who they are in the company of others, learning to express themselves, to convey their own creativity. We see who they're becoming, in and of their own right. And I couldn't have imagined – nor could I be more pleased – to be the mother of such lovely, big, little girls.