Bee-line
Hand in hand we walked across the bridge, oblivious to the Seine beneath us or Notre Dame's buttresses stretching out behind us. We were too absorbed in the volley of our spelling practice. I'd pronounce a word, and Short-pants would spell it out. Another word, another spelling out.
"P-R-E-F-E-R-E-N-C-E," she spelled, with pride, "because the vowel you prefer is an E."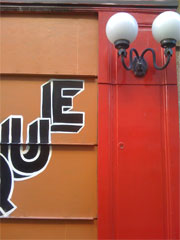 It isn't really, and I don't favor any letters of the alphabet in particular, but these are the sorts of devices we came up with to correct the mistaken words, funny little stories or tricks to remember the spelling. Short-pants was batting nearly a thousand, the only word she missed on the walk to the Paris Spelling Bee was the word feud, which I realized we probably hadn't quizzed her on because it's short and therefore ought to be easy. These are the words that get you, the ones you don't bother to study. And feud doesn't follow the when-two-vowels-go-walking rule, so it's tricky.
"Do you know what feud means?" I asked her. She didn't, so I told her, "It's a fight that goes on for a long, long time, like a feud between two families that lasts for generations."
"It's like the vowels are fighting," she said, "because the first one's supposed to do the talking but instead the second one is."
That's a good way to remember it.
At the school where the preliminary competition was held, English prevailed. The French don't really do spelling bees, and this friendly contest is organized by three anglo-oriented organizations: Gifted in France, the Roaming Schoolhouse and The American Library in Paris. That library is a resource that I forget to use. It's too far away – across the river on the other side of town – I feel like I need to take my passport to get there.
We ran into only two acquaintances while we were waiting for the competition to start. The spelling bee is not obligatory and none of Short-pants classmates were keen to participate. But she was; her enthusiasm from participating last year had not waned, despite the fact she hadn't made it beyond the first round. She'd been eager to sign up again and appeared to relish the occasions when we'd grill her on the words, not all of them easy. Salutatorian? Eviscerate? She'd rattle off each letter and then I'd say, "Do you know what it means?" The answer was usually no, so I'd try to make an easy definition for her, one that might help her remember the spelling. We've learned a lot of vocabulary over the last weeks, too.
The preliminary test was a written deal, so the students assembled were prepared to write twenty-five words and ten bonus words for tie-breaking purposes. The shortlist of finalists compete orally, in a stand-up-and-spell event which is coming up this Sunday, March 20th.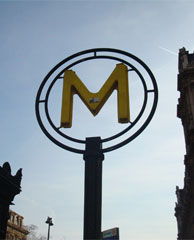 Children and parents milled around, last minute quizzing and pep talks before the students were invited to enter the classrooms for their test. I heard one woman round up a gang of girls, one can only assume that she had a couple of daughters and maybe she was chaperoning some of their friends – it was hard to tell and I hadn't paid much attention until I heard her say, "Okay let's rock it, girls. I didn't come here today for nothing."
Indeed, spelling is a competitive American sport.
My parting words to Short-pants, I'd like to think, a bit more reserved: "You've worked really hard. You're ready. Go give it your best and try to have fun."
"And relax!" she added, parroting something I said to her the night before. That was my father speaking. He'd counsel me to prepare for a test ahead of time, and then, the night before, go to a movie, just to relax. I never managed to follow this advice, but I always thought it was a good idea.
~ ~ ~
"How do you spell significant?" My sister's response when she heard the news that Short-pants had qualified for the final round of the spelling competition.
"S-I-G-N-I-F-I-C-A-N-T." Short-pants rattled off the letters, and this wasn't even on the new list of words she had to memorize. Between the list for the first written round, and another list for the final oral round, Short-pants has perfected her spelling of nearly 600 words during the last two months.
My sister seemed genuinely impressed.
"Do you know why I asked?" she said. Short-pants couldn't guess.
"I was in a spelling bee once, too. That's the word that kept me from winning." My sister, just like De-facto and I, had brushed close to victory in the final round of her spelling bee, but had been knocked out of the competition by a word she would then spell correctly for the rest of life.
Short-pants laughed out loud. "Oh, like mama misspelled alcohol and papa went down on crocodile." She proceeded to spell both words without error.
~ ~ ~
I'm a long way from home. It took me 26 hours in the air and three travel days to get to New Zealand. Twelve time zones ahead, I watch the sun rise on a new today while I know it's setting on yesterday back in Paris. I picture De-facto and the girls going through the evening routine of dinner and homework while I'm getting dressed for the day and heading to breakfast. It feels like I'm in the bow of a long, long boat, with the rest of the world aft in the mid-ships and stern. There's even a digital delay; every morning I wake to dozens of emails that have accumulated while I slumbered. I answer them and then my computer remains quiet until the evening. It's rather nice for concentrating and focusing. A bit eerie, though.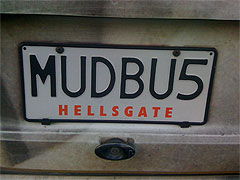 I'm not a whinging traveler, I take great pleasure when I'm en route and I have never minded traveling alone. This trip has put me with good colleagues and intelligent company. I've been on a bushwalk around the geothermal reserve park at Hells Gate (so named by George Bernard Shaw because going there shifted him from atheist to believer); I've been treated to a Māori hangi dinner and cultural performance that threatened to be touristy but ended up just being delightful; I saw the southern cross, and I understand now why I came this way.
But I have to admit – possibly due to the unfolding catastrophes in Japan – I'm feeling a bit uneasy. When things go haywire in the world, I think it's a natural instinct to want to draw your loved ones around you. Only my arms won't reach that far.
Because of the time difference and my busy agenda here, the overlap of awake and available windows for chatting with my family are narrow. I'm left to spell out my affection in emails. Because of the distance traveled, it makes sense to stay on a while (with De-facto's blessing) to visit friends I've long wanted to visit. But that means I have to send my "you worked hard, give it your best" pep-talk to help Short-pants gear up for this weekend's spelling bee via Skype. I'd rather be closer. But I'm not.
So I'm hoping you might help me out. Would you leave an encouraging word in the comments section for Short-pants, to let her know you're rooting for her to do well at the spelling bee? A little support, advice, affection, some cheering-on, whatever comes to mind – it'll help me feel better about missing the event, and it might give her a boost until next week, when I get to make a bee-line back home.