Bloody Mary Christmas
I'm not sure how this became a tradition in our family, but it endures.
I like to imagine that my parents started making Bloody Marys just to survive the clamor and chaos of Christmas morning. With kids up at the crack of dawn, pulling presents out from under the tree, ripping the wrapping off and losing the tags, that would inspire the need for a bit of fortification. By the time I started remembering Christmas, such things were entirely under control, but the ritual had been established. Sometime around mid-day, after a good half-dozen rounds of gift opening – we'd always open them one-by-one – my father would call a pause to what he referred to as the oh, isn't that lovely! show and disappear into the kitchen and my mother would follow. I remember this short respite as a moment of absolute joy. The day was young but already we had discovered Santa's booty, and the first presents to have been opened were new and exciting but there were still many thrilling gifts under the tree yet to be unpackaged.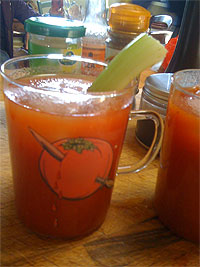 After about a quarter of an hour, my parents would return in tandem, my father holding a black tray with his famous Bloody Marys in their signature glasses and my mother carrying a cutting board with crackers piled artfully around a cheese ball. I couldn't imbibe in the cocktails until I was older, and this in itself was a rite of passage, but I always admired the glasses – eventually I inherited them – and I loved the spirited nature of this mid-morning snack.
Decades later, Christmas evolves. For years I boycotted the family experience, not for any reason except I needed to do something different, to break away. Then I had my own family, and found myself enacting, with inane precision, all the rituals my parents had unintentionally embedded within me. The best one, without doubt, the habit of a Bloody Mary pause at about halftime of the opening of the presents.
But what are rituals if they are not shared?
So my Christmas present to you, indulgent readers, is the simple but absolutely-tested recipe for the Bloody Mary my father used to make, as recorded by my mother in her inimitable fashion, organized in an excel spread sheet with exact measures for varying amount of servings (from two to twelve). These are not reserved only for the holidays, but this is when we love them most.
Christmas Bloody Mary (6 servings)
18 oz tomato juice
3 oz lemon juice
3/4 teaspoons Worcestershire sauce
1 1/2 teaspoons horseradish
6 dashes of salt and 6 dashes of pepper
6 jiggers of vodka
tall stalks of washed celery
It won't surprise most of you that I add a wee bit more vodka and as many dashes of Tabasco as Worcestershire. But of course all of these family traditions are meant to be adapted.
And with that, I'll take this chance to wish a happy Christmas to all of you. Whether you like your Mary virgin or bloody, I hope it's a good one.