#Fail
If you could evaluate my mothering style for the last week, it would be a giant hash tag: #Fail. I've been impatient, quick to shout, rushing through the to-do list, rushing through the apartment, rushing through my angry life. This is partly due to a big job, one with tentacles that reach far beyond the original scope of the project. It's also due to the rentreé – what the French call this moment of back to school, back to work after taking most of August off. Or maybe it's just me, drowning in my own expectations.
Despite my foresight in July to buy all the girls' books and school supplies before the crowded and dreaded last week of August, I still scrambled to get them out the door fully prepared for their first day of school, and it didn't keep me from being subjected to the annual French pedagogical practice of scorning the parents. There were messages from the maitresses in the Cahiers de Correspondence reminding me that their books have not been properly covered in clear plastic wrap (akin to working with fly paper) or the wrong kind of colored pencils have been purchased, we have to send another box of tissues to the school, we need ID photos for the kids by the next morning and even though it's 7:00 and I just got home and there's still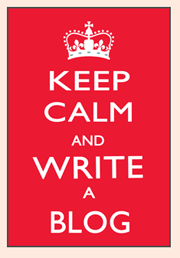 homework to finish and dinner to be made and another teleconference at 9:00, something I try to avoid but inevitably with colleagues and clients in other continents this rule gets excepted and tonight of all the nights I have a call but yes we'll find pictures of you both and print them out for school tomorrow.
Oh and what's this other note from the teacher? I have to fill out medical forms with the name, address and all phone numbers of mother, father and babysitter, a form much like the three forms I filled out and sent to school with each child (6 forms!) yesterday, only I must attach a copy of the their vaccination records even though I did this last year and the year before and don't they keep these records on file? Even though everybody would be happier if they just computerized the system mais non it wouldn't be the same if those faded photocopied forms weren't sent home every year to be filled out exponentially.
As you can tell, I'm about to lose it.
De-facto smartly steps back and leaves a larger path for me to run my Tazmanian Devil routine. My murmuring and muttering in the kitchen – and by the way why can't he load the damn dishwasher correctly – is less offensive if heard from another room on the other side of the apartment. The girls attempt to console me, but they are wrapped up in their own dramas: new teachers, an increased load of homework, back to the weekday morning up-and-out when they'd rather hang-around-and-play. Everybody is adjusting to something.
Then the Skype phone rings. If I answer it, something that I've been trying to handle for the last three days can disappear from my list. I hesitate. I don't want to answer it, but then that something will keep stalking me. The headset goes on.
I swear, after each job, that from now on I will be the kind of mom that does not work between 5 pm and bedtime, in order to be present, help with homework, sit on the couch and tickle, cuddle or read together, to sit calmly at dinner and inquire about their day, to be the mom who gives them the most precious thing ever – more precious than any new toy or gadget – the precious thing of time. But I am not really that mom. I cannot even manage this simplest part of mothering without interruptions.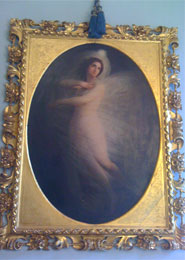 Then I realize that I've failed to be the mom I want to be, the one who's busy enough to set a good example about being engaged in the world and having a purpose and a profession, but also that mom who's present: listening, understanding, caring, being there. I've failed to be zen, calm, cool and together. Failed to juggle it all the way I proclaimed I would when I was in my twenties imagining myself as the über-working-mother. Failed to live up to my own expectations. Failed to bridge the widening gap between my real self and my ideal self.
While I'm on the call, Short-pants stubs her toe on the kitchen island but it happens just at the moment I am building up to the climax of that critical point I really needed to make. Instead of comforting her, I hold my finger up to my mouth and she runs upstairs to her room screeching. Then it's all pointless; I'm not really listening to the other side of the call anymore because I'm feeling the hollow dent in my gut as I join, once again, the failing-mother's club.
By the time I finish, my daughters are at each other's throats and I head upstairs to mediate. I am too exhausted to cope – I have spent an entire day being polite to people, listening through conference calls with far too many participants, carefully crafting emails meant to inspire a positive response. I have spent every ounce of my poise on other people and now, at home, hungry, tired and exasperated, I fly off the cuff at the littlest thing. I even use the F-word, much to my chagrin.
"Mama," Short-pants says, "you just said fuck."
"I know," I say, "that's really bad."
They stare at me, waiting to see what I'll do next.
"Shall we all say it together now?" I'm on a roll. "Ready one, two, three."
We all scream it out loud and then I say "Okay it's a bad, bad word. Let's none of us ever use it again."
They nod at me, still in shock.
"Okay, maybe one more time, to get it out of our system." I count to three and we all scream it again at the top of our lungs and then fall on the bed giggling and laughing. Which turns to crying. Crying because it's all so much, it's all too much. Too much to do. Too much to miss. Too much to manage. There's too much everything. Too much love and too much pain. There's just too much.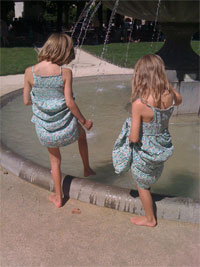 Sometimes I feel like I'm failing spectacularly. Of course this not true: if you spend an hour in the presence of my daughters you'll experience them in the most positive way: They are engaging with adults but still magically childlike. They are polite but expressive. They are little thinking, feeling people. They open their hearts to the world, without making too much of a fuss. I like to joke about Buddy-roo's materialism, but she has a good heart and she can surprise you with her thoughtfulness. And Short-pants, she's as wise as a crone. They're both turning out just fine. But still, my mothering is flawed and sloppy, inconsistent. (Clearly, it must be De-facto's influence.)
Listen, I know this is all just a lot of noise. I know that the most important thing is to love them and to let them know they're loved. I know that it's better for them to see me as a real person with regular human frailties, not as some sort of bionic super-mom. But even though I profess that I'm not trying to be perfect and do it all – it's a big fat lie. I know it's impossible and futile, but honestly I can't help myself. It's in me.
What worries me is that I will pass this on, that it will be in them, that somehow they will think that they have not been good enough, that they will perceive my impatience as a reflection on them. It becomes imperative to let go, to lighten up and laugh at it all. If not for my own sanity, at least do it for theirs. But can I do that while under pressure? Not yet, apparently. But I'm working on it.