Fine Art
If you liked the painting of our courtyard featured in the previous post, then you should know it's painted by a friend of mine who's an artist – my singing, painting, writing, wondering, wandering and wonderful friend, Caroline. You can see and learn more about her artwork here.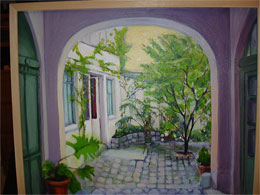 She used to live in Paris but she moved away more than a year ago. I miss her terribly.
She's a professional vagabond these days; traveling across the United States with her clever, cool and very funny "I really love zees guy" film-making husband.
Nobody knows where they'll end up. San Francisco? New York? But wherever and whenever, I'm certain she'll collect her painting supplies. She does accept projects on commission (and can work from a photograph) and more than a few of my friends are thrilled with the portraits she's painted. Ricky is one of her patrons; she's done at least three paintings for him.
So, just a suggestion: bookmark her website for future reference, in case you ever want to present a unique and artistic gift to someone you love.