If the Shoe Fits
After a long and painfully quiet spell, life has returned to the courtyard of our building. That's because Ricky and Lucy have returned, finally, from their extended (remember, they live in France) summer vacation, which gave us a perfect reason to pull together one of our semi-spontaneous courtyard dinner parties.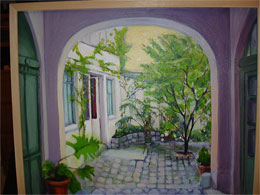 Paris is known for its hidden, enchanted courtyards, and the one in our building is especially sweet. Sometimes when I open the door to the street, passers-by get a peek at the casually manicured foliage within, craning their necks to see more before the hefty door closes. The perimeter is lined with leafy plants and bushes. Flowers bloom in a charming sequence over the course of the summer. A small tree – though big enough for young children to climb – stands stoically in the center, offering adequate shade at high ten a.m. but otherwise letting specks of sunlight dance on the cobblestone surface below.
Ricky and Lucy's door opens right on to the courtyard, so weather permitting, they can move their dining table outside (well, Ricky moves it while Lucy reminds him not to scratch it) and with a few odd chairs set around it, and some candles and wine glasses, we're dining al fresco. And get this – after Ricky carries the wide, heavy table through the 18th century-sized European door, he turns around, dons his apron and throws together some gastronomic-quality eats.
"We haven't got that much food," he said when he phoned to say they were home. "Don't worry," I told him, "we'll bring down our leftovers." Of course, when I looked at what was left in the fridge, it was pretty lean. Some cold pasta with chorizo. A cucumber. Half a bag of salad greens. Not much, but it'd do. They were just getting home from their holidays and we were just getting ready to leave; everyone would be forgiving.
We traipsed down – en famille – four flights of stairs to the courtyard to find Ricky had laid out a table that looked ready for a Gourmet magazine photographer. Dollops of tuna fish with capers on tiny cucumber pillows, yellow peppers tossed in olive oil and spices, prosciutto folded around slices of dried mango with toasted pine nuts on top. A little while later, our leftover pasta – after a makeover with his fresh green herbs – got passed around and tasted like a whole new dish.
We sipped chilled rosé and traded stories. Short-pants and Buddy-roo occupied themselves running between the courtyard and Ricky and Lucy's studio, playing hide-n-seek or acting out some scene from a favorite movie. Until it got quiet – a little too quiet. Just as we were debating who would get up to go see what kind of trouble they were in, the curtain on the closet opened and out came Buddy-roo, shuffling along in a pair of Lucy's high-heeled shoes.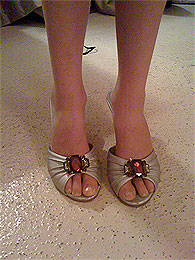 "Those are great ones," Lucy said, "the rubies make them way-fancy while the comfortable heel makes it easy for you party all night long." Her commentary easily giving Monolo the Shoeblogger a run for his money. Buddy-roo fell immediately into runway form, turning and giving us a view of all sides of the shoes before shuffling back toward the closet.


Short-pants appeared to replace her, her too-small feet skating forward in a pair of shoes.
"Oh those," Lucy fell right in sync with the girls, inventing her commentary for this fashion show on the spot. "My favorite little Italian sandals. Toes are totally revealed. The strap in the back makes the ankle look thinner. And check out that heel. Not too high, but very sassy. Plus the color – so rosy, it turns any outfit into something sexy."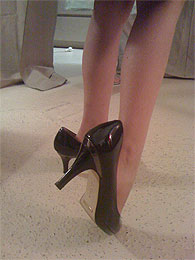 Lucy was on a roll, so the girls kept parading out in her shoes. Buddy-roo slid forward in black patent leather pumps. "Oh," sighed Lucy, "these are god's gift to womankind. A partnership between Cole Haan – think brazen and chic – and Nike Air – think comfortable sneakers. In these black beauties, you look elegantly at ease from day to night."
"Give us a Dorothy," I called out, like a heckler. Short-pants twisted one of her big toes, turning the foot to the side, just like Dorothy showing off her ruby slippers in the Wizard of Oz.
De-facto shot me an amused look as if to say what are you teaching them?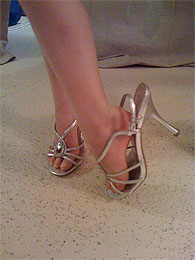 Buddy-roo peeked out of the closet and paraded toward the door in a pair of shiny silver sandals. "Ho shoes," said Lucy, "they're like, come hither. There is only one reason to wear these gems."
Buddy-roo looked up at her. "Really? What reason?"
"Never mind," said Lucy, realizing where she was headed. I almost nazed my wine.
"More peppers, anyone?" said Ricky.
It's so nice to have our courtyard back to normal.