Really, So Sorry
I'd like to suggest a new definition of the term RSS, otherwise known to mean Really Simple Syndication or Rich Site Summary. Mine is: Really, So Sorry.
Really, so sorry because I'm going to ask you, if you happen to be someone who has subscribed to my blog via RSS, to do me the favor of re-subscribing. This way I can have a better idea about who's using my blog and how much. Even though my stats are very modest, it's nice to know, ya know?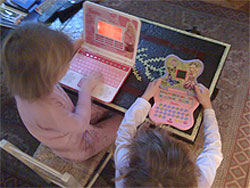 So if you would, please click here or just move your cursor over to the sidebar of my blog and tap away at that sweet little orange button that says Subscribe via RSS. It takes just a moment. (It will route you to my FeedBurner page, where you can select the RSS reader of your choice.) It's pretty effortless.
This request applies only to RSS subscribers. If you signed up by typing your e-mail address into the subscribe field on my sidebar (which means each time I publish a post you get a little e-mail saying so) then pay no attention to any of this technical mumbo-jumbo. Things are business as usual for you.
Really, so sorry. Thanks for taking a moment this emerging geek-girl out.