Red Right Return
They poured me into the taxi. Waved goodbye, wistfully, as they do every year – my gang of fiesta friends – chagrined that I must leave when there are still two more days of San Fermin to go. But I have never stayed until the pobre de mi at midnight on the 14th of July. It's not that I have to rush across the border to celebrate the French national holiday, it's that Short-pants' birthday is the 13th of July, and this is an occasion I choose not to miss.
I had good long cry as Juan-Jose, my annual driver, navigated the taxi out of Pamplona, consoling me, "Don't cry, next year will come quick!" My Spanish isn't sufficient to explain to him the complexity of my tears; a mix of sadness and utter exhaustion, but also gratitude and joy. "They are not all bad tears," I told him, "es alegria." He threw his head back and smiled; now he understood.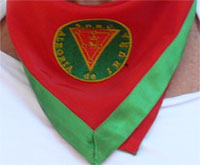 Alegria is a Spanish word that, like many words between languages, doesn't have an exact translation. The best I can offer, my personal interpretation, is a moment of feeling unfettered bliss.
Later in the TGV train hurtling through the French countryside, I reluctantly removed from my neck my red pañuelo, the uniform of the fiesta, and tucked it in my bag. I nodded in and out of sleep, hoping to recover as much as I could before the reunion with my family. One year I booked my departure for the morning of the 13th, figuring at least I wouldn't miss her whole birthday; I'd get home in time for a dinner celebration. I was barely awake for the meal and collapsed into a sweaty, detoxifying sleep immediately after cake and presents. Since then, I've made it a practice to leave Pamplona on the day prior to the famous birthday.
As the train approached Angouleme — the stop closest to our country house where I would meet up with my peeps — I heard the conductor's announcement forbidding anyone to depart from the train. I rushed through the corridor, car by car, to find him. "But you have purchased a round-trip ticket to Paris," he scolded me, "why would you want to get off here?" I tried to explain that I didn't think it would a problem just to get off the train early. "But in order to take advantage of your inexpensive ticket, you may not change your destination. It's not permitted."
If I played by his rules, I'd have two more hot, sticky hours on the train to Paris, with slim chances of making a U-turn on a train back to Angouleme the same night. The actual birthday wasn't until the next day, but after leaving the fiesta early, damn it, I wasn't planning to miss even a minute of her celebration.
"But I have to be there for my daughter's birthday. I cannot miss it." The tears that came now, no longer the result of alegria, but of exasperation – and admittedly, some artistry. The conductor, a peculiarly precise man, reviewed my ticket, shook his head from side-to-side more than once, but finally agreed to let me off the train if I paid a penalty fee, for which he even gave me a receipt. He accompanied me to the door and used a special key to unlock it and let me off the train. He did, at least, help me with my luggage.
De-facto shaved during my 10-day absence, so it was like being greeted by a young, new lover. Without his goatée, his smile seemed wider, broader. Another man might be grumpy about his girl going solo to the world's greatest party. But he's not another man. And he managed to get a few days biking with a friend, courtesy of a well-timed visit by his mother.
A hundred questions on the drive home. How were the girls? Good. How were the bulls? Good. We took turns telling stories about our week apart. Did I tone my tales down, not to sound like I was having too much fun?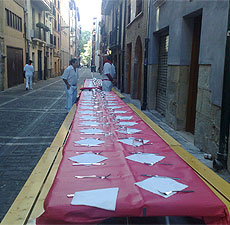 Maybe a little. But I also didn't tell him about the hard part: that lonely wave that hits me every year, mid-fiesta, where in a fit of excess and fatigue, I lay in bed too drunk and too tired to sleep and in that moment I'm sure that I have forsaken my family for this fiesta and nobody in Pamplona likes me either. The boom-boom-boom that goes all night in the street makes quieting this discourse impossible. I've come to learn that it's just a passage; in the morning, in the sunlight, I'm greeted at the Bar Txoko or at breakfast on the Calle de la Merced by one of many friends – old and new – who remind me that I am not alone in this world.
When my daughters heard the car pull up in front of our old run-down stone farmhouse, they ran toward it at full speed, laughing and screaming, jubilantly, "Mama, Mama! You're home! We missed you!" I was pummeled with kisses and hugs, all of which helped to remind me that the San Fermin fiesta is not the only source of alegria.