I am not done with Paris. That conclusion I came to just over a week ago, when I was there on a last minute trip, a quick overnight visit provoked by an administrative errand. Usually I pack my schedule with lunches, drinks and dinners, taking advantage of the time on the ground to catch up with Parisian friends. This last trip I organized very few appointments. I've a lot of work at the moment and I didn't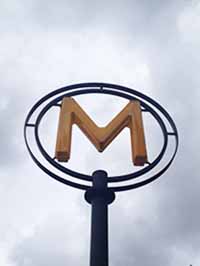 want to orchestrate every minute of my visit. I wanted to be in Paris with a bit of time on my hands. The way it used to be. Just being there.
Standing in line to board the flight, I cringed at the weather forecast: chilly, cloudy with showers. This was one of the main reasons for relocating to Barcelona. We craved a warmer, sunnier climate. The cold and gray of Paris can wear you out. But luck was with me, the forecast was inaccurate. The Paris weather was milder than predicted and the sun had only a few clouds to hide behind. Walking across the Pont Notre-Dame to the Prefecture for my appointment – one that had been assigned to me so I had no choice but to make the last minute trip – I took in the majestic vista of Paris' bridges arching over the Seine, and all the familiar landmarks, Notre Dame, the Louvre, the Conciergerie. No matter how many times I make the walk between the left and right banks, I am still struck by the stunning beauty of the city. Second only to the friendly upstate New York village where I grew up, this is the place that feels most like home. It was home, for eighteen years of my life.
~ ~ ~
Our try-a-year-in-Barcelona turned into two years (one was not enough to really get a full experience of the city and culture) which then turned into three years (it takes more than two years to feel at home) and who knows, now, how long we will stay. We're set up comfortably, in a roomy apartment, walking distance to the school, a mere block away from a forested mountain that leads to a track where we love to run, bike and walk the dog. New friends aren't as intimate or familiar as those we knew in Paris, but there is potential. I am not unhappy in Barcelona. Our life is lovely. But it isn't what my life was in Paris. And I do miss that life.
De-facto was out playing basketball on Friday night and Short-pants and Buddy-roo and I heaped ourselves together on the couch with Winston to watch the an episode of our latest favorite Netflix series. It was a text message from a faraway friend that alerted me to the attacks that were unfolding in Paris. I plugged into news coverage of Liberation and the BBC and Al Jazeera. I scanned my Facebook feed to see which Parisian friends were online and sharing updates – partly to hear
their perspective, mostly to confirm they hadn't been caught in the mayhem.
It was hard to go to sleep and harder still to wake up in the morning to the tally of dead and injured and the stark images of a vibrant city shut down by terror and bloodshed. When Short-pants delivered my coffee – a Saturday morning luxury – I pulled her into bed with me for a morning hug. It made me think of the days just after 9/11 when we were glued to the TV, the altar for our grieving. I was breastfeeding Short-pants – she was only two months old – and while I watched the news, I'd glance down at her little mouth seriously at work taking in nourishment, her tiny fists banging against me and wonder what kind of world we'd brought her into. Now, fourteen years later, I held her (considerably) taller body in a long embrace and wondered, again, what kind of world she was inheriting. How will this ever go away?
~ ~ ~
It's remarkable how a network of friends reaches out to support one another at a time like this. I was desperately texting my Parisian friends on Friday night, unable to get to sleep until I'd heard from them that they were safe. Saturday morning I woke to a full inbox myself, messages from friends who weren't aware that we'd moved to Barcelona, or who know I often go back to Paris and that we have many close friends there who might have been hurt. It made my heart grow. In the midst of this horrible tragedy, little pockets of kindness make all the difference.
Later, at lunch, I asked the girls what they thought about what happened in Paris the night before. They both had the same first instinct: to ask why someone would want to kill so many people with such violent attacks. I struggled to respond. How to convey the complexity of such a convoluted reasoning – the perfect storm of anger, hate, disenfranchisement and indoctrination? How to share my indignation, my fear, my grief, but without fueling their prejudice and creating the fear and hatred that only perpetuates a cycle of terrorism? How to tell them the truth without scaring the bejeezus out of them? I always tell them, "Be smart, not scared," when it comes to dealing with danger. But is that enough to keep them safe from this kind of arbitrary violence?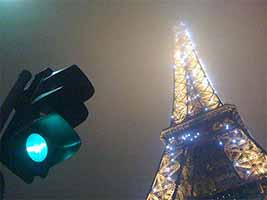 I am relieved that my family and I are safely away in Barcelona, that we weren't subject to the immediate fright of it, the menace of proximity to such a massacre. And yet a part of me is aching to be there in Paris, now, to witness for myself what has happened, to be there not only in spirit but in person, showing my solidarity with some of my dearest friends and with the city that was my home for so long, and in my heart, still is.
But are we really safer here? Any European city – any city at all – might be subject to the same terror as Paris. There's nothing to do but return to our routines, taking it all in stride, just like we numbly take off our shoes and place our liquids in plain view at airport security, running through the motions of protecting ourselves from a mid-air terror, when simply sitting at a café with friends can be just as deadly. How do I explain that to my daughters?