I was (still) on the rue Pastourelle, refusing to believe that the silversmith shop was no longer there. Like being relentless about looking for it would make it reappear. I'd finally gotten around to taking my ring to be repaired and my mission was being thwarted. I didn't want to give up.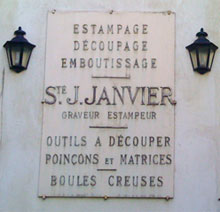 A few doors down from where (I think) the orfèvre used to be, I saw a sign for an atelier, some kind of metal workshop. It looked aged, like it'd been there a while. Maybe because they work with metal, they could do it. Or they'd know someone who could.
A loud buzzer opened the door and let me into an amazing world of little metal pieces. I asked about the whereabouts of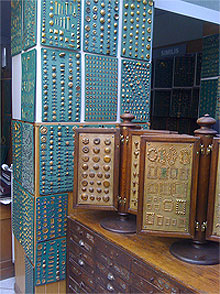 the silver shop. (Yes, it was a few doors down. No, it's closed now.) Then I was compelled to inquire, "What exactly do you do here?" It seems I'd stumbled into an archive of metal stamps and stencils. A fantastic display of little bits of brass and metal with all manner of designs or messages used for printing and molding. Some of them even date back to the French revolution. Who knew such a place existed? And that it could employ three people?
But did they know another silversmith? There was some talk between the three of them, and then a recommendation. Down the street, just keep going straight, for many blocks, until you cross the boulevard. (Which boulevard? Just the big boulevard.) Not on rue St. Sebastian, but look for the Passage St. Sebastian.
And so I walked. The street names changed but I stayed the course and then sure enough I came to a boulevard and crossed to the other side where I saw the street I was told to avoid and hunted for the passage I was told to find, which is where I came upon a hidden city of ateliers and workshops.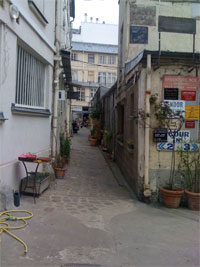 Walking down the cobblestone alley I could peek in the doors of all the workshops and artesian micro-factories with their Dr. Suess-like assembly lines. Up a dirty staircase, a lime green door screamed at me, and then beyond it, another door – in a location so obscure I would never have found it had I not been directed – with the name of my destination: Cendor.
And now I know Mario. Apprenticed at 14-years old, he's been a silversmith for more than 50 years. I showed him the broken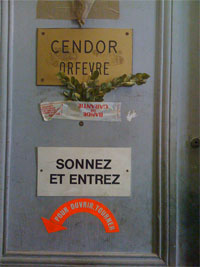 silver ring that had been my grandmother's. He cared about the story. I also brought along my silver medallion of San Fermin, patron saint of Pamplona, to reinforce the loop for the chain. So he switched to Spanish and he rattled on about his love for Spain, his homeland.
He offered no receipt for holding my items, and just a few gruff instructions about when to come back. But I have the feeling my silver is in good hands. I have found the orfèvre of my dreams. Not the same one I was looking for. But better.