At that age, I remember, romance was awkward and bartered or brokered by your friends. That cute boy, one seat up and two rows over, put butterflies in your stomach. In the lunch line you mentioned it to a friend, or else she already noticed. With your permission, or sometimes against your wishes, she'd find him later in the hall and ask him if he liked you.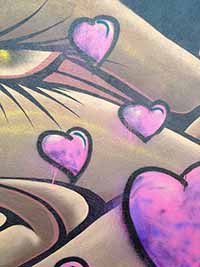 Often nothing came of these declarations of like. Sometimes a short, non-romantic romance would result, with smiles across the classroom and if you were lucky a quick hand-holding on the school steps, phone calls at home. For two weeks you'd be "going steady" until he got tired of being teased by his friends, or somebody else expressed affection for you via proxy messenger. You never did the dirty work on your own. You sent a friend to break the bad news to your once coveted beau of one seat up and two rows over.
I got dumped this way as often as I did the dumping. That was middle school romance.
That was also the '70s. I have to imagine, based on the influence of the increasingly vulgar advertising and sexually explicit media that it's very different today. I've read accounts of experimentation at ages almost too young for me to imagine. I brace myself for the worst.
Then I look at Short-pants and I can't fathom this kind of behavior from her. She hasn't folded into the fast social cliques. Maybe we've accidentally found a school where this kind of pressure isn't part of the landscape. Or else it is, and she just doesn't see it given her charming naiveté. She doesn't ask to go out with her friends. She's not that keen on sleepovers. She's friendly with a gang of kids at school, but she rarely asks to bring anyone home or go anywhere else. At her age I was begging my mother to let me hang out with friends after school, champing at the bit to go out to the "rec center" every weekend night, already eyeing boys in my class and older. Short-pants, though more social than before, is pretty much a homebody. She'd rather sit in her room and read.
This week, though, she's come home from school nearly every day with an update about a potential suitor. Eduardo (not his real name) is quirky but not an outsider. Based on her description of him, I'd wager he's fairly extraverted and possibly one of the class clowns. He makes up pet names for her – not mean ones, but silly ones, with a slightly affectionate tone – and he's constantly tapping her on the opposite shoulder, stealing her bag and running away, finding ways to engage her which come right up to but never quite cross the boundary of annoying.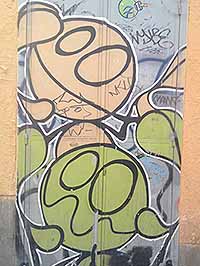 I explained to her, trying my hardest not to be patronizing, that this is how pre-adolescent boys display their affection. And it's been confirmed. Every day this week a different classmate approached her with a comment, a variation on the theme: "Eduardo likes you. Do you like him?"
"How do you respond?" I asked her, yesterday.
"I don't," she said. "I just laugh it off."
Phew.
I extended my arm to her and pulled her into my room. Some of our best conversations happen laying on the big bed staring at the ceiling. These heavier talks happen more easily, I think, if you don't have to look your mother in the eye.
We talked about the possible scenarios at play: Eduardo really likes her and he's sending scouts to find out if it's reciprocated. Or he's unable to express it any other way and everyone else is trying to help. Or because she's the slightly offbeat girl, he's targeted her for teasing and as soon as she likes him back he'll point at her and laugh.
That last scenario seems a bit harsh, and I emphasized that it's probably not the case. But in matters of teenage social interactions, one must be prepared for any eventuality. Her eyes teared up a little at this – I glanced sideways quickly, pretending not to notice – and I felt a bit shitty for having even suggested it. Except in the end I think it's better to have considered it and discover it's not the case rather than the other way around.
"Here's the more important question," I said. "Do you like Eduardo?"
She fell silent, considering my question.
"No," she said, in a most grounded way. "I don't like him."
She thought about it some more and added, "except as a friend."
I told her not to get caught up in all the noise from his friends and to start liking him simply because he likes her, or says he likes her. The reason to like a person – I kept it deliberately gender neutral, too, because, well, you never know – is because they are kind or funny or smart or you find them physically appealing. Or hopefully some combination of those qualities.
"You should never feel you have to like someone just because they like you."
Saying this out loud thrust me into a time machine, back into those awkward middle and high school moments of (at the time) great social consequence. I wanted so desperately to have a boyfriend – all my friends did – that sometimes I just accepted the placeholder. It took me a decade of dating to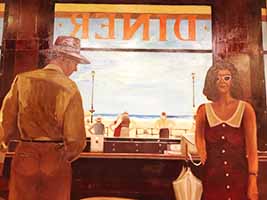 really get that the first question wasn't who liked me, but who I liked. And even with that knowledge, I still made a mistakes with some of my adult romances, falling hard for someone who pursued me so passionately that I was blinded to how bad he was for me.
"I'm not ready to have a boyfriend," she said, "not yet."
"That's probably true," I said, relieved.
Given her proclamation, though, it won't be long before she is.