---
It's never easy. The last days before leaving for a trip always get ugly. No matter how I try to plan ahead, think ahead, and even pack ahead, there is no avoiding the inevitable frenzy and departure stress. Finishing up work projects so the hanging threads are at least minimized. Getting De-facto and the girls packed in the car and on their way to the country house. Setting in order the details of the household: bills paid, last minute errands, picking up dry cleaning, running by the post to drop some birthday cards in the mail, baskets of white clothes to be washed and ironed, suitcase packed. Get that last invoice out, answer those emails sulking in the bottom of the inbox. Stop by the bank to get cash for the trip, find a moment to shop for a new pair of cheap shoes for trudging through the gray silt of the upcoming Pamplona party. The list would not end, and the series of bullet-pointed colored Post-it notes plastered over the kitchen island seemed to multiply despite the fact that I plowed through the list industriously, barely stopping to eat or sleep, let alone to put my feet up.
There was a pedicure – a must before any summer trip and of course the visit to the beauty nurse to deal with the hair you don't want, but then to the coiffeur to deal with the hair you do want. If only there'd been time for a facial. De-facto laughs at me when I run around at pre-voyage pace, stressed about my to-do list, on which a third of the items are beauty treatments, which he considers lavish. But I'm telling you this not a luxury; at my age, it's called maintenance.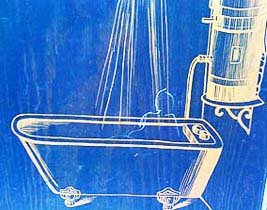 My usual start-of-summer departure stress was compounded this year by the necessary packing or purging of all bottles, boxes, tubes and personal toiletry items on every shelf of our bathroom and our w.c. We have arranged for both to be gutted and renovated during our absence, which meant a last-minute consultation with the contractor, some dashing about to pick up the new shower fixture and special-order lamps which meant I completely spaced out about a conference call I was supposed to join.
I'd turned the corner from frenzied to flakey.
But wait, there's more: I knew this was not the ideal moment to wipe out my hard-drive and upgrade to a new operating system, however my recently-sluggish computer decided to freeze, upgrading this task from would-be-nice-if-you-get-to-it to the must-do-it-now status. The installation was more complicated than it should have been, requiring a manual reassembly of my document files, photos, browser preferences and email accounts. The good news is I had a fresh backup from which to work. The bad news: it still took hours. I was up restructuring my library files until three a.m.
It would help if I wasn't so hell-bent on leaving home with everything in order. I cannot leave the house with perishable food in the fridge. The laundry needs to be put away and the tables cleared and chairs pushed in, the dishwasher emptied. I want beds made and the shoes put away, papers and books and things put away and out of sight. I like to leave the house in such a way that it's a relief to come home. This adds a number of possibly superfluous tasks to my cluster of Post-it notes, but it does pay off. The return home is always smoother for this painful frenzy of preparation.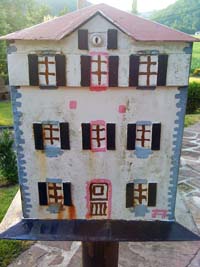 Keep your eye on the prize. This is the mantra I kept repeating to myself all week. Soon I'd be in the green of the hills of the Basque country at a favorite little hotel, sipping rosé and eating asparagus de Navarra. Just a few days later, I'll be clinking champagne flutes in a room full of friends dressed in white (with a splash of red) in the middle of an entire city full of people dressed in white (with a splash of red) where for exactly one week I will be lost in the revelry and reverie that is the fiesta of San Fermín. The days ahead are days I dream of all year long: when I am beholden to nobody, when there is no end-of-day-deadline because I have to pick up the kids, no promises to keep, no paperwork to submit, no phone call to forget. These are the days spent wandering with purposeful abandon in an non-stop-impromptu parade with a posse of good friends, days where I am free to float, un-tethered and in the moment, subject only to my own whim of iron. These are the days I've been waiting for all year, and oh yes, they're just ahead – if I can just get out of town.
---
I used to keep photo albums. Once or twice a year I'd sort through the pictures, pulling them out of a tall stack of black cardboard envelopes, each one with two or three-dozen pictures that had been developed after a trip or a holiday or a gathering of friends. I'd put the photographs in some kind of narrative order and, with immense satisfaction, glue them into the albums. I kept at it during Short-pants' earliest years, and even managed an album or two for Buddy-roo, not wanting her to suffer from second-child-with-hardly-any-photographs syndrome. But sometime around Buddy-roo's second birthday, I stopped adding albums to the cupboard. Partly because life got really busy, partly because I stopped using film, partly because a dozen different digital options for storing and sharing photographs popped up on the web, changing they way everyone keeps their photographs, including me.
In a way it's unfortunate. There's something about a hand-made album that carries a warmth that an on-line slide-show cannot duplicate, even with a music track. The mother-in-love just sent De-facto two beautiful photograph albums she'd made for him for Christmas, pictures of him and his family from childhood and adolescence. You could smell the love on the pages, with every turn. But life is digital now, and time is scarce. I suppose I've opted to blog instead of keeping scrapbooks and photo albums.
A provocation to select a photograph, from all those taken in the last year, that captures something essential about who I am (or want to be) inspired yesterday's thorough review of the haphazardly-organized 2010 picture file. This retrospective reminded me that the last year was an up and down journey, with spikes of grief and bliss in rapid succession. But the choice was easy. You may not think so because I've chosen two, but they go together, they were snapped within twenty seconds of each other. They both capture me in my favorite condition of alegría, a Spanish word that means joy or jubilation, but within the context of the fiesta San Fermin, its meaning has an exponential quality.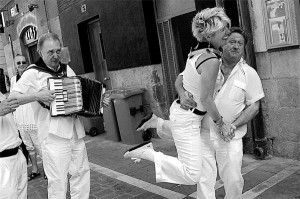 The stocky man who has effortlessly thrust me into the air, much to my surprise, is fondly referred to by his friends as Puchero. He is a force, blunt and direct, with a crass sense of humor. But when he sings the jota ballads – and during San Fermín he does so every morning at our breakfast table – his robust energy, directed through the poetic words of these songs, is beautiful and often tear-inducing.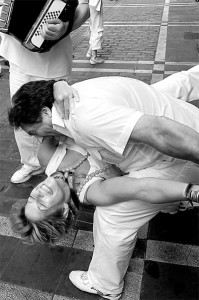 In these photographs I am a bit surprised – I did not expect Puchero's abrupt dance moves – but a good surprise is followed by fun, and it's clear I am having a good time. I am in a state of pure joy. I feel as free and alive as I will feel all year long. I am who I know myself to be, without the labels of a profession or a family. I'm just me, experiencing alegría.
I am Endrina.
The Reverb10 prompt about changing my name for a day, at first, didn't particularly inspire me. But as I was writing about these choice photographs of the year, I realized that if I could call myself by a different name, it would be Endrina. This is the small, dark berry that is pressed to make my favorite elixir, patxaran. This is also the name I offer when, at the fiesta, I want to be friendly without giving my real name to a stranger who's asked. (I've also been Flora, with my sister Fauna, but that's another story.) Endrina is who I am when I am taking a brief vacation from the responsibilities and the consequences of my life. She is who I am when I'm experiencing, fully, alegría.
Photo credit: Guillermo Navarro is the photographer who captured Endrina (and Puchero) in rare form. See more of his photos here.

I'm participating in Reverb10, and this post is in response to two prompts. One is from Tracey Clark: Photo – a present to yourself. Sift through all the photos of you from the past year. Choose one that best captures you; either who you are, or who you strive to be. Find the shot of you that is worth a thousand words. Share the image, who shot it, where, and what it best reveals about you. The second is from Becca Wilcott: New name. Let's meet again, for the first time. If you could introduce yourself to strangers by another name for just one day, what would it be and why?
---
Over the years, gradually, it's grown – this gang of girls. We share in common an extraordinary event, the best party of the year, every July, and although the duration of our stay in Pamplona varies depending on finances and family or work commitments, that moment – when the gun goes off and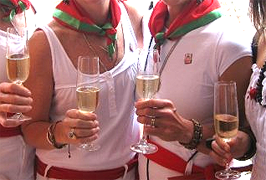 the champagne flows and the cathedral bells ring – is a precious moment when we are reunited and ready for anything to happen. Others start their new year on the first of January or in September with the new school season. The PPP (the Pamplona Pussy Posse) starts its year on July 6th at noon o'clock, and with a bang.
Dressed in white with red sashes and panuelos, we have our daily rituals, borrowed or invented over the years. We all know the general schedule (the Fiesta Nazi has done her best to train us) so if for some reason you don't make it home or if you get distracted and pulled off to lunch with other friends, or you need a nap, or to put your feet up, you still know where to go, and at what time, in order to rejoin the posse. We are predictable that way, and yet within our rhythm there is deviation and surprise: a new favorite barman, a newly discovered out-of-the-way restaurant, a place to better view the fireworks.
The founding members of the posse are, though we don't dwell on it, on the other side of forty. The younger members of the PPP are in their twenties and there's a thirty-something amongst us, too. Together, we represent a range of the feminine experience. Young, daring, sexy things becoming thoughtful beauties and turning into witty, wiser (and still rather wanton) women. I'd like to think that when we're out and about, we blend together. I know I've got a few more wrinkles and lot less stamina, but every one of us is laughing loud from the belly, dancing deep from the heart. These days, the younger ones get more attention, but I don't mind as long as somebody buys us a drink while they're flirting with our younger friends.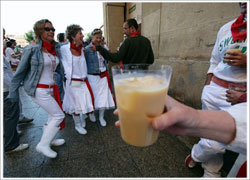 The posse experiences the fiesta fully. We watch the encierro every morning, vigilant for our friends who are running. At the corrida we bite our knuckles, shedding tears and/or applauding if it's beautifully fought. We dance anyplace where there is music to dance (which is everyplace), turning strangers into friends at each stop. We befriend barmen, street cleaners and pastores. But there's something that happens between us, in the middle of the non-stop revelry, when we look around and recognize how absolutely privileged we are to be here in the midst of it this madness, and to be in each other's wild company.
In the wee morning hours (or else in the high heat of the day after a siesta) we're splayed on the couch in the one air-conditioned room of our rented apartment, feet up on the table or soaking in a tub of ice-water, telling our stories. Funny stories about what's happened to us at the fiesta morph into other stories about things in our lives outside the Pamplona party that we share, things that drive us, inspire us, annoy us, or amuse us. I love these talks. You can't plan them; they happen spontaneously.
I couldn't plan this, either – I wasn't even aware of it until I was in the middle of writing this post – what I would gain from being part of this circle of women of disparate ages and life experiences. It's one thing to be friendly with a few younger women who are at different places in their life, to be a colleague, or a mentor. It's a whole different ballgame to go through what we go through in Pamplona, the intense highs and lows, moments of elation and disappointment back-to-back, feeling free and wild and strong, and then feeling instantly vulnerable as a result.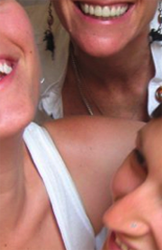 Knowing these women this way – and letting them know me – gives me a perspective about the curve of my own life. Who was I when I was at that age and stage? Who will they be, when they are in my place? And who and what are we all becoming? (Besides a little bit too drunk and really overtired.)
Those heart-to-heart late-night talks could happen anywhere, I suppose, but the exchange – and that's the operative word, exchange – is somehow made more intense by the backdrop of the world's greatest party, the boom-boom-boom of the music and people living out loud in the street, the constant roar all week long, all-day and all-night, these phenomenal moments when we get to be free, we get to be foolish, we get to be fierce, we get to be with friends, when we get to be the posse.
Photo credit, for the middle shot: Jim Hollander. (I have no idea who took the other two pictures.)
---
The alarm goes off, but we have already been awakened by someone on the street buzzing our door to come up for the encierro. Our balcony overlooks Calle Estafeta, where we can see the bulls on the street below as they run by, so we extend invitations to various friends (and occasional strangers) to come up to watch the ritual running of the bulls. Our instructions are precise: come at the last possible moment, minutes before 7:00 when the street is blocked off for cleaning before the run begins at 8:00. The drop key, permanently tied to a long white string, is lowered through the stairwell to allow our guests to pass the locked door at the bottom of the five flights of stairs to our apartment. We usher them out to our balcony so they can watch the street as it's prepared for the run, and we go back to bed. That extra twenty minutes of sleep can mean everything.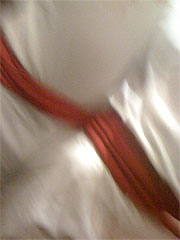 But before 8:00, we, too, must be up, dressed and ready to run. Not with the bulls, but between our living room, where we can see the bull-run on the television, and the balcony, where we charge out as the bulls turn the corner to run up our street. Their broad brown backs rush forward, the bells on the steers that accompany them make the soundtrack to their morning run. On a good day, the bulls are still packed together with the steers as they run toward the corrida, and a few skilled (or lucky) runners sprint ahead of them, just off to the side of their horns.
After the instant replay of the encierro and ensuing TV commentary, we rush our guests out the door and head to the Bar Txoko where many of the runners we know go to swap stories and drink ritual morning drink: Kaiku y Cognac, a sweet vanilla milk mixed with a double-shot of cognac. It so happens that the street cleaners choose that moment to clean the very patch of the Plaza de Castillo where we stand, so we are forever maneuvering our conversations around to accommodate the sweepers and hose-masters who are kindly cleaning up after the previous night's party, only part of the party that goes on for nine days. These guys are the true heroes of the fiesta, constantly cleaning the streets of the gray goop that is a mixture of beer and wine and urine and puke that accumulates during the week.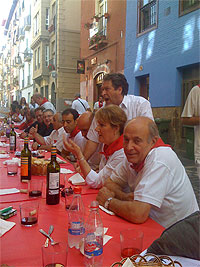 A quick drive-by to greet the brothers Carmelo and Fermín at the newsstand where we buy a paper with the photographs of the previous day's bullrun and bullfight, and then on to our breakfast club, a long table set up in the street where friends meet to eat greasy eggs or pochas or bull stew. Such nourishment can be acquired anywhere, but we always take it here to be in the company of a few very distinctive jota singers who serenade us with traditional Navarran ballads with poignant lyrics (like wishing to be an ivy vine in order to crawl up to your window just to watch you sleep).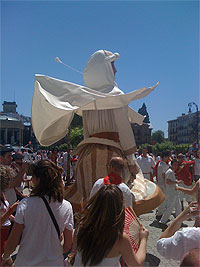 The midday rituals have some variation, but might include a long meander through the city streets in search of the Gigantes, a troupe of eight giant figures that represent the kings and queens of the different continents of the world. This year I saw them no less than a half-dozen times, their towering figures turning side-to-side in an enchanting dance in step to the music of the high pitched txistulari pipers. The Gigantes are at least three times the size of the men who carry and spin them for hours every morning; occasionally you see the figures stop and appear to stand still in the street as the men slip out from under the robes and duck into a nearby bar for a rest and a drink. In the meantime, parents carry their toddlers up close to examine the clumps of pacifiers that dangle from the wrists of the giants.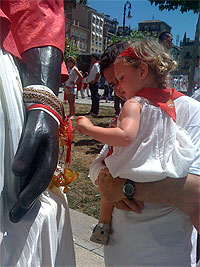 When Pamplonese children are ready to stop using their binkies, they give them up to the Gigantes. This is a ritual I find priceless; I can imagine the conversations between the child and parents as the fiesta approaches, the building up to the ceremonial hand-off of the prized pacifier, tying it to the enormous hand of their chosen Gigante. I had a fine childhood, but if I could do it over, I'd do it in Pamplona.
This is the moment that seems to have become a ritual for me, when I wonder why Short-pants and Buddy-roo and De-facto are not there with me, swallowed by the sea of white and red and music and magic. I have kept the fiesta San Fermín as my annual escape, but each year I wonder, how can I not share this with them? For how long should it remain my getaway with my girlfriends and my "Pamplona friends?"
The fiesta is embedded with rituals, those offered up by the proud Basque culture, the noble Taurino traditions, not to mention those that my friends and I have invented for ourselves in the years we've been attending. Like our Hemingwayesque ritual of taking two days in the green Navarran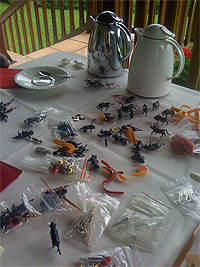 countryside just prior to the start of the fiesta, when my girlfriends and I stay at our favorite B&B. Here we slide into the Basque culture, nibbling our favorite asparagus and drinking homemade Patxaran. We retire early and sleep in, padding the sleep bank before the fiesta quickly depletes it. In the morning, we take over a table to create masterpieces of jewelry we bead together with small plastic bulls that have been borrowed from Tequila bottles from a Mexican Kmart. Our own spontaneous designs that every year we make, wear and give away: the running of the bull-earrings.
Each day in Pamplona, a brief afternoon nap rejuvenates us to make the run for sandwiches and cookies (and a chilled bottle of Rosado) to carry into the corrida for the post third bull snack. The bullfight itself is a remarkable ritual, a 3-act drama of skill, bravery and intimacy. Though I am far from an aficionada, there was one moment this year that moved me to tears: the matador raised his hand to stop his cuadrilla as they came to his aide. He knew he had done his work well, the bull was ready to die, and so he stood back with his hand raised, and waited for the bull to fall. It happened swiftly; a good death, with grace and honor, the kind we all hope for. It made me think of my mother, of course, how nobly she fought during the last year of her life, and the dignity of how she finally let go.
Each year I painfully extract myself from my friends and the festivities and leave to be with Short-pants to celebrate her birthday, which falls the day before the end of the fiesta. I could have gotten a pass this year, I suppose, having done my duty with the big party last month, except that I want to be with her on her birthday. As hard as it is to leave the fiesta early, the return is always a relief. This year was no exception: I was as glad as ever to see De-facto and the girls waiting for me at the train station, waving wildly when they spotted me.
"I missed you so much," cried Short-pants, throwing her long arms around me. "Where did you get those white shoes?" said Buddy-roo, who notices everything, especially if it has to do with new items of clothing or jewelry.
Over the last few days, the final post-fiesta rituals have been enacted without fail: the detoxification, the redepositing of sleep in the bank; the gradual removal of those haggard circles under my eyes; the return to an exercise regime to address the abnormal number of carbohydrates consumed at the fiesta; the washing of the whites, which requires the special formula of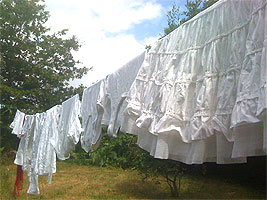 bleach and Coca-Cola (this tip given to us by a Spanish grandmother we met in the supermarket) to get that gray goop off the bottom of all my white jeans; the telling of stories (only mildly toned down) and the fierce expression of gratitude toward De-facto, who always lets me run just as far as I need.
---
My suitcase is stuffed with everything white. White pants and skirts. White T-shirts and tank tops. White jean jackets (I have two) and several pair of white sneakers. Where I'm going, it's all about wearing white and just a splash of red. A red pañuelo around the neck and a red sash at the belt. This is the uniform of San Fermín.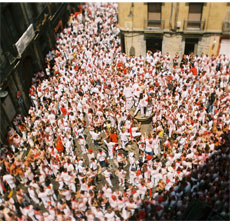 The fiesta San Fermín in Pamplona has become my ritualized get-away with the girls. Not my two little girls, Short-pants and Buddy-roo, but two older girls, my wanderlusting girlfriends, otherwise known, during the coming week especially, as Fiesta Nazi and Mother Theresa. (I'm called Whim of Iron.) Every year we meet up in Pamplona for one of the wildest parties in the world, the fiesta that Hemingway made famous in The Sun Also Rises.
I think the post I wrote last year on the eve of my departure, The Mom Also Rises, pretty much sums up perfectly why I go to Pamplona every year. If you're ever going to dig into my archives, this is a good one to read.
I love the fiesta. I love the encierro, though I'll never be among those who run with the bulls; I watch from a balcony above the route. I love the party that goes on day and night and the cast of characters I meet up with every year. I love the perpetual music in the streets, and the parade of peñas making their way toward the bullring every afternoon at 6:00. I love the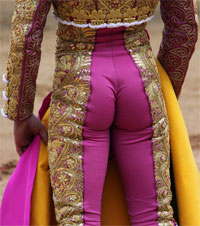 corrida, for the drama of the bullfight as much as the sandwich after the third bull. And what's not to love about the rear view of the matador and his cuadrilla?
What I love most about the fiesta is the feeling of being lost in the present moment. It is the perfect place to be here now, to move through the crowds in the street without any particular direction, to be drawn into a bar because the musicians who've taken it over call you in, and after a few laughs, some dancing and a cold caña, moving on to the next impromptu party around the next corner, at another bar, the back room of an eating club, in the park, at a long table set-up in the street, with strangers waiting outside the bullring – anywhere you turn there is a spirited party in progress. Pamplona, for me, means no duties and no to-do list, only the spontaneous delight of following my whim of iron, wherever it takes me.
(Photo Credit: The matador shot is by Jim Hollander, 2009. It's worth noting that Jimmy's published a beautiful book of his fiesta photographs, but for a long time has contemplated producing one called "Bull Butts" with more pictures like this. Don't you think he should?)
---
They poured me into the taxi. Waved goodbye, wistfully, as they do every year – my gang of fiesta friends – chagrined that I must leave when there are still two more days of San Fermin to go. But I have never stayed until the pobre de mi at midnight on the 14th of July. It's not that I have to rush across the border to celebrate the French national holiday, it's that Short-pants' birthday is the 13th of July, and this is an occasion I choose not to miss.
I had good long cry as Juan-Jose, my annual driver, navigated the taxi out of Pamplona, consoling me, "Don't cry, next year will come quick!" My Spanish isn't sufficient to explain to him the complexity of my tears; a mix of sadness and utter exhaustion, but also gratitude and joy. "They are not all bad tears," I told him, "es alegria." He threw his head back and smiled; now he understood.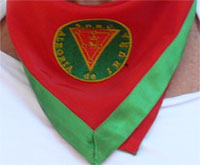 Alegria is a Spanish word that, like many words between languages, doesn't have an exact translation. The best I can offer, my personal interpretation, is a moment of feeling unfettered bliss.
Later in the TGV train hurtling through the French countryside, I reluctantly removed from my neck my red pañuelo, the uniform of the fiesta, and tucked it in my bag. I nodded in and out of sleep, hoping to recover as much as I could before the reunion with my family. One year I booked my departure for the morning of the 13th, figuring at least I wouldn't miss her whole birthday; I'd get home in time for a dinner celebration. I was barely awake for the meal and collapsed into a sweaty, detoxifying sleep immediately after cake and presents. Since then, I've made it a practice to leave Pamplona on the day prior to the famous birthday.
As the train approached Angouleme — the stop closest to our country house where I would meet up with my peeps — I heard the conductor's announcement forbidding anyone to depart from the train. I rushed through the corridor, car by car, to find him. "But you have purchased a round-trip ticket to Paris," he scolded me, "why would you want to get off here?" I tried to explain that I didn't think it would a problem just to get off the train early. "But in order to take advantage of your inexpensive ticket, you may not change your destination. It's not permitted."
If I played by his rules, I'd have two more hot, sticky hours on the train to Paris, with slim chances of making a U-turn on a train back to Angouleme the same night. The actual birthday wasn't until the next day, but after leaving the fiesta early, damn it, I wasn't planning to miss even a minute of her celebration.
"But I have to be there for my daughter's birthday. I cannot miss it." The tears that came now, no longer the result of alegria, but of exasperation – and admittedly, some artistry. The conductor, a peculiarly precise man, reviewed my ticket, shook his head from side-to-side more than once, but finally agreed to let me off the train if I paid a penalty fee, for which he even gave me a receipt. He accompanied me to the door and used a special key to unlock it and let me off the train. He did, at least, help me with my luggage.
De-facto shaved during my 10-day absence, so it was like being greeted by a young, new lover. Without his goatée, his smile seemed wider, broader. Another man might be grumpy about his girl going solo to the world's greatest party. But he's not another man. And he managed to get a few days biking with a friend, courtesy of a well-timed visit by his mother.
A hundred questions on the drive home. How were the girls? Good. How were the bulls? Good. We took turns telling stories about our week apart. Did I tone my tales down, not to sound like I was having too much fun?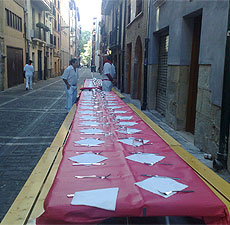 Maybe a little. But I also didn't tell him about the hard part: that lonely wave that hits me every year, mid-fiesta, where in a fit of excess and fatigue, I lay in bed too drunk and too tired to sleep and in that moment I'm sure that I have forsaken my family for this fiesta and nobody in Pamplona likes me either. The boom-boom-boom that goes all night in the street makes quieting this discourse impossible. I've come to learn that it's just a passage; in the morning, in the sunlight, I'm greeted at the Bar Txoko or at breakfast on the Calle de la Merced by one of many friends – old and new – who remind me that I am not alone in this world.
When my daughters heard the car pull up in front of our old run-down stone farmhouse, they ran toward it at full speed, laughing and screaming, jubilantly, "Mama, Mama! You're home! We missed you!" I was pummeled with kisses and hugs, all of which helped to remind me that the San Fermin fiesta is not the only source of alegria.
---
Every day I deal with consequences. My life is filled with them. Having little people to look after creates a profound sense of responsibility. There are always things to be done – dinner, laundry, getting them to school, coaxing them into the bath, writing notes to the teacher, buying the present for one of a dozen birthday parties – the list feels endless. But who else will help them accomplish these tasks? As much as I dream of being a slacker, knowing that those two creatures count on me makes it hard for me to be anything but responsible.
But not this week. This week, I get a break. This week, I am accountable to no one. I am responsible only for myself.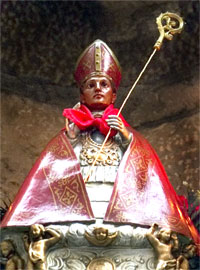 Each year, in early July, I join a couple of my favorite gal pals and make the trek to Spain, to Pamplona, for the Fiesta San Fermin. It's become a tradition; this year will be my sixth consecutive appearance. The friend who introduced me to the bulls – we call her the Fiesta Nazi – hasn't missed a fiesta in more than 25 years. Another friend, affectionately nicknamed Mother Theresa, has been going for 10 years. (My fiesta nickname, by the way, is Whim of Iron.)
De-facto is a total sport about letting me escape. He knows that I occasionally need a week of unencumbered spontaneity. And that's exactly what I get in Pamplona.
No, I do not run with the bulls. Yes, I will go to the bullfight. No, it's not cruel; it's noble. Yes, I will be exhausted at the end of the week. And I wouldn't miss it for the world.
During the fiesta, in any given moment, I may do whatever I please. I may wake up with my friends and watch the encierro – the running of the bulls – or I can hide my head under the pillow and sleep in. If I choose, I'll go to eat greasy eggs and listen to jota ballads with the gang at the breakfast club, or I can disappear with a good friend and take a quiet walk to the plaza de toros to watch them sort the bulls for that afternoon's bullfight. There are people I meet up with every year in Pamplona, and with them I can meander the streets, hopping from one bar to another, sampling tapas at each one, or I can skip the hot afternoon sun, find my way back to the apartment, shut the curtains and take a much-needed nap. I can stay out all night dancing, I can have "just one more drink," or I can navigate the smelly, crowded streets and make my way home early.
I don't need to call anyone. I don't need to negotiate when I go out or when I come home. I don't need to stop the fun I'm having to pick up some small person or respond to a client request. I am about to go into joyful oblivion. And I can't wait. It is the craziest, freest, most festive, tolerant, joyous party on earth. Hemingway described it famously:
The fiesta was really started. It kept up day and night for seven days. The dancing kept up, the drinking kept up, the noise went on. The things that happened could only have happened during the fiesta. Everything became quite unreal finally and it seemed as though nothing could have any consequences. It seemed out of place to think of consequences during the fiesta.
It's my week away. For one week, I am beholden to nobody – not even the Fiesta Nazi and Mother Theresa. Even though I know there are people at home waiting for me, missing me, wondering about me. Even though I'll be missing them like crazy. I will pretend, for my own amusement – at least for just this week – that there are no consequences.
That's the fiesta.
---